Ohio University offered one of the more productive power forwards in college basketball this season in
Jerome Tillman
. The 6'5 senior is averaging 21.2 points and 9.8 rebounds per game this season. Obviously with his lack of size he's an extreme long shot for the NBA, but there's no denying the production he brings to the table.
Initially, Tillman was very frustrated by the size of Jordan and was quite timid when going at the seven footer. He would catch the ball on the blocks and begin to go into a move, only to kick the ball back to the perimeter. As soon as Jordan picked up his second foul in the first half, Tillman immediately became much more aggressive in terms of looking to score and stayed that way for the rest of the game, regardless if Jordan was in or not.
The Columbus native has a pretty impressive post repertoire, starting with a jump hook with either hand. He counters his jump hook with a lot of up and unders that he uses to bait bigger defenders into becoming airborn, where he can absorb contact from them and get to the foul line. Tillman drew a number of fouls on Jordan by facing him up, putting his head down and simply attacking the rim with no recourse. This results in a fair amount of charging calls and other turnovers being accessed. While it was certainly not the prettiest basketball, it was incredibly effective and played a large part in his team's victory.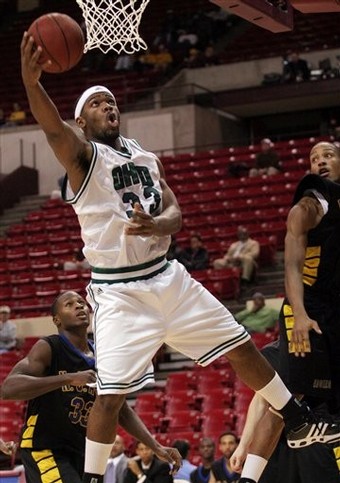 Tillman has increased his range to the point that he is a threat from the three point arc, albeit with a rather deliberate set shot. He hit a smooth looking 17 footer over Jordan with great arc. Though he is expanded his range, he still puts the ball on the floor with his head down and goes straight to the rim. Needless to say, there is very little chance of him transitioning to the small forward slot.
The outstanding motor that Tillman has fuels his play on the defensive end, where he is a very good rebounder for a player the height of most shooting guards. He does a very good job of making opposing players work for position pivot and does his best to contest shots with his limited physical gifts.
The best case scenario that Tillman can hope for at the conclusion of this season is an invite to Portsmouth, where he would have the opportunity to show NBA personnel that he can overcome his lack of height. His productivity, strength, and motor will make him very appealing to European team though and he could very well have a lengthy career abroad by the time it's all said and done.