DraftExpress hit the road to take a closer look at one of the more intriguing big men in the collegiate game,
Jerome Jordan
. With multiple NBA representatives in attendance, Tulsa squad took on Ohio University in what would be Ohio U.'s biggest non-conference game at home this season. The matchup also offered two other decent prospects in Tulsa junior
Ben Uzoh
and Ohio U. senior
Jerome Tillman
.
Making the four hour journey from Cleveland to Athens, Ohio to take a glimpse at
Jerome Jordan
in person was not a pleasant one, to say the least. Being stuck in traffic for an hour plus each way, plus the fact that Jordan played limited minutes did not make the trip any better. Luckily though, we were able to catch a pretty good college basketball game from two solid mid-major programs.
With Ohio University being on break for the quarter, the fan fare wasn't what it usually was in the Convo. Normally drawing crowds of nearly 8,000 people for home games, there was only a hair over 4,800 in attendance for their match-up with Tulsa.
The game started with Ohio U. immediately retreating into a 2-3 zone designed to limit the impact that Jordan could have on the offensive end. This was quite effective, severely limiting the touches that the big man received in the first half. His running mate, combo guard
Ben Uzoh
, was running the helm at point guard instead early on and struggled just as well to get into a rhythm with Ohio U's trapping defense. Luckily for Tulsa, their other guards were able to get a number of open looks at knocked down a number of three pointers early on to give Tulsa a one point lead at the half.
In the second half, Tulsa made a switch at point guard and moved Uzoh to the shooting guard slot. He appeared much more at home here, scoring all 13 of his points in the second stanza. The Tulsa guard still struggled to get the ball inside to Jordan, and the team faltered against the zone without working the ball inside or attacking the gaps.
Ohio U. continued to pound the ball into Tillman down low and had senior wing Justin Orr step up with 18 big points to combat the taller Tulsa squad. Tulsa's inability to consistently shoot the ball from the perimeter ultimately led to their demise, giving Ohio an 11 point win.
Here is a closer look at the top three prospects the game had to offer:
-
Statistically, it would appear that
Jerome Jordan
was a relative non-factor based on his pedestrian 7 points, 6 rebounds, and 2 blocks in 24 minutes on the hardwood. However, the impact that Jordan had on the game extended far beyond the box score.
The first thing that stands out about seeing Jordan in person is the outstanding physical package that he has to offer. He combines a condor-esque wingspan with a massive frame that could easily add a considerable amount of weight to it, which is pretty impressive considering he already weighs 240 pounds. He has a very strong lower body already at this point, leaving the bulk of his physical growth to be absorbed in his upper body.
Given Ohio University's lack of a legitimate inside presence Jordan's sheer size and the fact that he could score on the block made coach John Groce divert from his usual strategy and go with a 2-3 zone that was packed in the key. This defensive attack was very successful in limiting the touches the athletic Jordan received in the pivot, especially in the first half.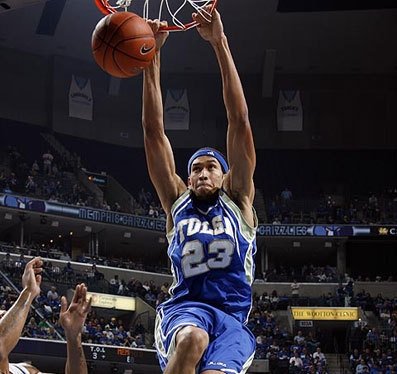 In the few instances that Jordan did receive the ball on the blocks, he was immediately double teamed by a pair of Ohio University players and forced to make a quick decision. While there were a few times that he identified the double team quickly and made a pass to a guard on the weak side, there were also times were he made awful decisions, resulting in his season high 3 turnovers.
With the opportunities quite limited to see Jordan's scoring moves in person (he only attempted four shots), there wasn't a whole lot that could be absorbed about his ability to score on the blocks. He did give you glimpses with a gorgeous right hand jump hook, in which he had outstanding extension. The Jamaica native also had a tip-dunk from a standstill and showed off some nice footwork with an up and under move that he finished at the rim. Nothing spectacular, but pretty impressive for a considerably raw, athletic seven footer.
Certainly a work in progress on the offensive end, Jordan is far from on the defensive side of things. He completely changed the game every second he was in against Ohio University with his ability to alter/block shots. He displayed the ability to stay on the ground and not bite for pump fakes against his much smaller frontcourt oppositions, displaying great timing and patience in this area.
After struggling considerably with defending the pick and roll last season, he has shown considerable improvement this year. Jordan had no problem hedging out on ball screens and then quickly recovering, showing impressive lateral quickness in the mean time. Jordan's defensive rotations were also far better then last season, leading one to believe that he is beginning to understand the game a bit more given his lack of inexperience playing at a high level.
Jordan did a solid job of rebounding the ball, taking up two players on either end of the court. He exhibited more defensive fundamentals in terms of boxing out, leaving his teammates to corral many loose rebounds. On the offensive glass, he crashed very hard throughout the game despite the fact that he constantly had two players putting a body on him in effort to negate his presence.
Limited to only 24 minutes of action due to foul trouble, Jerome picked up a few questionable foul calls throughout the game. All of Jordan's fouls basically came on smaller post players barreling themselves into the seven footer, completely initiating the contact. Jordan's lack of upper body strength hindered him severely in this area.
Jordan displayed a pretty good demeanor on the court, visibly playing hard and running the floor as hard as he could. Like
Hasheem Thabeet
, Jordan runs the floor fairly awkwardly (but effectively). The junior really battled to establish (and maintain) position on both blocks despite his poor strength.
Overall, the biggest observation that we could draw from watching Jordan in person was the impact that he can have on a game that doesn't show up in the stat sheets. There is still no doubt that Jordan is far from a finished product and needs to improve considerably before he can make an impact on an NBA team. However, it is also impossible to deny the athletic gifts the seven footer has and how good he could potentially become down the road.
-
Jordan's teammate
Ben Uzoh
has also been having quite an impressive year early on statistically, averaging 16.1 points, 5.8 rebounds, and 4.3 assists per game heading into the contest against Ohio University. The 6'3 combo guard didn't fare quite as well against the Bobcats, finishing with 14 points, 3 rebounds, 4 assists, and 4 turnovers on 4-11 FG (3-6 3PT).
It was certainly the tale of two halves for Uzoh, who played completely different guard positions in each stanza. From the opening tip, Tulsa used the long guard as their playmaker initiating the offense. While the junior did not do a bad job of managing the game, it was clear that he was not particularly comfortable doing so either and would much rather be creating for himself. Uzoh made a few nice decisions and worked the ball around Ohio University's zone without taking any bad shots. However, Tulsa's leading scorer had a goose egg in the scoring column at halftime.
In the second half, Tulsa decided to move Uzoh to his more natural position of shooting guard where he seemed much more at home. The most impressive part of his game against Ohio U was his ability to shoot the ball from beyond the arc, where he displayed very nice form with a high release point. Having his hands and feet always ready, it was not a problem at all for the San Antonio native to get his shot off with little space. Likewise, there were no problems for Uzoh in terms of rising up off of the dribble to get into his long range jumpshot.
There are some areas for improvement for Uzoh that are pretty glaring. While he has no problem creating his own shot, he creates very little separation. A relatively average athlete, he just doesn't appear to have great quickness off of the bounce. When you combine that with his mediocre ball handling skills, you see why this could be an area of concern for him at the next level.
Uzoh has potential on the defensive end because of his size and length, but he doesn't have the lateral quickness to defend point guards yet at this stage of the game either. This was evident in his game against Ohio U when he couldn't contend the penetration of relatively average MAC guards.
There is a bit of intrigue in Uzoh as a prospect next year because of his size and productivity as a combo guard. He is not a sure fire draft prospect for 2010 at this point, but with improvement in his playmaking skills, he is a player who could easily find his way into the pre-draft camp circuit. Either way, Uzoh is a player who will very likely have an opportunity to play at the next level somewhere in the world.
-
Ohio University offered one of the more productive power forwards in college basketball this season in
Jerome Tillman
. The 6'5 senior is averaging 21.2 points and 9.8 rebounds per game this season. Obviously with his lack of size he's an extreme long shot for the NBA, but there's no denying the production he brings to the table.
Initially, Tillman was very frustrated by the size of Jordan and was quite timid when going at the seven footer. He would catch the ball on the blocks and begin to go into a move, only to kick the ball back to the perimeter. As soon as Jordan picked up his second foul in the first half, Tillman immediately became much more aggressive in terms of looking to score and stayed that way for the rest of the game, regardless if Jordan was in or not.
The Columbus native has a pretty impressive post repertoire, starting with a jump hook with either hand. He counters his jump hook with a lot of up and unders that he uses to bait bigger defenders into becoming airborn, where he can absorb contact from them and get to the foul line. Tillman drew a number of fouls on Jordan by facing him up, putting his head down and simply attacking the rim with no recourse. This results in a fair amount of charging calls and other turnovers being accessed. While it was certainly not the prettiest basketball, it was incredibly effective and played a large part in his team's victory.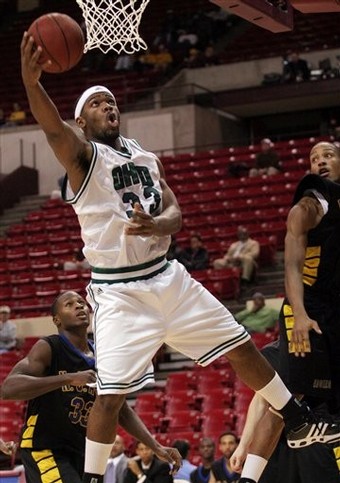 Tillman has increased his range to the point that he is a threat from the three point arc, albeit with a rather deliberate set shot. He hit a smooth looking 17 footer over Jordan with great arc. Though he is expanded his range, he still puts the ball on the floor with his head down and goes straight to the rim. Needless to say, there is very little chance of him transitioning to the small forward slot.
The outstanding motor that Tillman has fuels his play on the defensive end, where he is a very good rebounder for a player the height of most shooting guards. He does a very good job of making opposing players work for position pivot and does his best to contest shots with his limited physical gifts.
The best case scenario that Tillman can hope for at the conclusion of this season is an invite to Portsmouth, where he would have the opportunity to show NBA personnel that he can overcome his lack of height. His productivity, strength, and motor will make him very appealing to European team though and he could very well have a lengthy career abroad by the time it's all said and done.