Josh Riddell
Tyrone Wallace
's senior season ended abruptly with a broken right hand in practice the day before their opening round NCAA Tournament game against Hawaii. This was the same non-shooting hand Wallace broke earlier this season that caused him to miss five games in January. His recovery time is unconfirmed, but he should be back in time for private workouts and possibly the NBA Combine as well.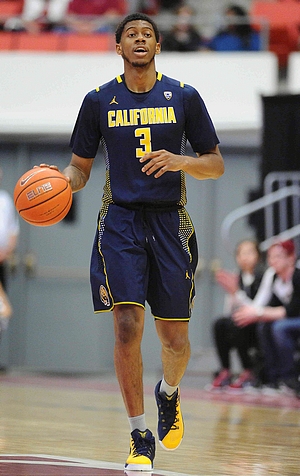 Wallace is a big guard, measured at 6'6" with an impressive 6'10" wingspan, who averaged 19.1 points per 40 minutes pace adjusted last season. He isn't that efficient of a scorer with his 52% true shooting percentage ranking
fourth worst
among point guards in our top 100.
This low efficiency is partly caused by poor outside shooting, with Wallace failing to improve his shooting mechanics during his four year career. He finished as a 29.2% career shooter and just 29.8% as a senior from the 3 point line. While he showed flashes of an improved shooting motion as a senior, this wasn't consistent enough to see his accuracy increase. Without some drastic fundamental improvements, Wallace will struggle to make an impact as a perimeter shooter, so he will need to find other ways to impact an NBA game.
What helps his draft profile is his familiarity with running the pick and roll, with 39.2% of his total possessions being used in these situations according to Synergy Sports Technology. He doesn't explode off the screen to beat his defender, but relies more on a shifty change of pace and ball-handling ability, in the form of crossovers or spin moves to weave through the defense. He can work off ball screens from anywhere on the perimeter and his ability to drive to his right or left, either by using or rejecting the screen allows him to keep the defense guessing. This helps him to get a step on his defender at the college level, which, along with his size, can compensate for his relative lack of quickness in the half-court.
Wallace does not have the best court vision around, as he doesn't always survey the floor and look for the optimal scoring option when he draws the defense, which limits his potential as a distributing point guard. In fact, his pure point rating of 0.80 is one of the
lowest among point guards in our top 100
. His passes aren't always on target or to his teammate in a position where they can easily score. When he does make a pass, the recipient usually has to put in some extra effort to translate it into a scoring opportunity. He should be able to use his height to his advantage to see the whole court over his defender, but he has to become a more willing and accurate passer at the next level if his role requires it.
His turnover rate remained relatively constant from his junior to senior season, but he still has a tendency to force drives or shot attempts when he doesn't have a clean look. He is far too willing to be baited into a jump shot off the dribble when his defender goes under ball screens or drive into the teeth of the defense--which is partially due to the incredibly poor spacing Cal suffered from this year, sharing the court with too many other non-shooters at all times.
Wallace isn't an elite finisher at the rim but he has displayed some nice touch on a floater that allows him a chance to score in the paint. He has a quick release on these shots with either that he can lift over the rim protection. Synergy Sports Technology logged 56 runners this season with Wallace converting on 41.1% of these shots. He isn't an overly strong guard, weighing in at just under 200 pounds so being able to get a runner off before colliding into the defense should help him preserve his health and be a more efficient scorer.
Wallace does a nice job of getting to the free throw line, as he attempted
6.9 free throw attempts per 40 minutes pace adjusted
, but he couldn't always convert these opportunities into points, as his shooting struggles were also present from the foul line, with Wallace making just 64.9% of his attempts this season (62% for his career).
Defensively is where Wallace has real merit as a NBA prospect, as his size and length gives him the potential to guard multiple positions. He's willing to move his feet on the perimeter, fight through screens and not quit on the play when he is beaten off the dribble. He plays well in a team concept as well by making the right rotations and recoveries. He has the chance to be a real asset defensively, especially if he gets stronger and can more effortlessly switch onto bigger shooting guards and even small forwards with his length.
While he should be healthy for the draft combine in mid-May and workout sessions with individual teams, Wallace's hand injury is especially detrimental since he will lose valuable time to work on improving his shooting to show off in the pre-draft process. This will be a major key for his chances of making a NBA roster either through the draft or training camp invites, as it is becoming more and more difficult to hide a non-shooting threat on the perimeter and he will need to become a more well-rounded scorer to endear himself to NBA teams beyond his defensive versatility.