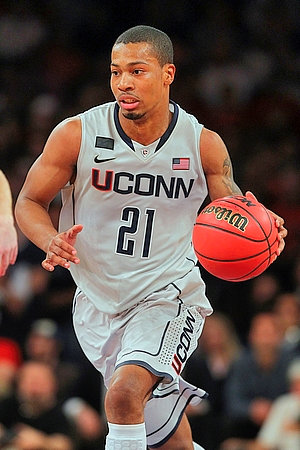 Kyle Nelson
Omar Calhoun was expected to make a big difference on the offensive end as a freshman and he did not disappoint. After all, the RSCI Top-50 recruit and the Gatorade Player of the Year in New York,
first piqued our interest as a sophomore in high school due to his scoring acumen
nearly four years ago. He started 29 games for Kevin Ollie and was named to the Big East All-Rookie Team.
Calhoun was inconsistent as a freshman, which is to be expected at his age, especially considering he was hampered by a series of injuries that limited him down the stretch. He first played through a sprained wrist, an injury largely responsible for his tentative play and 2/21 shooting to end his freshman season. Then, he underwent surgery to shave off parts of both of his hip bones in order to treat Femoral Acetabular Impingement, which was not only a source of constant discomfort, but also inhibited his movement and range of motion. After sitting out four months over the summer,
Calhoun is reportedly ahead of his rehabilitation schedule
and is looking to play by opening night. The question now is whether he is capable of taking another step forward in his development as a prospect.
Physically, Calhoun is a bit of a mixed bag. At 6'6, he has above average size for the shooting guard position, but has a mediocre 6'6 wingspan and a 200-pound frame that could definitely use some added muscle.
As we wrote in the past
, Calhoun is a solid athlete, smoother than he is explosive, and not possessing elite quickness in transition off of the dribble or in transition. It remains to be seen, however, just how much his surgery will affect his athleticism, either positively or negatively.
At 13.5 points per 40 minutes pace adjusted, Calhoun's numbers do not jump off of the page, but he actually fared well in terms of productivity
relative to other freshmen in our database
. Furthermore, he played a significant role on offense, seeing 32.1 minutes per game and shouldering 20% of Connecticut's possessions. He was very inconsistent, though, scoring 20 points against top-ranked Louisville on one night and failing to crack double-digits against Big East cellar-dwellers on another.
By the numbers, Calhoun had a fairly one-dimensional role as a freshman, finding 78.6% of his overall field goal attempts on jump shots according to Synergy Sports Technology and attempting more field goals beyond the arc than inside of it. Unfortunately, he made just 34.4% of his overall jump shots, including 32% of his 3-pointers. While Calhoun came into college with the reputation of a shooter, he still has a long ways to go in proving that, even if his late-season slump surely didn't help matters.
Calhoun displays unorthodox shooting mechanics, boasting a wide-base, splayed elbows, and a very quick, truncated release. This certainly seemed to work for him, at times, and for a stretch in January and February – before his wrist injury – he actually found a nice rhythm. That being said, and with an eye towards the future, improving his mechanics would go a long way in helping him develop into a more consistent shooter.
Outside of his jump shooting, Calhoun shows some flashes, but is unproven thus far. For one, his first step and ball-handling skills are just not good enough yet to emerge as a threat off of the dribble, outside of predominately straight line drives. While he shows flashes in this area, it remains to be seen just how much he can develop as a shot creator. Likewise, he will also have to become more aggressive attacking the basket, as evidenced in his subpar 4.5 free throw attempts per 40 minutes pace adjusted. He displays solid scoring instincts, though, which coupled with his above average court vision suggest that he has room to grow. Furthermore, he finished 50% of his overall field goal attempts inside of the arc and 58.6% of his shots around the basket, which is a solid rate for a skinny freshman in the Big East.
Though he can be a mixed bag on the offensive end of the floor, Calhoun proved himself to be a decent defender during his freshman season, showing solid lateral quickness and looking particularly effective in one-on-one situations. Yet, his focus seems to wane at times, and it would be nice to see him fight through screens more often while guarding the pick-and-roll. Likewise, whether he will be able to stay in front of NBA-caliber shooting guards remains to be seen. That being said, should he continue to develop physically, he should emerge as a good perimeter defender in the AAC.
In many ways, it is difficult to evaluate Calhoun too harshly based on his freshman season. For one, he is young and his injuries likely affected his play to a significant degree. It is entirely possible that scouts will see a different Omar Calhoun as a sophomore. He will be expected to contribute right away as a sophomore on a Connecticut team that is ready to return to the NCAA Tournament. In particular, scouts will be watching to see how he fares post-surgery against an aggressive out-of-conference slate that includes games against Florida, Maryland, Washington, Stanford and Harvard, not to mention against an AAC-conference slate that, while not the Big East, is still formidable with the likes of Louisville, Memphis, and Cincinnati. Thus, it is difficult to draw too many conclusions at this point, but it is safe to say that he is worth keeping an eye on in the next few years.