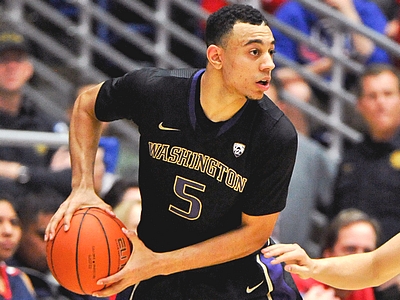 Matt Kamalsky
Washington freshman
Nigel Williams-Goss
quietly put together a solid freshman campaign on a Washington team that finished the season with only 16 wins and failed to reach the postseason for just the second time in the last decade. A consensus top-40 recruit in the high school class of 2013, Williams-Goss stepped into a starting role as Washington's point guard alongside 2014 first round pick
C.J. Wilcox
, relishing the opportunity
Lorenzo Romar
affords to him to finish as the Huskies' leader in assists and second most prolific scorer. Averaging 13.4 points, 4.4 rebounds, and 4.4 assists per-game, Williams-Goss led all Pac-12 freshmen in scoring, en route to being named to the All-Conference freshman team, and in the process planted himself firmly on the radar of NBA scouts.
Williams-Goss' appeal from a NBA perspective starts with his terrific size for a primary ball-handler. Measuring 6'4 in shoes with a 6'6' wingspan one summer ago while preparing for the U19 World Championships with USA Basketball in Colorado Springs, the Oregon native towers over some of the players he encounters at the collegiate level –a significant factor in his productive freshman season given his lack of outstanding explosiveness.
A skilled, crafty offensive player, Williams-Goss has been an adept mid-range scorer since he emerged as a prospect during his highly successful high school career at Findlay Prep thanks to his ability to use his size to find angles to score inside the arc. As a freshman, that ability to score around the paint with floaters quickly became the soon to be 20-year old's calling card, as the 68 points he scored on runners in the half-court ranked among the top-15 nationally according to Synergy Sports Technology, and his 47% conversion rate on such shots is quite impressive.
In contrast, Williams-Goss still has plenty of work to do as a scorer from the outside and as a finisher. Though the rising sophomore showed growth as a perimeter shooter late in his high school career and connected on a very respectable 40% of his jump shots overall, maintaining that momentum as a freshman, he appears a bit out of rhythm at times and his 36% shooting from deep on 2.8 attempts per-game and 72% from the line seemingly have room to improve. Shooting a middling 51% as a finisher at the rim, the more efficient and prolific Williams-Goss can be as a shooter, the more it will overshadow his lack of great blow-by quickness and ability to finish explosively inside.
Any improvements Williams-Goss can make in his scoring arsenal will only be magnified by the fact that he plays a disciplined offensive game, not forcing many shots and turning the ball over primarily when trying to make a smart pass, rather than when he's trying to do too much. Averaging 15.5 points per-40 minutes, which
ranks
right in the middle of the pack among rising sophomores in our current top-100, Williams-Goss should get plenty of opportunities to be more productive this season with
C.J. Wilcox
graduating to the professional ranks. It will be interesting to see how his high basketball IQ and ability to change speeds and make things happen in the pick and roll translate to a higher usage role.
Racking up 5.1 assists and rebounds per-40 minutes pace adjusted, Williams-Goss did a bit of everything for Washington a year ago. He has good court vision, a solid understanding of spacing, and actually appeared more comfortable attacking a set defense in the half court than pushing the ball in transition, a true rarity for freshman guard.
One of the more mature freshman in the college game, Williams-Goss' savvy carried over on the defensive end at times, where his ability to anticipate the action helped him come up with 1.1 steals-per game, as he proved adept at stripping opposing big men when digging down from the perimeter. Unfortunately, his lack of lateral quickness led to some difficulties guarding smaller, quicker guards in one-on-one and pick and roll settings, despite his willingness to compete consistently at this end of the floor.
Looking ahead, Williams-Goss is in an interesting situation heading into his sophomore season. His predecessors among
Lorenzo Romar
coached UW point guards,
Nate Robinson
and
Isaiah Thomas
, had similarly productive freshman years, but didn't see their roles expand significantly as sophomores. Whether Washington has the personnel to maintain their scoring balance as they did in those two cases this coming year remains to be seen, and if no one steps up, it will be worth monitoring how heavy of an offensive burden Williams-Goss will have to carry.
Though his lack of great athleticism will remain a concern as scouts project him to the next level, a strong sophomore year carrying the Huskies back to the NCAA Tournament could make the decision to enter the NBA Draft that he labored over last spring a bit easier come next April.