Showing up a day later than the rest of the group due to a prior obligation with his team back home, Italian point guard
Matteo Imbro
made a strong impression upon arriving at the first practice and continued that momentum into the game.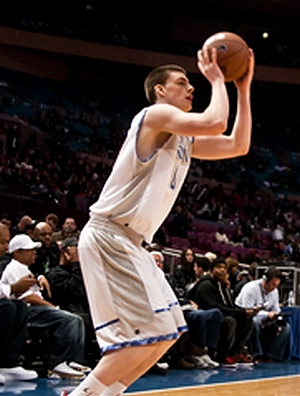 Showing nice size (possibly a bit taller than the 6-2 he's listed at), long arms, a good frame and a fluid blend of Euro-athleticism, Imbro has nice tools for a point guard to go along with some intriguing skills. He's clearly an unselfish player who is willing and able to make the extra pass--be it in transition or in the pick and roll in the half-court, where he shows a nice first step and good timing. While capable of making shots from the perimeter, Imbro's unorthodox shooting mechanics limit him to a certain extent, something he may need to correct down the road. Defensively he did not stand out either.
Imbro is obviously still young and has a long way to go at this point, but he clearly has plenty of natural talent. It's nice to see some good young players emerging from Italy, which has been in a bit of a drought as of late.