Matt Williams
Fresh off a strong showing for the Greek U18 National Team,
Linos Chrysikopoulos
has performed admirably in limited minutes with Aris Thessaloniki in the Eurocup and Greek League this season. One of the youngest players at last year's adidas Eurocamp, Chrysikopoulos just turned 18 on the first of the month. While he hasn't been dominating A1 by any stretch of the imagination, he has shown quite a bit of promise and is clearly one of the most talented prospects in European basketball these days.
Much of the intrigue around Chrysikopoulos lies in his size, athleticism, and versatility. Though he has played the small forward position almost exclusively this season, the long, 6'9 youngster played mostly at the four earlier in his career, but has also seen time at as somewhat of a point forward for the Greek junior national team. Standing 6'8 without shoes and a 7-foot plus wingspan, Chrysikopoulos is a very good athlete, showing good quickness and running the floor with purpose in transition. A fluid and fairly explosive player for the European game, Chrysikopoulos hasn't reached his full potential from an athletic standpoint as he's yet to fully grow into his excellent frame.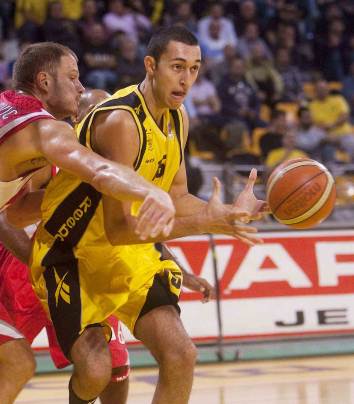 Chrysikopoulos is averaging 15.5 minutes per-game in Greek League play, and though he has shown versatility against younger players and flashes some intriguing offensive tools, he's functioning primarily as a spot-up shooter in Aris's offense –which limits his ability to work off the dribble, get to the rim, and create offense for his teammates—things we've seen him do at the junior level. Displaying a quick trigger and good perimeter footwork, Chrysikopoulos shoots with a low release point, but is extremely confident from the perimeter. He needs to improve his consistency, but with time, should become a reliable catch and shoot threat.
In addition to his ability to spot-up, Chrysikopoulos is also capable of putting the ball on the floor to pull up from the midrange when his defender is too aggressive and will even dribble into the post to utilize a turnaround jump shot against smaller defenders. His quickness and fluidity give him a lot of potential in this area, and even though this aspect of his game does not normally factor into his current role, but he did a nice job creating his own shot at the U18 Championships last summer and could become more of a factor in this area as his comfort level increases down the road. He still needs to add strength and tighten up his ball-handling ability, especially with his left hand, to prepare himself for the jump in competition he'll see playing in the very physical Greek league.
Around the basket, Chrysikopoulos showed mismatch potential in junior play, but will need to add weight to his skinny frame to give himself the ability to take shorter professional players down low and finish through contact at the rim. Quick off his feet, he isn't a powerful leaper at the moment, but his length allows him to dunk the ball when he's on the move, shoot over defender with his turnaround jumper, and finish craftily in the lane.
Defensively, Chrysikopoulos is still very much a work in progress. He does not show much in the way of lateral quickness or toughness, but could prove more effective if he maintained his stance and was more active with his feet. This is surely the main thing holding him back at the moment from seeing bigger minutes on a competitive team like Aris. As all young players are prone to do, Chrysikopoulos gets lost watching the ball from time to time, but manages to get by thanks to his ability to contest perimeter shots and force turnovers with his tremendous wingspan. As he gains strength and experience and continues to work on his fundamentals, Chrysikopoulos could be a pretty dynamic defender due to his natural physical tools.
Since this is Chrysikopoulos's first season seeing real playing time in the Greek League, it is important to point out that he doesn't look at all out of place in Aris's rotation. This is essential for a player that won't turn 19 till December of next year, as it will give him consistent opportunities to adapt to senior play. The fact that he's receiving playing time in such a pressure packed environment says a lot about the commitment Aris and Coach Drucker have made to developing him. With plenty of time to mature on the floor and to translate his intriguing versatility to a higher level of competition, Chrysikopoulos is definitely a prospect we'll be revisiting in the future.