Getting off to a very hot start but cooling down a bit as the week moved on, French point guard
Charly Maraux
nevertheless made a strong impression with his showing at Jordan Brand week. He seems to have a very nice future ahead of him.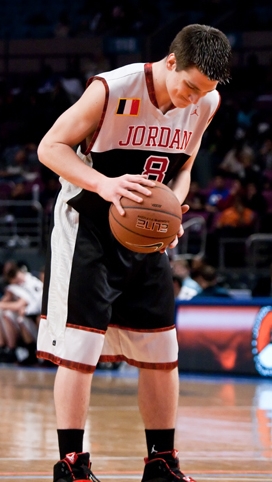 A very quick point guard who excels in transition and plays with great confidence, Maraux is an aggressive playmaker who will make the extra pass and has most of the fundamentals you look for in a player his age. He's a competitive guy with a nice basketball IQ and will even play some defense when called up. He looks a lot more experienced that your typical 15-year-old.
Maraux has an unorthodox looking shot with a funky release point, but he is capable of making jumpers regardless (even if he may have to work on his mechanics down the road). Maraux likes to drive left and seems to prefer shooting floaters rather than taking the ball all the way to the rim, but he already possesses some crafty change of speed moves and seems to have a good feel for getting by his man.
While it's way too early to draw any long-term conclusions (especially as far as his physical tools are concerned), Maraux seems to have a nice future ahead of him if he continues to work on his game and continues to develop as a point guard and perimeter shooter.