Kyle Nelson
After recruiting Ben Simmons and his AAU teammate and fellow McDonald's All-American Antonio Blakeney, LSU was hoping for a banner 2015-2016 campaign. Instead, the team faltered, never quite finding its rhythm despite the infusion of elite young talent, and finished a disappointing 19-14, missing the postseason entirely.
While Ben Simmons occupied most of the spotlight in Baton Rouge from day one, Antonio Blakeney overcame an inconsistent start –actually losing his starting role briefly in January – to earn a spot on the 2016 Southeastern Conference All-Freshman team. He then tested the NBA Draft waters, but ultimately withdrew his name and returned to school. Now, as LSU's top returning perimeter threat, Blakeney has the chance to do what Ben Simmons could not: lead LSU back to the post-season, while solidifying his draft prospects in the process.
At 6'4 with a 190-pound frame and a 6'7.5 wingspan, Blakeney is undersized for an NBA shooting guard, without standout length to compensate. It does not appear that he has added much muscle to his wiry frame since his senior year in high school, when he was measured at 189 pounds. He is an elite athlete, however, with a huge vertical leap, as well as excellent quickness and agility to complement his explosiveness.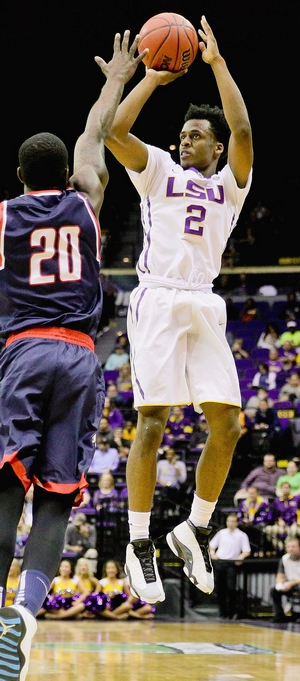 Blakeney's first year of college basketball was defined by inconsistency, which plagued the entire LSU team. After a decent start to his freshman season, Blakeney hit a wall in December and January, before rallying to average 17.4 points per game over his last 10 games.
The overwhelming share of Blakeney's field goal attempts came off jump shots, and despite showing impressive shot-making prowess, he struggled to do so in an efficient manner, due to his often poor shot-selection, converting 33.5% of his overall 3-pointers.
On film, his mechanics are inconsistent, varying by his shot's degree of difficulty and the amount of pressure he faces. He gets a lot of elevation on his jump shot, but tends to shoot just after the peak of his leap, often leading to off-balance attempts, and demonstrating a slight hitch when he shoots off of the dribble. These issues and his questionable shot selection explain a lot of his streakiness as a shooter, and scouts will be watching to see if he has improved his mechanics and decision making as a sophomore because he has the potential to be a very good shooter at the collegiate level.
Blakeney almost never creates any offense for teammates, as his 5.5% assist percentage ranked as the second lowest rate in the country among shooting guard prospects. He does show potential in terms of creating his own offense, though, in both pick-and-roll sets and in isolation. Here, he can take a couple of dribbles and pull up or use his quickness and agility to get to the rim. Blakeney is an inconsistent shooter inside of the arc (34% FG), as well, but he also takes a lot of low percentage, high difficulty shots and does not yet have the ball-handling skills to consistently create space for himself.
Blakeney is a good finisher around the basket (57.5% FG), capable of explosive, acrobatic finishes with space and in transition. His average ball-handling skills make it difficult for him to exploit his athleticism without a clear path to the basket, however, and he lacks the strength to absorb contact and finish in traffic, which is also reflected by his pedestrian 4.4 free throw attempts per 40 minutes pace adjusted.
LSU was a poor defensive team in 2015-2016, and Blakeney's defense was no exception. While he has some intriguing physical tools, neither his fundamentals nor his court awareness are of a similar caliber. He hesitates to close out on shooters, often drifts out of position, and is far too lackadaisical letting opponents drive by him considering the quickness that he frequently demonstrates on offense. His effort level, in general, is inconsistent, despite stretches where he dials in, uses his lateral quickness to his advantage, and can be a good man defender. With an eye towards the NBA, however, his physical profile may make his transition difficult. Even on the collegiate level, he struggles to fight through screens guarding the pick-and-roll and his average length probably will limit his effectiveness against bigger shooting guards.
Antonio Blakeney played his freshman season in Ben Simmons's shadow, but his performance down the stretch suggests that he may be on the verge of a breakout season. As LSU's top returning scorer and perimeter shooter, he will have plenty of opportunities to demonstrate his abilities on the offensive end of the floor. Regardless of his inconsistent freshman year, Blakeney obviously has a lot of scoring talent, and will certainly get some long looks from NBA scouts if he can improve his defense, passing and decision-making. LSU does not play the strongest schedule next year, but early season matchups against Wichita State and Houston might offer scouts a sense of how close he is to getting there.