Matt Williams
After a breakout season with Paris-Levallois and declaring for the 2011 NBA Draft, Andrew Alibcy returned to France to play in Pro A and the EuroCup for BCM Gravelines Dunkerque this season. Facing stronger competition, Albicy has continued his solid play, but has also shown more defined strengths and weaknesses and areas of improvement in his second season as a starting point guard at the professional level.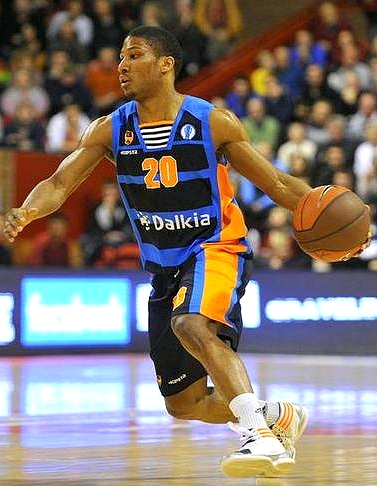 Those strengths and weaknesses remain rooted in his lack of size. Measured just 5-9 without shoes at the adidas EuroCamp, Albicy has nice lateral quickness and can keep defenders honest with his ability to change gears in the half-court, but lacks the incredible blow by quickness you expect from a NBA prospect at his size and is not a terribly explosive leaper.
Last season, Albicy found the touch on his floater down the stretch, and his improvement inside the arc has continued this season. Able to turn the corner on the pick and roll and get into the paint, Albicy can finish plays from the mid-post with a crafty teardrop, sometimes showing good body control double-pumping to keep defenders off balance and making circus shots in impressive fashion. He still struggles to score over rotating big men and gets out of control at times, but is better taking advantage of his opportunities inside the arc, shooting 54.9% from two-point range after shooting just 44.1% last season.
Another reason Albicy has improved his shooting percentage inside the arc stems from a shift in his shot selection. Seldom taking the contested, off-balance, dribble 17-footers he so often attempted last season, Albicy prefers to simply pull up from beyond the arc in a pinch. Though this has hurt his shooting from deep on the whole, Albicy is still making 42% of his catch and shoot jump shots according to Synergy Sports Technology (as opposed to 30% off the dribble), even if his size hurts his ability to create good looks for himself from the perimeter late in the shot clock or when defenders do a good job staying in front of him.
As a passer, Albicy is at his best running the pick and roll out on the perimeter and using his speed to create angles for himself to find cutters from the outside in. He shows impressive court vision with the way he attacks the defense with his passing rather than his dribble and generally wreaks all sorts of havoc with his ability to make defenses rotate.
As we noted in our last report, Albicy struggles when he tries to create for his teammates from the inside out. When big men make effective rotations to meet his dribble penetration, his lack of size makes it difficult for him to get the ball back out to the perimeter. Albicy attempts to compensate by making and looking for any opening to get the ball back out to the perimeter, but his inability to deal with collapsing defenses is the main reason his assist to turnover ratio has dipped from 2.1 to 1.6 this season.
Albicy's biggest contributions at this level of competition often come on the defensive end, where his lateral speed, quick hands, and consistent intensity are an issue for opposing ball-handlers. Often getting a tip and stealing the ball only after making a second and third effort to pick his man's pocket, Albicy creates turnovers and takes the ball coast to coast at an impressive rate. His size limits his ability to contest shots and fight through screens, but his ability to apply pressure in the backcourt is a significant plus.
Playing seven games for the French Senior National Team at Eurobasket 2011, and leading the best team in Pro A this season, Albicy is a promising international prospect thanks to his defensive prowess, catch and shoot ability, and knack for finding the open man. The development of his floaters has alleviated his struggles from the midrange to some degree, but Albicy still has room to grow on the offensive end as a shooter and decision maker. Automatically eligible for the 2012 NBA Draft, the Sevres native is one of the more interesting point guards among this year's crop of international prospects, even if he might need to have a better adidas EuroCamp showing than he did last June to boost his stock solidly into the second round.