24 high school rising seniors, college freshmen and rising sophomores were invited to the USA Basketball U19 Training Camp in Colorado Springs. The full roster was announced today. 12 players will be selected from the group to represent the US at the U19 World Championship in Crete in late June and early July.
More information can be found on USA Basketball's
official website
.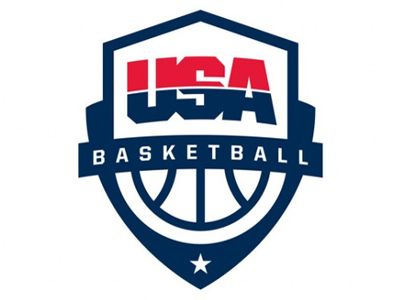 PLAYER HT WT POS AGE COLLEGE HIGH SCHOOL CITY ST
Tyus Battle
6'6"  215  SG  17.6  HS Gill St. Bernard's Edison NJ
Justin Bibbs
6'5"  220  SG  19.3  Virginia Tech Montverde Academy Dayton OH
Isaiah Briscoe
6'3"  218  PG  19.1  Kentucky Roselle Catholic Union NJ
Jalen Brunson
6'2"  200  PG  18.7  Villanova Stevenson Lincolnshire IL
Brekkott Chapman
6'8"  200  SF/PF  19.1  Utah Roy Roy UT
Vincent Edwards
6'7"  220  SF  19.1  Purdue Middletown Middletown OH
Jawun Evans
6'1"  177  PG  18.8  Oklahoma State Kimball Simpsonville SC
Terrance Ferguson
6'5"  161  SG  17.0  HS Prime Prep Flower Mound TX
Harry Giles
6'10"  230  PF  17.1  HS Wesleyan Christian Acad Winston-Salem NC
Josh Jackson
6'8"  184  SF  18.3  HS Justin-Siena HS Southfield MI
Riley LaChance
6'2"  194  PG  19.1  Vanderbilt Central Brookfield WI
T.J. Leaf
6'8"  198  SF  18.0  HS Foothills Christian Lakeside CA
Silas Melson
6'4"  178  SG  18.7  Gonzaga Jefferson Jefferson OR
Malik Monk
6'4"  185  SG  17.3  HS Bentonville Bentonville AR
Chinanu Onuaku
6'10"  230  C  18.5  Louisville Riverdale Baptist Lanham MD
Eric Paschall
6'6"  205  SF  18.5  Fordham St. Thomas More Westchester NY
L.J. Peak
6'5"  215  SG  19.3  Georgetown Whitney Young Magnet Gaffney SC
Malik Pope
6'10"  205  SF  18.8  San Diego State Laguna Creek Elk Grove CA
Diamond Stone
6'10"  250  PF  18.3  Maryland Dominican Milwaukee WI
Caleb Swanigan
6'8"  271  PF  18.1  Michigan State Homestead HS Fort Wayne IN
Jayson Tatum
6'8"  190  SF  17.2  HS Chaminade College Prep St. Louis MO
Allonzo Trier
6'5"  199  SG  19.3  Arizona Findlay Prep Tulsa OK
Thomas Welsh
7'0"  245  C  19.3  UCLA Loyola Redondo Beach CA
Seventh Woods
6'1"  170  PG  16.8  HS Hammond School Columbia SC
Note:
DraftExpress will be attending the U19 World Championship in Crete, including 12 of the 24 USA Basketball training members selected above.
USA Basketball Press Release
Ten USA Basketball gold medalists are among 24 players who have accepted invitations to take part in the 2015 USA Basketball Men's U19 World Championship Team training camp that will take place June 12-26 at the United States Olympic Training Center in Colorado Springs, Colorado.
The training camp will be utilized to select the 12-member roster for the 2015 USA Basketball Men's U19 World Championship Team. The USA will look to defend the USA's 2013 U19 gold at the 2015 FIBA U19 World Championship that will be held June 27-July 5 in Heraklion, Crete, Greece. Athletes eligible for this team must be U.S. citizens who are 19 years old or younger (born on or after Jan. 1, 1996).
"It should be looked upon as a tremendous honor to be selected to tryout for this team, because the competition is so strong," said Jim Boeheim Syracuse Hall of Fame head coach and chair of the USA Basketball Men's Junior National Team Committee, which is responsible for selecting players and coaches for the team. "Our committee does a great job identifying players who will represent our country in international competition. We know that even in the training camp, the competition will be fierce."
The returning gold medalists include:
Isaiah Briscoe
(Roselle Catholic H.S./Union, N.J.);
Jalen Brunson
(Stevenson H.S./Lincolnshire, Ill.);
Terrance Ferguson
(Homeschooled/Flower Mound, Texas);
Harry Giles
(Wesleyan Christian Academy/Winston-Salem, N.C.);
Josh Jackson
(Prolific Prep, Calif./Southfield, Mich.);
Diamond Stone
(Dominican H.S./Milwaukee, Wis.);
Caleb Swanigan
(Homestead H.S./Fort Wayne, Ind.);
Jayson Tatum
(Chaminade College Prep/St. Louis, Mo.);
Allonzo Trier
(Findlay Prep, Nev./Seattle, Wash.); and
Seventh Woods
(Hammond School/Columbia, S.C.).
Also attending camp will be:
Tyus Battle
(St. Bernard's School/Edison, N.J.);
Justin Bibbs
(Virginia Tech/Dayton, Ohio);
Brekkott Chapman
(Utah/Roy, Utah); Vince Edwards (Purdue/Middletown, Ohio);
Jawun Evans
(Kimball H.S./Dallas, Texas);
Riley LaChance
(Vanderbilt/Brookfield, Wis.);
T.J. Leaf
(Foothills Christian H.S./Lakeside, Calif.);
Silas Melson
(Gonzaga/Portland, Ore.);
Malik Monk
(Bentonville H.S./Lepanto, Ark.); Chinanu Onauku (Louisville/Lanham, Md.);
Eric Paschall
(Villanova/Dobbs Ferry, N.Y.);
L.J. Peak
(Georgetown/Gaffney, S.C.);
Malik Pope
(San Diego State/Sacramento, Calif.); and
Thomas Welsh
(UCLA/Redondo Beach, Calif.).
The 2015 USA Basketball Men's U19 World Championship Team will be led by Sean Miller (Arizona), along with USA assistant coaches Ed Cooley (Providence) and Archie Miller (Dayton).
Training camp will begin on the evening of June 13, followed by two practices each day. Finalists for the team are expected to be announced on June 15, and the roster will be selected prior to the team's departure for Greece.
Briscoe, Brunson and Trier helped the USA to qualify for the 2015 FIBA U19 World Championship by compiling a 5-0 record and winning gold at the 2014 FIBA Americas U18 Championship.
Seven players won gold together at the 2014 FIBA U17 World Championship, including Battle, Ferguson, Giles, Jackson, Stone, Swanigan and Tatum; and three players were on the gold-medal winning 2013 FIBA Americas U16 Championship, including Stone, Tatum and Woods.
Suiting up for the USA in the 2015 Nike Hoop Summit were Briscoe, Brunson, Swanigan and Trier.
Ten players competed as NCAA freshman in 2014-15, six players recently completed their senior year of high school and eight players have one year of high school remaining and will graduate in 2016.
Among the college players, Bibbs earned University Division State Rookie of the Year honors from the Virginia Sports Information Directors, LaChance listed on the Southeastern Conference All-Freshman Team, Paschall was the Atlantic 10 Conference Rookie of the Year and Peak made the Big East Conference All-Rookie Team.
For the high school players, Briscoe and Giles were on the USA Today All-USA first team, while Stone and Trier listed on the All-USA second team and Brunson was third team.
Brunson and Tatum are two-time (2014 and 2015) Gatorade State Player of the Year honorees, while Swanigan earned the title in 2015, and Trier was a Gatorade State Player of the Year in 2014.
Briscoe, Brunson, Evans, Stone and Swanigan listed on the Parade Magazine All-America Team.
In addition to Boeheim the USA Basketball Men's Junior National Team Committee includes: NCAA appointees Bob McKillop (Davidson), Matt Painter (Purdue) and
Lorenzo Romar
(Washington); and athlete representative
Curtis Sumpter
, who won a gold medal with USA Basketball at the 2004 FIBA Americas U20 Championship and a bronze medal at the 2011 Pan American Games.
2015 FIBA U19 World Championship
The USA has captured a record five FIBA U19 World Championship gold medals and three silver medals in the 11 editions of the event, which first was held in 1979. Played every four years through 2007, the U19s now are held every other year, and the USA men own an all-time record of 78-13 at the event.
As defending U19 champions, the USA has an opportunity to win consecutive FIBA U19 World Championships for just the second time since the competition began in 1979. The United States captured back-to-back gold in 1979 and 1983, and since then, Yugoslavia (1987), Greece (1995), Spain (1999), Australia (2003), Serbia (2007) and Lithuania (2011) have won a single gold medal, with the USA also earning gold in 1991, 2009 and 2013.
For the 2015 FIBA U19 World Championship, the USA has drawn preliminary round Group A and will play Iran on June 27, Croatia on June 28 and Egypt on June 30. Playing in preliminary round Group B will be Argentina, China, Spain and Turkey; Group C features Australia, Canada, Italy and Tunisia; and Group D includes Dominican Republic, Greece, Serbia and South Korea.
All 16 teams advance to the round of 16 that will be played on July 1. The winners advance to the medal-round quarterfinals on July 3, while the round of 16 losers will compete out for 9th-16th places. The semfinals are on July 4, and the finals are on July 5.
Members of past USA U19 teams have included standouts such as:
Stacey Augmon
(1987);
Vin Baker
(1991);
Vince Carter
(1995);
Nick Collison
(1999);
Stephen Curry
(2007); Eric Floyd (1979);
Aaron Gordon
(2013 MVP);
Tim Hardaway
Jr. (2011);
Montrezl Harrell
(2013);
Gordon Hayward
(2009);
Larry Johnson
(1987);
Jeremy Lamb
(2011);
Stephon Marbury
(1995);
Doug McDermott
(2011);
Jahlil Okafor
(2013);
Gary Payton
(1987);
Sam Perkins
(1979);
J.J. Redick
(2003);
Marcus Smart
(2013);
Klay Thompson
(2009);
Scott Skiles
(1983);
Deron Williams
(2003);
Justise Winslow
(2013); and
James Worthy
(1979).