Jonathan Givony
Lost in the midst of a highly disappointing season for Georgetown (losing their final nine of ten games in Big East conference play and finishing 7-11) was the significant development shown by their sophomore wing L.J. Peak, albeit mostly in a losing effort.
Peak shot the ball extremely well down the stretch for Georgetown, making a blistering 46% of his 3-pointers in the last 15 games of the year. He scored a strong 20 points per-40 pace adjusted on the season overall (53% 2P%, 41% 3P%), getting to the line at a solid rate and showing marked improvement in a number of categories.
Only 6'3 without shoes, Peak doesn't have outstanding height for a wing, but his very long 6'9 1/2 wingspan should allow him to guard shooting guards comfortably. He doesn't have the widest frame, but is a little stronger than he appears.
Peak has a fairly simple offensive game, revolving mostly around getting out in the open floor, making open shots, and being opportunistic with his drives. He has great quickness running the floor, which earns him some easy baskets getting ahead of the defense or attacking in the early offense, finishing an excellent 76% of his field goal attempts in transition according to Synergy Sports Technology.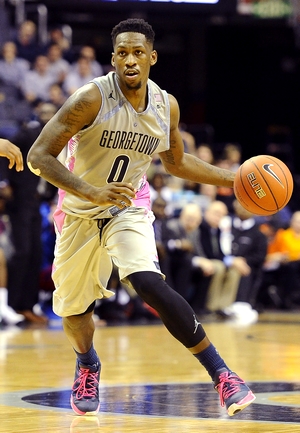 Much of his progression on this end of the floor stemmed from the improvement he displayed with his shooting, becoming a highly reliable option with his feet set, something that wasn't the case prior to last year (25% 3P% as a freshman). He shot the ball with great confidence last season when left open, and even showed flashes at times making shots off the dribble. Peak doesn't have the most conventional mechanics, as his elbow tends to flail out, but he demonstrates a consistent release point and gets it off relatively quickly, even with range extending well beyond the college arc at times.
As a shot-creator, Peak is very much a work in progress still. His quick step allows him to attack closeouts (and take advantage of the new-found attention he enjoyed on the perimeter) and get to the rim nicely, slithering around defenders with strong footwork and body control. He is quick, decisive and occasionally explosive with his finishes around the basket, often getting deep inside the paint attacking in a straight line thanks to his strong first step.
While certainly improved, Peak is not a good enough ball-handler at this stage to be called upon to create offense for himself or others consistently at this stage. He doesn't change speeds or directions very effectively with the ball yet, being especially limited using his left hand, which makes it difficult for him to create high percentage looks for himself on the fly in the half-court. He's not incredibly creative with his finishes if he can't get right into the teeth of the defense, showing average touch on his floaters, and isn't a brilliant passer off the bounce either, demonstrating just average court vision.  
As much as he improved making shots with his feet set last year, Peak has room to grow as an off the dribble shooter still, as he doesn't create much separation off the bounce and tends to release the ball on the way down occasionally. This simply isn't a big part of his game at the moment, which consists mostly of straight line drives and spot-up jumpers for the most part, even if he did demonstrate some flashes at times last year, making 12/28 (43%) of his attempts. It will be interesting to see how he builds on this next season with more offensive responsibility, and whether he's able to sustain the marked improvement he demonstrated as a 3-point shooter overall.
Defensively, Peak has been asked to guard anywhere from the 1-4 positions for Georgetown over the past two seasons, having some very impressive moments on this end of the floor. He covers ground well, has very quick feet, and can utilize his terrific length very effectively sagging off opponents and still contesting (or even blocking) shots on the perimeter.
With that said, Peak was inconsistent with this part of his game, taking a definite step back from what he showed last summer at the FIBA U19 World Championship for USA Basketball, where he played the role of defensive stopper for the Gold medal winners. He didn't always look like he's operating at full intensity on this end of the floor last season, particularly off the ball, and got beat off the dribble far more than you might hope for someone who should hang his hat on his work here.
This was hardly a problem that was unique to Georgetown last season, as the whole team was very inconsistent with their effort, approach and focus in Big East play, so it's tough to know how much of this is due to the situation he was in. What we do know for certain is that Peak will have to be an absolute lockdown defender to have any chance of carving out a role in the NBA, as he's simply not skilled enough to live off his offense alone.
Having a sneaky combination of coveted skills with his length, athleticism effective spot-up jumper and defensive potential, Peak is someone that will be monitored closely by scouts this season. Can he help what appears to be a fairly talented Georgetown team bounce back and make the NCAA Tournament after a very disappointing year? With Georgetown losing their most prolific and efficient offensive option in combo guard D'Vauntes Smith-Rivera, L.J. Peak will likely be asked to step up, putting him in an ideal situation to improve his standing among pro scouts.