Tau Vitoria sealed a ticket for its third consecutive appearance in the Euroleague Final Four this past week, following a strong showing by
Tiago Splitter
in the second game of the quarter final round against Olympiacos, worthy of our Player of the Week honorary nomination. Portuguese
Joao Gomes
gets special attention after his massacring performance in the Vilagarcía Basket Cup, confirming the notion that he's emerging as a strong second round candidate for the upcoming draft.
Player of the Week: Tiago Splitter
It was one of the primary goals for Tau Vitoria this season, to get to the Euroleague Final Four. It's done now. However, heading for its third consecutive appearance in the premier European event and having established itself as a legit European powerhouse, Tau won't settle for anything different than the title despite facing NBA-caliber teams such as Panathinaikos (the rival in the semifinal).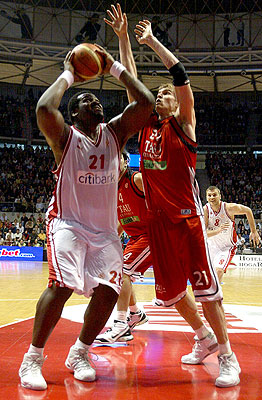 [c]Splitter tries to stop Sofoklis Schortsanitis - Euroleague[/c]
It's a bit of the same story for
Tiago Splitter
. After poor offensive showings in previous editions, it's about time for him to show to the crop of the NBA executives what he's capable of on the basketball court against the cream of the crop of international competition. The semifinals against Olympiacos was just another step in the right direction, more proof of his regained confidence and playing level. After averaging 14 points in the Top-16 round, Splitter wasn't much of an offensive factor in the first game, settling for 5 points and 5 rebounds. For the second showing, a road game in Piraeus, he perfectly teamed up with
Luis Scola
to detonate the Greek defense from the paint. The Brazilian had 18 points, 9 rebounds and 2 steals, staying very effective from the field (7/9). He continued with that effectiveness in the ACB League this weekend, going for 17 points, 5 rebounds and 3 steals, with just one missed field goal, although a very clutch three-pointer by Jaka Lakovic ultimately gave the victory to F.C.Barcelona.
Anyway, his low post skills continue emerging as the most intriguing department of his game as of late. Splitter actively asks for the ball in the paint and doesn't hesitate to go one-on-one if he enjoys the space to do it. He has developed a nice soft touch with both hands (his left hand is looking excellent lately), also improving his hook shots by putting more air underneath the ball on his release. It means that he doesn't struggle that much against bigger defenders since he can shoot over them with very nice accuracy. Tiago is no longer looking like a pure off-the-ball player, but he still works very well there, and also is benefiting from his improved stroke to finish pick-and-roll situations, as he delivers effective running-hooks if he finds opposition on his way to the basket.
Tiago is ready to emerge as a go-to inside player, only a step behind Scola, even replacing him if Luis is on the bench for whatever reason. A good showing in the Final Four should solidify his status as lottery pick.
Taking a Long Look at…
Joao Gomes
, flat-out impressive this past weekend in the Vilagarcía Basket Cup, a youth tournament in Spain. Leading his team Barreirense to the final, he averaged 31 points and 6 rebounds, including a sick 49-point performance in less than 30 minutes against Galicia Xove. Gomes has enjoyed a nice season in Portugal, averaging 17.4 points and 5.7 rebounds in the first division (25.2 points in the last 5 games), although it's a rather weak league among the European scene and he plays for the bottom-ranked team.
Gomes, also known as Betinho, is a 1985-born wing player, and therefore automatically eligible for the draft. We did have the chance to see him in the EuroCamp in Treviso last June, and although he showed some intriguing characteristics then, he failed to make a strong impression. Basically, we could see a very nice physical profile, being a well-built 6-7 player with an excellent wingspan and frame, also displaying nice athleticism. In terms of skills, he looked a fluid player, but totally ineffective. He was delivering jumper after jumper, looking in love with his own shot, but missing most of them, and by a wide margin. His mechanics didn't look bad, with a fluid release and nice elevation, but he was so off in terms of accuracy, while he rarely used his athleticism to attack the basket or contribute on the offensive end, that he couldn't crack into our reports.
Fast-forward to today and we again see the same shooting
maniac
, but this time Betinho was actually knocking his bombs down with really solid accuracy. Not only that, but he showcased a nice ability to release his jumper against opposition, proving to be a player capable of creating his own shot. He can go for a turnaround jumper, take his opponent to the low post and release it from there, use a slight fade-away move to create separation, go for the step-back or fire off the dribble, and almost always releases the ball rather high, both because of his mechanics and the vertical separation he creates elevating off the floor thanks to his athleticism. Actually, whenever Gomes put the ball on the floor, chances are he will go up at some point to release the jumper. He's not much of a slasher right now; even if he's a nice ball-handler, his first step is just decent and he's not super quick while dribbling. So it's usually a resource to unbalance his rival and find a more comfortable shot. However, he can eventually penetrate and finish nicely with both hands around the basket, or in powerful fashion taking advantage of his hops.
Beyond his offensive efforts, it was very interesting to see how he didn't slow down much on defense, staying active in the various zone defenses usually displayed by his team, looking very aware of the passing lanes (he came up with a nice amount of steals), showing nice lateral quickness, as well as good positioning. After all, he enjoys the tools to get the job done. He also did not forget about the rebounding department, staying alert and making good use of his wingspan and leaping ability.
One of the reasons why Gomes could have struggled so much back in Treviso last year was the fact that he uses quite a lot his legs to display his elevated and/or fade-away jumper. In these cases, it's rather usual that a player losses a lot of accuracy as he gets tired. Indeed, Betinho barely could make a shot in the last 12-14 minutes of the final in Vilagarcía. It was the second game of the day for him, and he had been playing for various consecutive days. An exhausting setting as the Treviso Camp could very well work against his shooting accuracy.
According to
Solobasket.com
, he will be back in the EuroCamp again this year, so we'll see if his stroke lives up to the challenge. Besides, the competition Betinho has faced in Vilagarcía was significantly younger than him, as he has usually matched up against under-20 players, even junior kids. So it will be interesting to see if he's able to generate the same advantages against his peers in Treviso; our personal guess is that he's skilled enough to remain fairly effective against stronger competition, but it would probably be a mistake to get carried away by his dominance in the Basket Cup. For the moment, he's emerging as a very serious candidate to consider in the second round for the next draft, and a guy to closely monitor in the following months prior to the draft.
State of the Prospect: Who's Hot
Rudy Fernández
with another superb performance in the ACB League. He had 29 points, 4 rebounds, 4 assists and 5 steals leading DKV Joventut to a road victory against Caja San Fernando. He was everywhere on the court, getting in the passing lanes, cleaning the boards, distributing the ball and running the floor. Actually, he did major damage in the fastbreak, constantly catching the opponent's defense off-guard and showing a superb ability to finish layups creatively. He also displayed some shooting touch from the perimeter and eventually from the mid-range area off the dribble. Considering the way Rudy has been playing this year and what he consistently brings to the table, he should be a lock for the first round no matter what.
Nikola Pekovic
is cashing in on
Kosta Perovic
's absence with consistently strong outings for Partizan in the Serbian SuperLeague. This week he had 24 points and 11 rebounds in barely 22 minutes against Mega Ishrana, while settling for 17 points and 8 rebounds against Vojvodina.
State of the Prospect: Who's Not
Luka Bogdanovic
continues fading in the draft sky, to the point that he probably doesn't have even the slightest chance of being selected in June. From winning MVP honours at the U-16 stage while playing with
Darko Milicic
and
Kosta Perovic
, going through a positional change from PF to SF, he hasn't been able to live up to expectations. His production has decreased in each of the last three seasons, he hasn't sorted out his biggest weaknesses (particularly his very poor ball-handling skills that limit his skill repertoire) and he increasingly tends to disappear from the court, lacking aggressiveness and fire in his game. Another wasted Balkan talent? It could be.
Rounding Up…
A turning point for
Víctor Claver
? The promising forward entered the court this past weekend with just one point scored for the whole season in the ACB League (precisely in the previous game). It was the start of the fourth quarter and his team Pamesa was trailing by 18 points against Akasvayu Girona. Claver led Pamesa's superb comeback effort with 8 points that ended up with a victory for his team by 3 points. Not only did he ignite the offense with his play, but he stayed aggressive on defense. With these credentials, we have to assume that coach Fotis Katsikaris will trust him with more playing time from now on (particularly while Dejan Milojevic remains injured), while it should also mean a big dose of confidence for Claver himself.
Ali Traore is finally back to action after an injury that had him sidelined since January. He celebrated his comeback with 10 points, 7 rebounds and the victory for Le Havre over Reims.