Over the last year,
Ty Walker
has been one of the hottest names on the high school level, regardless of class. It's pretty hard not to pay attention when you hear mumblings of a relatively unknown athletic seven footer who owns a 7'6 wingspan. The presence that Walker provides on the defensive end is unmatched at the high school level, as there is no other player with his combination of length, timing, and leaping ability in the class of 2008.
While he does not score many points for his loaded Boo Williams squad on the AAU circuit, Ty has shown off his offensive game throughout this past season at New Hanover HS. He has shown the ability to consistently knock down the 17 foot jumper, has incredibly soft touch, and has proven to be an adept passer from the high post. The athletic big man plays more of a complimentary role on the offensive end for Boo Williams, playing next to fellow top 10 prospect
Ed Davis
on the frontline.
There are very few players in the class of 2008 who offer as much potential as Walker does as far as the NBA is concerned. He desperately needs to get stronger and improve upon his back to the basket game, but if (or when) that happens, we have a player whom NBA scouts will be drooling over. When you combine Ty's freakish length with his excellent height and athleticism, it's easy to see why there are only a handful of prospects ranked ahead of him in the class of 2008.
Rodger Bohn:
You're one of the longer, if not the longest players the class of 2008 has to offer. Can you tell me your height, weight, and wingspan?
Walker:
I'm 7'0, 220 pounds. I have a 9'5 standing reach and a 7'6 wingspan. I wear size 19 shoes. I'm a little blessed with my height for my age.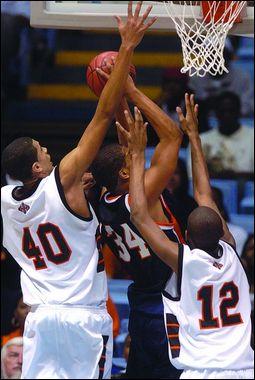 Rodger Bohn:
Can you give me a brief description of your game, for those out there who haven't seen you play?
Walker:
I feel as though I'm very versatile. I can dribble the ball, I can shoot threes, I can play inside and out. I can block shots and I am very good at running the floor. I feel as though I need to work on my strength and playing with my back to the basket.
Rodger Bohn:
There has not be another player who has risen faster in the class of 2008. When did schools really begin to take interest in you and when did you emerge as an elite prospect?
Walker:
Between my sophomore and junior year, I really didn't take things that seriously. Now I decided to work real hard because I know how good I want to be and I don't want to live my life through my parents and the mistakes that they've made. I just want to live the good life, so I want to work hard and be the best person I can be. Before my junior year, I just killed myself every single day and I'm still continuing to kill myself to be the best that I can be.
Rodger Bohn:
Tell me why you are the best center in the class of 2008.
Walker:
I feel as if I'm the best center in the class of 2008 because I'm an all around player. I can score, I can play defense, I can run the floor, I can play different positions. I'm very versatile. Some people compare me to
Greg Monroe
at times, and I feel as though I am sort of equal to him because we are both very versatile. We can both run the floor, block shots, and throw good outlet passes.
Rodger Bohn:
Who would you say the toughest big man you have went up against is?
Walker:
I would have to say
Greg Monroe
. I haven't really played against that many elite guys. I have played against
Drew Gordon
,
Greg Monroe
, and
B.J. Mullens
. My biggest challenge was
Greg Monroe
, even though I didn't guard him. He is very versatile and we are very equal as players. He's about 6'10 and he's long, so it's very hard to guard him with how versatile he is.
Rodger Bohn:
What areas of your game do you feel you need to improve upon most?
Walker:
Rebounding, strength, and my post play. I feel as though once the strength comes along, all of that will not be a problem. My rebounding is good right now, but I feel that it could be better.
Rodger Bohn:
Tell me what the typical off-season day for
Ty Walker
is like.
Rodger Bohn:
I go to school and then after school, I have weight lifting sessions. After that, I have a skill workout which consists of a bunch of drills. Shooting drills, post drills, two on two's, three on three's, everything like that. Then we have conditioning drills. That goes on for about two hours, and everything else is schoolwork after that.
Rodger Bohn:
How did your high school season go for you? Both individually and for your New Hanover team.
Walker:
It was really good. We finished 30-4 and we were the state champions in 4-A. I felt that was a big accomplishment because it was the first time that we had won states in 39 years, and I've always wanted to win a state championship. As for me, I feel that I did good…Especially in the second half of the year. During the first half, I felt as if I wasn't as consistent as I could have been. In the second half of the year, I stepped up as a leader, scored a lot of points, played good defense, rebounded, and everything like that. I just wanted to do what I had to do to lead our team to a state championship.
Rodger Bohn:
You kind of surprised everyone by committing to Wake Forest so early. Why did you pick Wake?
Walker:
During my sophomore year when NOBODY, no college knew who I was….I was about 6'11, 190 pounds. Nobody knew who I was and I didn't have much confidence in myself. At that time, Wake Forest saw and believed that I could be something good. They saw that I was a good student and a good person off the court. They just started recruiting me and made me their top priority. I was their top priority. I love the campus, the teachers, the campus life, everything. It just felt like home to me. I know all of the basketball players, especially Ishmael (Smith). Me and Ish talk every day, so I'm real cool with him. That's a big upside for me.
Rodger Bohn:
When looking at colleges, were you looking specifically for a school where you would have the opportunity to go one and done?
Walker:
Right now, I'm worried about the NBA, but I'm not worried about the NBA. I'm worried about getting better. I'm not worried about coming in and starting or anything like that, but I know I'm going to come in and play. I just want to come in and help my team as much as possible, and make some noise in the ACC. I want to just lead my team and be coachable. Later on, I"ll worry about the NBA. When it comes to Wake, it's just basketball and schoolwork.
Rodger Bohn:
Now I'm sure you've followed the coaching carousel this year. What would you do if Skip Prosser was not at Wake Forest by the time you were set to enroll?
Walker:
If Skip Prosser wasn't there, I would probably stay with Wake because they would probably have one of the assistant coaches move up to the head coaching spot. I love the whole entire coaching staff. They understand me and I understand them. I wouldn't change my decision, I would stick with my decision.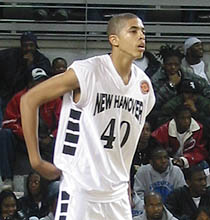 Rodger Bohn:
Now you've publicly stated before that North Carolina was your dream school, yet you committed to Wake Forest. I'd heard that North Carolina showed interest, but never offered you. Tell me what happened with the North Carolina situation.
Walker:
North Carolina was recruiting me pretty hard, but Wake Forest really recruited me even harder. It's hard to explain….Wake Forest showed so much interest. Throughout the course of my recruitment process, I guess that some things happened verbally between Wake Forest and North Carolina that I really don't know that much about. I had heard some things happened, and it kind of changed the entire process for me.
Rodger Bohn:
Many people have said that the reason that you picked Wake Forest was because North Carolina never offered you a scholarship. Did North Carolina ever offer you a scholarship?
Walker:
They never offered me a scholarship. Well, they may have offered me a scholarship. They had told me that they were finished with their scholarships, but I think they just offered
Ed Davis
a scholarship, so I guess they weren't really finished with it. It's fine. I'm happy with my decision.
Rodger Bohn:
Would you even consider it if North Carolina offered you tomorrow?
Walker:
I wouldn't even really think about going to North Carolina. I would stick to my decision. I feel like Wake Forest is home to me. When we do play North Carolina, I'm going to like the challenge. I'm going to follow my decision and I really wouldn't consider going to North Carolina.
Rodger Bohn:
What made you decide to play with
Ed Davis
on the Boo Williams squad instead of your former team, the NC Gaters?
Walker:
I always used to go and watch Boo Williams and always wanted to play with them. It was a dream for me to play with them. I always prayed that I could play with them. It was such a blessing when I got invited to go and tryout for them. I knew I had to work hard so I wouldn't just be on the team, but so I could contribute to the team. The NC Gaters kind of made me the 12th man midway through the season. At first I started, then they made me the 12th man. I'm here to play, I'm not here to sit.
Rodger Bohn:
What is it like playing alongside
Ed Davis
?
Walker:
It is a real fun experience. I also have to learn that the people with the most experience on the team are the main priorities. He gets the most touches on the team. I have to follow my coaches and let him get the touches. I just get the rebounds. It's a good experience. He's a real good player, has good post moves, and is a great person off the court.
Rodger Bohn:
Do you prefer playing next to another big name post player, or would you prefer playing on a team where you could be the focus of the offense?
Walker:
Either way, it doesn't really matter to me. As I said before, I like challenges being put in front of me. Even though I'm playing alongside a big name like
Ed Davis
, I'm also playing against the best competition in the nation.
Greg Monroe
,
Jrue Holiday
,
Tyreke Evans
. Even with Ed and I on the same team, we're still having fun and I'm still having challenges thrown at me.
Rodger Bohn:
With you being a kid who has been all over the circuit in terms of sneaker companies, how are you going to decide what camp to attend this summer?
Walker:
I'm going to do the Nike thing. I'm going to the Nike All-America Camp, the
Amare Stoudemire
big man camp, the NBAPA camp. All of the big name camps that are out there, I will be there so people will have a chance to see me.
Rodger Bohn:
What are your thoughts on the NBA's age limit?
Walker:
It's fine. I feel that people need to get a taste of college before they make it to the NBA because it's a different experience and it's such a big jump. The game speed is faster, there are much more skilled and experienced players that know what they're doing. Having a year in college is a good thing. It helps you prepare for the next level.
Rodger Bohn:
You are exactly right about having that year of college helping you prepare for the next level, but with the NBA's lack of true centers, you personally would have surely been a player who might have had the opportunity to jump with strong performances in the high school all star games. Don't you think it kind of hurts players like yourself?
Walker:
Yeah. I think being able to jump from high school to the NBA is a good thing, but what if you get hurt and can't play again? You have to have a fall back and college is that. In college you'll get your degree and that will be able to get you a good paying job if the NBA doesn't work out. You have to have a backup plan in case the NBA doesn't work out.
Rodger Bohn:
You have played in Adidas, Nike, and Reebok tournaments respectively throughout the years. What is the pressure like from each of the shoe companies to lean towards play in their respective camps?
Walker:
I'm not really worried about shoe companies persuading me or anything like that. I just want to go to camps, play against the best of the best, and just get known. I'm not really worried about being persuaded, bribed, or anything like that. I just want to play basketball, get better, play against the best of the best, and show what I'm all about.