Our first article taking a look at this year's crop of draft-eligible international prospects, starting off with
Nihad Djedovic
,
Leon Radosevic
and
David Jelinek
.
Nihad Djedovic, 6-7, SG/SF, Galatasaray, Bosnia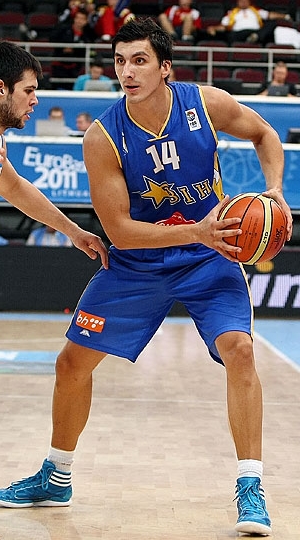 Jonathan Givony
Nihad Djedovic
has been on the radar for what feels like forever now. We
first wrote
about him in 2006 when he was 16-years old making his professional debut in Bosnia, and continued to follow him when he was signed by Spanish powerhouse Barcelona and invited to the Nike Hoop Summit in 2007.
His progression continued with solid showings at the adidas EuroCamp in 2008 and 2010, but he has yet to have his true breakout season since then, partially due to the situation with the team that owns his rights. Barcelona has repeatedly loaned him out to different teams year after year--back to his home club in Bosnia, to their affiliates Cornella in the Spanish third division, to fellow ACB team Obradoiro, to Italian and former Euroleague squad Virtus Roma, and most recently to Turkey, where he's finishing off the season in Istanbul with Galatasaray, who are currently in first place in one of the strongest leagues in Europe.
Barcelona still owns his rights and he is under contract with them for two more years, but they appear to be more interested in his younger brother Nedim Djedovic at this point, born in 1997 who they signed and is considered one of the most promising young prospects in Europe.
Djedovic has been enjoying consistent playing time for the past three seasons now in some of the top leagues in Europe—the ACB, the Italian league, the Euroleague, and now Turkey. Everywhere he's gone he's proven capable of putting the ball in the basket fairly efficiently, including this past summer at the European Championship in Turkey (Eurobasket), where he saw heavy playing time representing his home country of Bosnia.
Djedovic has excellent size for a wing player a 6-7, to go along with a strong frame and impressive athleticism for a European prospect. He can create his own shot prolifically thanks to his quick first step and strong ball-handling skills, showing good footwork, long strides, and the ability to change speeds and directions fluidly.
Very effective in the open floor, Djedovic has consistently shown the ability to get into the paint at every level he's played at, both in transition and in the half-court. His 2-point percentages have been impressive everywhere he's been—55% this season in both Italy and Turkey, 64% in Italy last year and 73% at the Eurobasket last summer (in just five games)—indicating that he's also a very solid finisher around the rim. He uses shot-fakes effectively on the perimeter and is able to take his man off the dribble in pick and roll and isolation situations, at times being asked to be his team's primary ball-handler and facilitator in the half-court.
The biggest thing holding Djedovic back at the moment is his propensity for turning the ball over. He coughs the ball up four times per-40 minutes this season, on nearly a quarter of his possessions, amongst the highest rates in the Italian league this season. He simply tries to do too much at times with the ball, over-dribbling wildly, trying to make very difficult passes, and running into brick walls. He's a little bit inconsistent in his approach in general, as his performance tends to fluctuate greatly from game to game, ranging from simply outstanding to very poor depending on which night you catch him on.
Additionally, Djedovic is just an average perimeter shooter at this point, converting around 35% of his 3-pointers this season on under one make per game, both career highs, up from 25% last season. Djedovic's instincts as a shot-maker actually aren't bad, poor shot-selection seems to be the main culprit here, as well as inconsistent shooting mechanics. He elevates extremely well off the floor creating separation from his defender, but he jumps a different height every time, and with a different release point.
Defensively, Djedovic is very solid, using his size and athleticism effectively to guard opposing wing players, which is perhaps not a surprise considering the level of competition he's played at the past three seasons. While he sports just an average wingspan (measured 6-7 in Treviso), he moves his feet well, puts a solid effort in, and has the lateral quickness to defend either wing position, which gives him the versatility to play at virtually any level of competition.
Although he's still working on becoming a consistently efficient player, Djedovic may be a little underrated at this point, as it's difficult to find many other players with his size, athleticism, shot-creating ability and experience available in the second round. His contract situation does not appear to be too much of a hindrance either, as there's apparently a good chance he will become a free agent this summer.
After playing on a very disappointing Virtus Roma team for a year and a half, an organization that appears to be in disarray at the moment, Djedovic moved mid-way through the season to Galatasaray, who are competing for a championship. He's getting plenty of minutes, and has had some solid performances, albeit inconsistently thus far.
With a deep playoff run in the very competitive Turkish league, Djedovic's talents will be on fully display for the next month and change, which could help improve his draft stock significantly. He is automatically eligible as a 1990-born prospect, and looks like a solid candidate for the second round for a team looking to draft and stash a promising international player.
Leon Radosevic, 6'9, Power Forward, EA7 Emporio Armani Milano, Croatia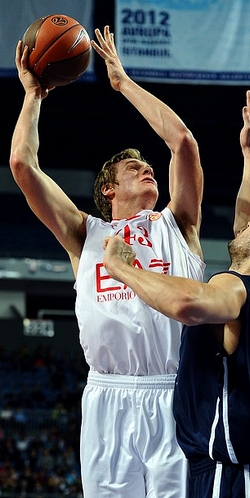 Matt Williams
Taking advantage of a unique opportunity last season when Cibona Zagreb's financial troubles pressed him into extended minutes in the Euroleague and Adriatic League,
Leon Radosevic
was an early entry candidate for the 2011 NBA Draft, but was forced to withdraw after injuring his foot at the adidas Eurocamp. Changing scenery and signing with powerhouse Armani Milano last summer, the 2012 season has been a change of pace for the Croatian big man. Playing a much less prominent role for a much more talented club, Radosevic has not gotten the opportunity to showcase his skill set, but remains one of the most prominent names in this year's crop of auto-eligible international prospects.
Standing 6'10 with a solid 240-pound frame and near 7'0 wingspan, the Croatian big man has good size for a NBA big ma. He lacks a degree of strength and is not a tremendously springy athlete, but has added some weight to his frame since last season, is quick off his feet, and plays with energy. He does not have ideal physical tools for a NBA player, but is not a complete slouch and has the offensive polish, high basketball IQ, and unselfish attitude to offer value as a role-player.
Unfortunately, Radosevic's role for Milano has offered little opportunity for him to showcase his offensive game. Scoring from the midrange and in the post with a simple, but polished offensive repertoire last season, Radosevic has functioned almost exclusively as a catch-and-finish option this season, doing what his coaches ask of him. He spends most of his time setting screens, rolling to the basket, and ducking in behind the defense when his teammates penetrate. Converting 61% of his finishing opportunities according to Synergy Sports Technology, Radosevic's touch around the rim does help him make the most of his limited scoring chances, even if he has only attempted a pair of jump shots this season.
Knocking down 40% of his jump shots and seeing a couple of touches every game in the post last season, Radosevic faces a unique challenge in terms of reaffirming his value offensively to NBA scouts. He's filled the roll he's been asked to in Milan, and done so very efficiently, but he'll need to remind scouts what he brings to the table on the offensive end at the Eurocamp in Treviso and in workouts in the coming months, as his current role does not paint him in a light that reflects his talent.
Defensively, Radosevic has struggled with the same things he had issues with last season. Asked to play the center position for stretches, Radosevic is simply not strong enough to effectively defend more physical post players around the rim, giving up too much ground and unable to deter interior scorers when they make decisive, aggressive moves to the rim. He's also a questionable rebounder, lacking the strength and explosiveness to pull down boards at a prolific rate. He does play with energy, helps his teammates, and does a decent job denying dribble penetration, but will need to get stronger and more active on the glass to alleviate concerns about his abilities on the defensive end.
Automatically eligible for the 2012 NBA Draft, Radosevic is our top ranked 1990 international prospect for a reason. He is a fundamentally sound all-around player with good size who can step away from the rim, run the pick and pop, and make savvy plays to score inside the paint. Scout have gotten to see very little of that from him this season, and considering his limitations defensively, his ability to show what he brings to the table offensively at a few key moments in the pre-draft process will likely play a role in what his draft stock looks like closer to June 28th.
David Jelinek, 6'5, Shooting Guard, FIATC Mutua Joventut, Czech Republic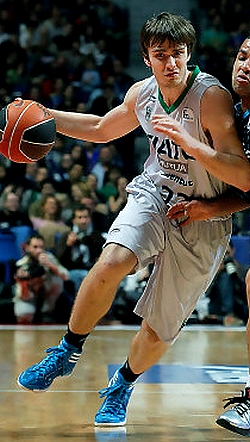 Matt Williams
After a strong campaign in his first season seeing significant playing time in the ACB and a promising performance at the 2011 adidas Eurocamp,
David Jelinek
appears to have taken a step back in his final season upon becoming automatically eligible for the NBA draft. The perimeter-oriented Jelinek continues to see significant minutes in the ACB, but has struggled to score efficiently all season long.
An average athlete with just decent size and length for a NBA shooting guard, Jelinek's perceived value at the NBA level has always been rooted in his ability to knock down shots from the perimeter. Connecting on some 46% of his three point attempts last season, his ability to stretch the floor and knock down open spot-up shots offered some intrigue. This season, Jelinek is shooting just 32% from beyond the arc, and has gone from shooting 52% in catch and shoot situations to connecting on just 29% according to Synergy Sports Technology. He doesn't seem to be shooting with the same fluidity and reliable follow-through we saw from him last season, lofting the ball at the rim from deep and short arming shots with a hand in his face, often coming up well short as a result.
Considering most of Jelinek's touches come on kick outs to the perimeter or when he's running off of screens—and just how efficient he shot the ball last season—such a dip in reliability is very significant. Lacking great quickness and ball-handling ability, Jelinek is not one to make plays off the dribble consistently, and is shooting only 41% from 2-point range (identical to last season) in the very physical ACB league due to his skinny frame and lack of explosiveness around the rim. The Czech wing been at his best this season when defenders have over-aggressively closed him out or trailed him as he runs off screens, as he's looked much more in rhythm pulling up for a jump shot from the midrange than he has off the catch.
Given his average physical tools, Jelinek doesn't create much offense for his teammates, but he's not selfish either. His struggles from the perimeter are not a result of him forcing the issue, and he willingly swings the ball instead of trying to re-find his stroke.
Defensively, Jelinek has shown some improvement this season. He still lacks the lateral quickness to be able to defend his position at the NBA level, but he's played with improved intensity this season. Often the target of on and off ball screens, Jelinek lacks a degree of strength and toughness fighting through contact, but does a decent job getting a hand in the face of shooters and not ball-watching on the weakside, something he did regularly last season. He'll need to get stronger and learn to deal with physical play if he wants to become a more complete defensive player in the European game down the road, but he is not giving up as much dribble penetration as he did in his first season as a rotation player in the ACB.
After a promising 2011 season,
David Jelinek
seemed to be turning the corner as a prospect. His play this season has certainly given scouts pause, as his effectiveness from the perimeter has coming crashing back down the earth. Such a dip couldn't have come at a worse time for Jelinek's NBA prospects, as he's automatically eligible for the 2012 draft, but if he can rediscover his touch, he could certainly emerge as a valuable role-player once again in the ACB down the road.