Aaron Jackson will be one of 64 college seniors competing at the Portsmouth Invitational Tournament this week. We'll be on hand covering the event from top to bottom.
Several months ago, before March Madness, before the conference schedules, even before the regular season had started, Duquesne coach Ron Everhart called his point guard
Aaron Jackson
into his office. The senior had been having a poor practice and Everhart had been riding him for his subpar defense all afternoon. After Jackson made a wisecrack on the side to a teammate, the third year head coach decided he needed to have a talk with his floor general.
"Do you look at yourself as a guy that can play in the NBA?" Everhart asked. Jackson shook his head no. "The way you worked in the offseason, you work like a pro," the coach continued. "I think you need to understand that this season is going to be indicative whether or not you can play this game for money after college. You need to play like a pro and you need to start coming to practice with that mentality."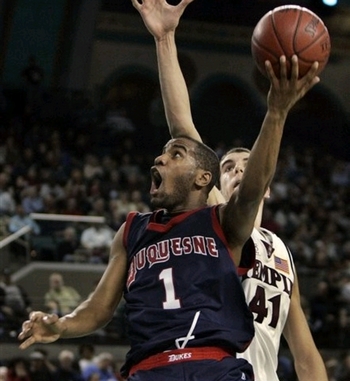 That afternoon, the switch flipped for
Aaron Jackson
.
After three underwhelming seasons with the Dukes in which he averaged 9.2 points and just over 3.5 assists, Jackson turned his senior campaign into a coming out party, not only in the Atlantic-10, but on a national level. The Connecticut native had career highs in every major statistical category, averaging 19.3 points, 5.5 rebounds and 5.7 assists, all while shooting better than 55% from the field and 40% from three-point range. Jackson's final act in his announcement as an NBA prospect came just a few weeks ago when he scorched Virginia Tech for 46 points in an opening round loss in the NIT.
"I saw it as a major opportunity, I could help my team win and help myself as well," Jackson says. "Fortunately I was hot that day and was able to do a lot of things well. I wanted to show that I could play at that level, even though we were going against a team from the ACC."
Call it humility; call it naivety, whatever the case may be, it has been a long time coming for Jackson to realize just how good he is. Leading up to the first round of the NIT, he claims he was shocked when he saw his name listed on this very site as a prospect to watch in the Tournament field. To truly understand how it is a player like Jackson can exist in this day of pre-draft prima donnas without showing the faintest hint of arrogance, you need to start at the beginning.
Jackson arrived at Duquesne in the fall of 2005 with a goal.
"When you first walk into Duquesne you do it because you want to rebuild a program, that's one of the reasons why I chose the school," Jackson says. "I showed up and we won three games."
They won three games and lost twenty-four. It was a season to forget for Jackson and the Dukes, and while there was promise for his sophomore year with the arrival of Everhart as the new coach, things would take a tragic turn. In September, five Duquesne basketball players, including Jackson, were shot by a crazed gunman. Still, Jackson was able to push through the event after suffering a minor wound and have a more successful sophomore year.
"It was a tragic experience but it was a life experience that made me a better person. It brought our team together," he says.
It was after his junior year, though, a season that saw his numbers take a slide, that Jackson decided changes needed to be made.
It wasn't just spending more time in the gym during the offseason; it was getting to understand the game better mentally," he says. "I was a gym rat; I was really hungry after seeing my numbers drop from my sophomore year. I was scared to shoot the ball and I wasn't all there mentally."
Jackson credits much of his mental improvement to the book
Mind Gym
written by noted sports psychologist Gary Mack. The book focuses on how the mind can have just as much of an impact in on the court performance as physical skill can. The forty or so lessons that are included in the book are designed to help athletes build "mental muscle" and improve their overall performance.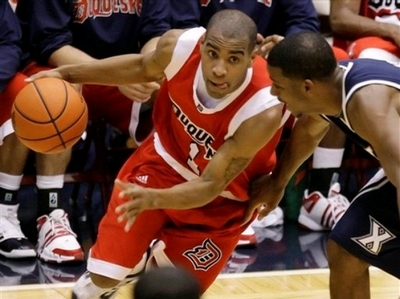 Ron Everhart now thinks back to that day in his office when he presented Jackson with the challenge to step up his focus and intensity.
"From that day forth, that kid was more focused than any kid I've ever seen," Everhard says. "I saw that in his eye every day, I saw him demand of his teammates that they do things right, I saw him demand of himself that he do things right. I think what happened was our team became a heck of a lot better, largely due to the fact that he was so focused on being good."
The newfound work ethic of their senior leader helped push the Dukes to a 21-win season, the best win-total in the program's last 38 years, and a berth in the A-10 Championship game. It also put Jackson on the map for NBA scouts, who will be waiting to see what the conference's best kept secret can do this week at the Portsmouth Invitational Tournament. While auditioning with some of the top seniors in the country this week, both Jackson and Everhart agree on what is going to be the biggest selling point for the floor general.
"A lot of people say I'm not that quick, but then they get to see me in person; I consider myself a very quick point guard," Jackson says.
"I think his speed is going to jump off the charts at scouts," Everhart echoes. "People can question his decision making or anything like that, but no one is going to be able to pressure him for 94-feet with a basketball in his hands. I think that everybody who sees him is going to say, wow he's a very good transition point guard, and he's great in the open floor."
What scouts are going to see in Jackson is a big athletic point guard (he is a legitimate 6-4) who distributes the basketball well and is extremely versatile. They are also likely to see a real team player. An individual who called a players only meeting after a tough loss to Old Dominion in December, before the coaches had said a word. Coach Everhart calls him, "the cornerstone that Duquesne has been built on so far."
As he prepares for one of the most important weeks of his life, Jackson has a remarkably calm demeanor, a combination of quiet confidence and mature understanding of the difficult process that stands before him.
"It's nothing new to me, it's just playing basketball," he says. "Obviously the NBA is the ultimate goal, but I know only one percent of college athletes make it to that point. It would be a real blessing if I was to make it that far, but I just want to be playing basketball no matter what."
It's a safe bet that with that mindset and skills to boot, Jackson will see at least a part of that dream realized when the dust settles this summer.