Many preseason projections had the Cleveland Cavaliers playing deep into the Eastern Conference playoffs, but few recognized the major problems the team would have eclipsing the regular season success they saw last season. While the team has a number of strengths, it also has one clear, glaring weakness holding it back.
LeBron James
is certainly capable of carrying the Cavaliers deep into the postseason, but the team appears to be a piece or two away from being legitimate contenders for the NBA Championship. General Manager
Danny Ferry
has done a good job building the team around James, but the team is still in dire need of some kind of change at the point guard spot.
Using
Larry Hughes
as a principle ball-handler has been a shrewd maneuver by the organization overall however. Hughes has experience at the point and if it keeps him engaged and productive it may be the best option for the team going forward. With a number of tradable assets on the roster.
Roster and Financial Breakdown-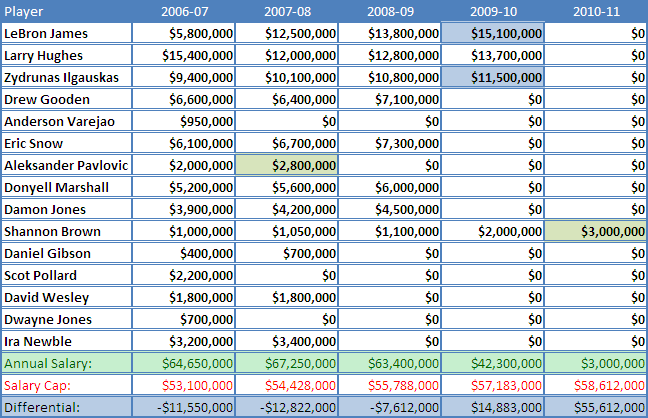 (Salary Cap projections were created taking the average increase over the past 5 seasons)
Record/ Overview:
50-32, 2nd place Central Division, 2nd seed Eastern Conference
No other players on Cleveland's roster have a more telling statistical relationship to the outcome of games than
Eric Snow
and
Damon Jones
. Neither player gets their name called frequently in
Mike Brown
's offense, but that doesn't detract from the way they can impact a game.
Eric Snow
's defense is what keeps him on the court, but his lack of scoring ability puts undue pressure on his teammates when he is on the court. While most people would identify his lack of shooting range as the reason he doesn't fit in Cleveland's offense, his playmaking ability may be the real problem. Snow doesn't turn the ball over very often, which is a desirable characteristic of any good point guard. However, he doesn't create open shots for his teammates or draw attention from their defenders, which would go a long way towards making
Mike Brown
's offense less stagnant than it appears.
Damon Jones
has an entirely different set of standards than Snow. Jones's job is to make open shots, and play a little bit of point guard on the side. While he has been doing a solid job this season, he doesn't produce in other areas well enough to overshadow his poor shooting performances. With few other scoring threats coming off of the Cavalier bench, Jones has to become more consistent for this team to succeed with the pieces it has in place right now.
Daniel Gibson
took over Snow's starting spot on January 30th and played rather well considering it was his first start in about a month and a half. Unfortunately, Gibson went down with a toe injury shortly before the All-Star break. While this shouldn't jeopardize his status as a rotation player, it could slow him down for quite some time. It isn't reasonable to expect Gibson to be the answer to this team's point guard woes as a rookie, but he may not have much of choice.
Current Assets:
The Cavaliers do have a number of tradable assets they could parlay into a starting caliber point guard, but it doesn't seem likely that they'd be willing to part with most of these players.
Expiring Contracts-
One of the few players off of the Cavalier bench that has legitimate value is
Sasha Pavlovic
. After putting up 24 points in a spot-start for the injured
LeBron James
, Pavlovic's value is the highest it has been since he arrived in Cleveland. Injuries to
Daniel Gibson
and the decline of
Eric Snow
's play thrust Pavlovic into the Cavaliers starting lineup. He responded by showing off the shooting stroke and perimeter game that made him a first round pick four years ago.
Pavlovic will be a restricted free agent this offseason, and if he continues to produce at the rate he has,
Danny Ferry
is almost certain to resign him. He was a decent player off the bench for the Cavaliers until late this season, but he came on extremely strong down the stretch. Pavlovic will probably garner a contract less than that of the average starting NBA small forward.
Amongst Cleveland's bench players,
Anderson Varejao
has the most value. Not only is he young, but he works extremely hard on both ends of the floor and has an uncanny knack for drawing charges. Since the Cavaliers don't have a legitimate backup center to
Zydrunas Ilgauskas
, Varejao is that much more valuable to this team because his hustle allows him to log minutes there. Varejao is currently in the final year of a three year deal, and resigning him will likely be one of
Danny Ferry
's top priorities this off-season. Ferry has made it clear that he doesn't want to deal Varejao, so don't expect to see him going anywhere in the near future.
Scot Pollard
hasn't gotten a lot of the time for the Cavaliers, and his two million dollar deal will come off the books at the end of the season. Pollard's future with the team isn't entirely clear. If Cleveland has an extra roster space during the off-season, it wouldn't be surprising to see Pollard in a Cavalier uniform again next season for the vet minimum.
Dwayne Jones
's deal comes off the books at the end of the season as well. Jones has seen essentially no court time, but he comes at a bargain price. If the Cavaliers find themselves with an extra roster spot going into next season, Jones very well could get another look.
Total Cost: $5,772,015
Rotation Players-
Danny Ferry
resigned
Drew Gooden
last off-season and Gooden responded with another season of improvement. Gooden definitely has some value on the trade market, but it wouldn't be worth it for the Cavaliers to move him. If they decided to swing Gooden for a guard, it would leave them with no depth in the post. Given the size of the contracts other comparable players have received over the past few years, Gooden's contract is rather team friendly. This fact makes him all that much more likely to stick around.
The Cavaliers will definitely be a team to watch over the next few seasons as they have a number of large contracts expiring in the not too distant future.
Ira Newble
's contract will finally come to an end, and
David Wesley
should be ready to hang 'em up. Newble's expiring contract is much more valuable than his production, so he should be actively shopped next season. Wesley's deal isn't huge, but if used with Newble's and a couple of other attractive deals, Cleveland may be able to grab a piece that keeps LeBron in Wine and Gold beyond his option year.
Two seasons from now, the contracts of
Eric Snow
,
Donyell Marshall
, and
Damon Jones
will end. All three are getting up there in years, and haven't been the building blocks around
LeBron James
that
Danny Ferry
expected them to be. The three's contracts total approximately 17.5 million dollars, which could be a sizeable enough sum to entice a team looking to clear cap space to inquire about them.
As far as Cleveland's needs are concerned, trying to package this trio in exchange for
Ray Allen
may be a very prudent move. Cleveland would certainly have to add value in the form of picks and players, but it's not out of the realm of possibility.
Shannon Brown
, Gibson, and Varejao in a prisoner exchange for Allen and one of the young centers Seattle boasts might interest a Seattle team that's directionless and concerned with things other than winning at this point.
Zydrunas Ilgauskas
and
Larry Hughes
are both playing the beginning of long, lucrative contracts. While neither has put up spectacular numbers this season, they are still very solid players. Both are still adjusting the
Mike Brown
's offense, and given their relative ages and skill levels, just aren't worth actively shopping.
Danny Ferry
could move either if the right offer came along, but that likely won't be the case.
Total Cost: $55,337,563
Prospects-
Along with
Anderson Varejao
and
Sasha Pavlovic
, rookies
Daniel Gibson
and
Shannon Brown
are both worth keeping an eye on. Gibson's promotion to the starting lineup earlier in the year could cause some problems for the Cavaliers in the long run. Gibson's contract only runs through next season, and unless
Danny Ferry
makes the effort to resign him now, he will hit the open market. Depending on how he plays over the first few months of the next regular season, Gibson could be looking to get himself a nice pay raise in the near future. With the soon-to-be dead weight contracts of Snow and Jones hanging around Ferry's neck, it'll be interesting to see how Cleveland plays this out.
Shannon Brown
could be locked up until 2010, so it doesn't appear that he will be going anywhere quickly. It would be wise for Cleveland to hang onto Brown, a player who has a lot of similarities to
Tony Allen
, and could prove to be the better complementary player than Gibson. Brown's defensive potential paired with Hughes and James may outweigh Gibson's utility if Hughes continues to run the offense with frequency, something Gibson isn't that adept at anyways. A little patience and direct involvement with Brown could really yield dividends. Giving Brown sound structure and communication will be key however, as Brown is somewhat prone to drift if left without guidance for too long.
Total Cost: $1,384,325
Free Agency
The Cavaliers haven't had much success bringing in a starting point guard over the past few years. This off-season's class of point guards isn't all that exciting, but there are a couple of intriguing possibilities.
Milwaukee point guard
Maurice Williams
had been having an unbelievable season and may be one of the most underrated guards in the league. He will be an unrestricted free agent at the end of this season, but he very well may have played his way out of the Cavalier's price range. Williams would be a great fit for the Cavaliers as he has proven his ability to score as well as distribute at a high clip. He should prove difficult to pry away from the Bucks and will likely be one of the more sought after free agents of the summer.
Steve Blake
will also become an unrestricted free agent this off-season.
Danny Ferry
has attempted to acquire him in the past, so it wouldn't be surprising to see him try to sign him again. Depending on how Denver finishes the season, they may or may not show interest in Blake when the summer rolls around. Blake should be in the Cavalier's price range, but might not be the best long-term solution to their problems at point guard.
Another interesting player on the market this summer is
Jason Hart
. After putting up solid numbers for the Charlotte Bobcats two years ago, Hart could be looking to find a new home this summer. He hasn't gotten a lot of playing time in Sacramento, so he could be had on the market this summer for roughly what he was being paid after he left Charlotte. Hart's name has been connected to Cleveland in the past, so he will likely be on their radar again this time around.
Hart's game is reminiscent to Snow's right around the time he established himself with Philadelphia. Hart won't be spectacular, but if given the chance to play a major role he might surprise a number of teams with his consistency and reliability running a team, much like Snow did.
The last player of the Cavaliers could have interest in is
Chucky Atkins
. Atkins's ability to get the ball up and down the floor and hit from deep could make him an instant target of the Cavaliers. He has been a consistent producer throughout his career, and should be asking for right around what the Cavaliers want to pay. Atkins has never been known for his defensive prowess, but he can play one end of the court very well, and on nights he's as good as you'll find on the offensive end, which would help alleviate the scoring burden on LeBron and the recently resurgent Hughes.
The Cavaliers could also opt to pursue another veteran big man in free agency to solidify their frontcourt depth. If they spend mid-level money on the backcourt they probably won't be able to spend much on whoever they try to acquire, so their options are very limited.
Jamal Sampson
and
Dale Davis
will be available, and if Cleveland decides to be more aggressive,
Melvin Ely
will be on the market as well. It also wouldn't be entirely surprising for them to give
Dwayne Jones
another chance to round out the bottom of the roster.
Draft
The Cavaliers do not have a first round selection in the upcoming draft due to an extremely questionable trade for Jiri Welsh. Their second round pick was part of the deal that landed the team
Anderson Varejao
and
Drew Gooden
. It wouldn't be surprising to see
Danny Ferry
acquire a second rounder to draft a player to stash in Europe or select a project player to designate to the NBADL. While there could be a number of interesting point guard prospects available late including
Jared Jordan
and
Aaron Brooks
, it would be surprising to see the Cavaliers take a point guard who won't make an immediate impact.
Danny Ferry
could look to dangle one of Cleveland's younger players to try to move back into the late first round, but this will be entirely contingent on what players are projected to still be on the board. The players the Cavaliers invite in for workouts should make their intentions to trade into the draft clear.