The Celtics quickly found their season derailed as a litany of injuries to key rotational personnel ended any thoughts of post season contention early in the campaign. Veteran star
Paul Pierce
went down with the first significant injury of his career and exposed the youthful roster's lack of depth and finishing ability.
The injured list was long, but it did give the team an opportunity to evaluate many of its promising young prospects. The situations these players were thrust into helped the team to advance their development and increase their market clout going into the offseason.
With so many superstar players looking for championship satisfaction, the Celtics are at an interesting crossroads with their current roster.
Paul Pierce
is certainly looking at his contemporaries and wondering what his team will do to satiate his desire to compete. GM
Danny Ainge
must carefully weigh all the short and long-term benefits of the numerous opportunities he has to manipulate the construct of his roster.
It should be an interesting offseason for this once-proud franchise, and the possibility exists to establish the first legitimate foundation the Celtics have seen since the early 90's. What they do going forward should be a fascinating case study in modern day team building, though it remains to be seen what side of the coin that example falls on.
Roster and Financial Breakdown: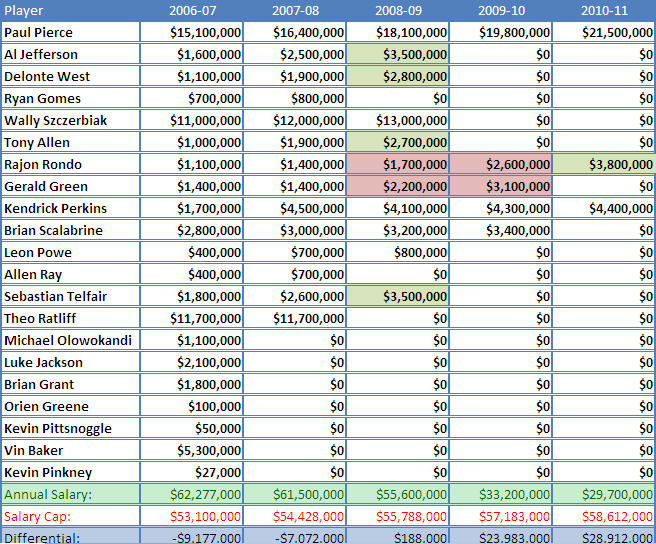 [c](Salary Cap projections were created taking the average increase over the past 5 seasons)[/c]
Efficiency: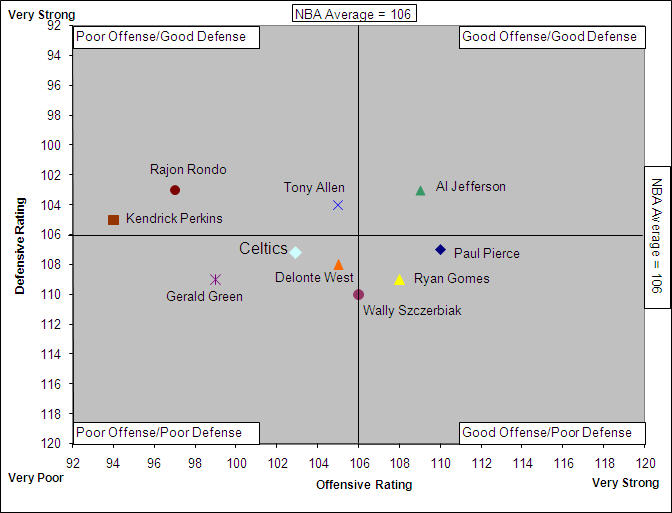 [c]courtesy of Paul Gearan and Heather Allen[/c]
Usage: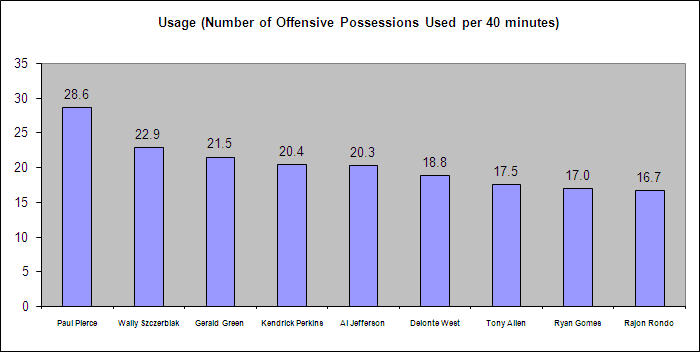 [c]courtesy of Paul Gearan and Heather Allen[/c]
Record/ Overview:
24-58, 5th place Atlantic Division
The Celtics started off the season with the idea of developing a certain set of young players around their two stalwart veteran scorers,
Paul Pierce
and
Wally Szczerbiak
. The team wasn't expecting to contend and made a prudent business decision to invest in the development of three principle young players:
Al Jefferson
,
Ryan Gomes
, and
Delonte West
. Each of these three players had done something during the past season to warrant a closer inspection.
Kendrick Perkins
and
Tony Allen
also had given the team reason to ponder future acquisitions, but it was the aforementioned three that came into the season with substantial weight on their shoulders to contribute.
Much of the team's roster consists of rookie contracts, and the organization has take a long-term philosophy of building a base of talent for the purposes of increasing its viability in the marketplace by developing "growth stock" investment assets for other teams who are looking for an infusion of youth.
The team certainly wasn't expecting to be in the situation it found itself when injuries to Pierce, Szczerbiak,
Theo Ratliff
, and
Tony Allen
effectively ended their chances of competing in the notoriously weak Atlantic Conference. But from a long term perspective, the organization suffered very little in terms of its ability to evaluate its portfolio of assets and make some definitive conclusions for moving into this offseason.
Danny Ainge
has done a masterful job at lining up salaries in such a way that virtually all his deadweight contracts expire just as the team must extend the deals of the youth they choose to keep. Ainge has also managed to acquire a good mix of mid and upper level contracts that help to facilitate trades for the types of impact acquisitions necessary to build a competitive club going forward.
The organization still has some work to do, but they have positioned themselves well to be a player at the table when it comes to making the types of deals that can put Boston back on the basketball map. Whether or not Ainge is adept enough to complete this final round of business will be the determinant in the success or failure of his tenure.
Current Assets:
The Celtics are pretty much entirely made up of assets. Only
Wally Szczerbiak
's deal looks to be an asset negative at this time and he should quickly find himself in demand at this time next season, as
Theo Ratliff
is discovering this offseason.
Regardless, there are enough young prospects on this team that warrant attention around the league, though not all look to reap the return that Celtics fans are hoping for. The team is in a good position to make effective moves both this offseason and beyond.
Expiring Contracts-
For this offseason,
Theo Ratliff
's expiring contract has put the Celtics front and center in virtually every major trade discussion in the marketplace. Boston has been roundly criticized for last year's draft day trade for
Sebastian Telfair
, but it is Ratliff's expiring deal that has enabled the Celtics to get in on a number of trade discussions they wouldn't have been able to participate in.
The other principle in that trade,
Sebastian Telfair
, also has a nice portion of cash coming off the books as he is slated to make just over 2.5 million next season. Telfair has yet to live up to his billing, but the combined salaries of these two players gives Boston over 14 million in cash to negotiate with.
Ryan Gomes
is also coming off the books, but his salary slot is outweighed by his talent and he isn't much more than a throw-in from the perspective of outside organizations that are looking to add future talent. Gomes continues to fly under the radar for most teams because his game is more aptly displayed on a consistent playoff team that can utilize his intelligence and ability to play off of their established stars. Look for Gomes to be moved in a major deal as filler, but expect him to land somewhere and increase his value over time.
Total Cost: $15,000,000
Rotation Players-
Pierce is still the cornerstone of the Celtics for the moment, and Ainge has stated his desire to build around him for the long term. Injuries derailed Pierce's season for the first time in his career, and the team may be considering re-evaluating its long-term options.
Pierce is in the peak of his prime at 30 years of age, and should be able to command a decent return in any trade scenario, despite the money owed to him on his deal. In an offseason as volatile as this, it is prudent for the team to gauge their Captain's value as an alternative to building around him.
Al Jefferson
's emergence last season is one of the principle reasons the team may actually entertain thoughts of moving Pierce. Despite the team's horrid record without the captain, Jefferson was able to make tremendous strides in his personal game in terms of operating out of the double team and extending his game beyond pure post play.
Many league executives have kept a cursory eye on Jefferson over the past two seasons, but his name has moved to the forefront of every team's request list when it comes to negotiating trade scenarios with the Celtics. Most expect Jefferson to be an offensive anchor for a team's frontcourt, and at 22 years of age he is getting quite a lot of attention for his potential going forward.
Kendrick Perkins
serves as the team's current center and Jefferson's pivot partner. Perkins has shown flashes of being a defensive centerpiece with his shot blocking and rebounding, but hasn't remained healthy enough or consistent enough to warrant much outside attention. The deal Perkins signed last offseason is cap friendly for a 22 year old 5-man who has shown hard work and dedication to improvement, but until he puts up numbers to validate his efforts, he'll be more valuable to the Celtics than he will to anyone looking to make a deal.
Wally Szczerbiak
had a disappointing season after beginning the year with one of his best starts of his career. Szczerbiak has battled knee and ankle injuries the past 2 seasons and has completely eliminated his trade value in the process.
The Celtics didn't do themselves any favors in this department by continually rushing Szczerbiak back onto the floor as quickly as possible after every ankle twist. More prudence by the coaching staff will have to be used if they hope to keep Szczerbiak healthy and productive this upcoming season. When Healthy, Szczerbiak's efficient scoring from the perimeter would make him a valuable contributor to the Boston inside/outside attack.
Delonte West
is another solid young player who has generated a lot of respect and interest around the league because of his gritty play. West's history of nicks and bruises has limited his market value to some extent, as has his solid but unspectacular numbers. West is ideally suited for being a 6th man scorer off the bench because he can play both guard positions and is absolutely lethal at times with his scoring ability.
Getting a healthy and consistent year from West should increase his trade value substantially, so the team would be wise to sign him to a cheaper deal now and enjoy the benefits later down the line.
Total Cost: $37,300,000
Prospects-
Gerald Green
is probably the headline talent in terms of league interest. His win at the All Star game's dunk contest solidified his name in the minds of GM's and
Kobe Bryant
's comments about his potential helped to solidify thoughts about his game.
Green has always been considered a highly talented long-term project by most executives around the league, and for players like that it is typical to allow the team that drafted them to do the developing.
Green's value is solid, but unspectacular when it comes to trade discussions. Any team would gladly take him, but until his game reaches a level where they know he can contribute substantially, the Celtics will always receive low-ball offers for his services. Look for the team to either move him in a bigger package or hold onto him until his value is more substantial.
Tony Allen
's midseason arrival last year helped to solidify the team's opinion of his future going forward. The knee injury has diminished Allen's trade value, so the team is most likely going to hold onto him and see what he brings to the table next season. It is doubtful that the Celtics will have such faith as to project him as a building block at the wing, but a good showing next year will make the team's decision much easier as Allen has shown what he can do when 100 percent healthy.
Rajon Rondo
quickly became a fan favorite with his propensity for the spectacular. He's the best pure point guard prospect the team has had in quite some time and has the potential to be a lock down defender once he gains a greater understanding of his opponent's tendencies and capability.
Rondo probably has some value on the market right now, but
Delonte West
may have more because of his proven track record. Rondo's shooting issues are still a point of concern for the Celtics and other teams, so it's doubtful he'll be the make-or-break chip in any future deal until he has established his effectiveness in a winning environment. The team will most likely hold onto Rondo and develop him themselves.
Leon Powe
and
Allan Ray
all have little trade value on the open market, though each still has a long way to go before they can be called finished products. The team will most likely rid themselves of at least one out of two depending on roster availability, and it seems Powe is the most likely to stick right now because of his defensive and rebounding ability at the 4, a position that is currently thin for the team. Offseason acquisitions will determine the fate of these two, but both have a good shot at sticking in the league.
Total Cost: $6,100,000
Free Agency
The Celtics are over the cap and will likely not be players in the free agent market barring a major trade that increases the appeal of Boston as a free agent location. Ownership has stated its reluctance to exceed the salary cap unless the team is legitimately "one piece" away from contention, so it is doubtful any mid-level acquisitions will be made without substantial changes in other areas first.
Draft
The Celtics hold the 5th and 32nd picks in this year's draft, but have been widely rumored to be looking to make moves to increase the short-term prospects of the team.
If Boston does stay at 5, the best fit for them would be a defensive frontcourt partner to fill out the rotation alongside Perkins and Jefferson.
Joakim Noah
and
Al Horford
hold obvious interest, while
Yi Jianlian
continues to be an intriguing prospect for his offensive potential. If the team stays at 5, expect a big man to be picked unless a deal has been struck for after the draft. If the team takes a wing something is happening on the trade front.
Jeff Green
has been mentioned as a serious candidate and is rumored to be the pick of head coach
Doc Rivers
—who scouted him extensively while watching his son Jeremiah play at Georgetown.
At pick 32, there should be a number of potential quality starters available.
Taurean Green
is a somewhat unheralded point guard prospect who should be able to play the backup role from day one. If the team trades any of their current guards, expect Green to generate some interest.
Petteri Koponen
would be an even more ideal fit, but the chances of him being on the board aren't great—even if he did work out for the Celtics. Moving away from the guards,
Glen Davis
is an intriguing option if the team doesn't acquire a big man with its initial selection or via trade. There is also a bevy of interesting wing prospects to choose from, but the team has a wealth of talent at that position currently.