Victor Claver gets the nod for player of the week honors, in the midst of a very solid season for Pamesa Valencia. Claver has transitioned to playing the small forward position full time, and has established himself as one of the most efficient players in the ACB. We also take a look at the biggest surprise of the ACB season thus far, Gran Canaria, in first place and led by an incredibly balanced attack, and the emergence of former Traiblazers first round pick
Joel Freeland
.
Past European Roundups:
-Brandon Jennings Managing Expectations
-Milenko Tepic the Man for Partizan
-Sergio Llull Sparks Real Madrid
While
Ricky Rubio
is unquestionably the top NBA prospect in the ACB,
Victor Claver
has given scouts a very good reason to continue to head to Spain this season, despite Rubio's continuous absence. After getting his first taste of ACB basketball in 2006, Claver saw consistent minutes last year with Pamesa Valencia. While his production was solid (albeit inconsistent) considering he was only 19, Claver has taken his game to a completely different level this season despite having the added pressure of being one of Pamesa's go-to players.
The name of the game for Claver has always been confidence (he's been criticized for being passive and underachieving at times), and he's been riding a rollercoaster this year, but still finds himself amongst the ACB's most efficient players. At 6'10, with a developing frame, Claver has the size to play power forward and the quickness and skill set to play out on the perimeter. While he has seen a lot of time at power forward in the past, this season marked his first opportunity to see extensive minutes at small forward. His transition from backup four to starting three has looked very encouraging at times, and is clearly hugely beneficial to his NBA stock.
Though he started out the season on an absolute tear from the outside, putting up big numbers in the first three rounds of the season before dropping 23 on MMT Estudiantes in round four, he followed up that game with 19 combined points and ice cold shooting in his next three contests. After consecutive losses to significantly less talented opponents in Menorca and Ricoh Manresa is rounds 5 and 6, Valencia let go both Head Coach Fotis Katsikaris and General Manager
Johnny Rogers
. With Croatian coach Neven Spahija now on board, Claver's fortunes seems to have taken a turn for the better after quality outting in back to back games against ACB powers Unicaja Malaga and Real Madrid.
In a round eight contest against Unicaja, Claver paced Pamesa with 19 points on 3-4 shooting from the field, 4-5 from three, and 1-3 from the line to go along with 4 rebounds, 2 blocks, and a steal. He started the game by running off the back screen for an easy alley-oop before raining a couple of catch and shoot jumpers from the outside. His other baskets came from quick moves to the rim for acrobatic finishes, largely characteristic of his offensive game at this point.
In Pamesa's round nine game against Real Madrid, Claver looked like a completely different player, going 0-6 from three, but still managing 8 points and 10 rebounds. This game offered a glimpse of the type of player he can be as a power forward when his shot isn't falling, an example of the inside ability he hasn't gotten a chance to showcase very often this season.
While he has played well recently, there may still be more changes coming in Valencia. Although Claver's increased role has done a lot for his development, it seems that Pamesa may not be entirely satisfied with his production thus far. They have been linked recently to names like
Gabe Muoneke
and
Marc Salyers
, both combo forwards who would fill similar roles to Claver in many situations. Whether they choose to sign another player could determine what position Claver plays the rest of this season, and where he winds up in the future.
The first thing that jumps out about Claver's game this is just how opportunistically he plays his position offensively. With two talented guards that love to shoot or break their defender down off the dribble in
Ruben Douglas
and
Shammond Williams
playing next to him, Claver often finds himself receiving the ball with an open look or with his defender off balance. While his silky smooth three point shot (he's
ranked seventh in 3FG%
in our ACB database) has been his calling card this season, he's experienced more than his fair share of struggles.
When Claver is making his shots, he's a force, but his confidence tends to wane when he misses his first couple of jumpers. At times he'll get tentative, but against Real Madrid he continued to try and get going. While he didn't see positive results, it's a good sign that he didn't take himself out of the game entirely like he did in rounds three through six. 50% of Claver's attempts from the field this season have come from beyond the arc, and he's making 54% of them so far, while hitting 61% of his overall shots.
In addition to showing vastly improved consistency from the outside, Claver has also been more aggressive putting the ball on the floor when he sees an opportunity to get to the rim. He shows an explosive first step and is capable of playing above the rim, but is still learning to finish consistently.
What makes Claver such an opportunist is how well he picks and chooses his spots when attacking the rim. He almost never forces a drive or a shot from the perimeter, seeming to only shoot when open and only drive when he knows he can go straight to the rim. This was apparent against Unicaja, where Claver was able to beat a slowed player in Carlos Jiminez on a couple occasions, but didn't even try to get to the rim against the quicker
Marcus Haislip
. Claver is getting to the free throw line at a pretty poor rate, which is a bit disappointing considering the athletic advantages he enjoys against most matchups.
While his measured style of basketball has helped him put up some gaudy efficiency numbers (he ranks 2nd in the ACB in points per play, 3rd in true shooting percentage, and 2nd in effective field goal percentage while also ranking tenth in PER and EFF amongst qualified players in our database), it still exposes some of his weaknesses.
Claver doesn't turn the ball over very often because he doesn't take risks, a characteristic of his game that can be attributed to his inability change directions with the ball in his hands when attacking the rim. He seems more content to give the ball up when he gets cut off, and could definitely stand to become a more dynamic ball-handler to augment his growing perimeter arsenal. At times he shows nice court vision, so getting better at drawing addition defenders could improve his playmaking ability as well. Right now he sports a very poor 1/2 assist to turnover ratio, which definitely needs to improve if he's to play on the perimeter full time.
Despite having not possessing great lateral quickness, Claver has done a very nice job defending the perimeter this season. His length gives him the ability to tip some passes and he's not adverse to giving some effort on the defensive end. While he doesn't garner much attention for his defense, his ability to create turnovers is a very promising sign (he ranks amongst just outside of the top 20 in steals per game). In addition to having the ability to create some turnovers, Claver shows nice anticipation as a help side defender at times, and is a lot more active defensively than most heralded players his age.
That same ability to anticipate also helps him rebound the ball, and while he's not a standout in that area of the game, his size and athleticism let him make an impact despite spending most of his time defending the perimeter (he ranks 15th in rebounds per game in our database). When Claver does get a chance to defend the post, he shows good fundamentals, but isn't quite strong enough yet to be a factor. He does a great job boxing out his man, something that helped him quite a bit against a Real Madrid team that features tremendous rebounders in
Felipe Reyes
and
Jeremiah Massey
.
Claver's strong play in his past two games hasn't necessarily led his team to a win, which is somewhat emblematic of his status as a role-player who doesn't necessarily change the complexion of the game. While Claver will undoubtedly see his percentages dip and rise as the season goes on, he will need to maintain his confidence and consistency and not let a small step backwards hurt what has become a solid season. With Eurocup play on the horizon, and thus the amount of games doubling from one per week to two, Claver is going to have to deal with a whole new group of challenges, and will have to assume a bigger role in Pamesa's offense to help the team avoid the letdowns they experienced in the ACB against much more formidable competition. Whether he accomplishes this feat should be reflected in how NBA scouts perceive his stock this summer.
Beyond the Draft
With the Euroleague off this week and the EuroCup group stage just about to kick off this week, this is a good time to momentarily take a look at what's happening in the strongest domestic league in European basketball, the Spanish ACB.
Quite surprisingly, we find a small team at the top of the standings early on so far, as Gran Canaria has jumped out to a 7-1 start to claim a tie for first place alongside powerhouse Tau Vitoria. The most interesting thing about this team might be the terrific balance they display, as they don't have a single player averaging more than 26 minutes per game, but have 10 total players who average at least 16 minutes or more. While it's quite common to see coaches in Europe use their bench liberally, Gran Canaria's Salvador Maldonado clearly takes this to the extreme.
Gran Canaria's go-to guy is clearly Canadian swingman
Carl English
, a 6-5 ultra aggressive sharp-shooter, currently averaging 16.5 points in just 26 minutes per game on 47% shooting.
From an NBA perspective, though, the most interesting player on this team is definitely
Joel Freeland
. The British big man and former Portland Trailblazers first round pick in 2006 (30th overall) is having a breakout season thus far, averaging an outstanding 12 points, 5 rebounds in just 18 minutes of action, shooting 67% from the field and throwing in a block per game for good measure.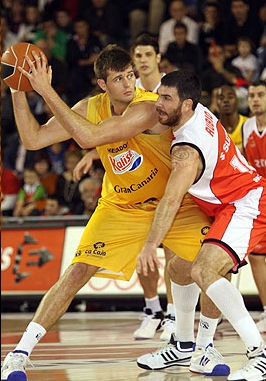 From a per-minute standpoint, there is not a more productive player in the ACB at the moment. Per-40 minutes Freeland is averaging 28 points, 12 rebounds and 2.5 blocks, after only playing 9 minutes per game in the ACB last season.
At 6-11 and approximately 250 pounds, Freeland is quite an interesting player from a physical standpoint, as his frame appears to have filled out nicely and he's retained pretty much all the athleticism that made him a prospect to begin with. Freeland runs the floor well, is very explosive off his feet, and possesses nice fluidity and agility for a player this size.
Inside the paint Freeland can make a big impact, as he has the size, bulk and explosiveness to finish everything around the rim with a powerful dunk, and is quick and active enough to go out of his area and make a living on the offensive glass as well. He is an excellent finisher and is beginning to improve his skill-level to a certain extent as well, showing nice hands and decent touch when forced to finish with a bit of finesse.
Freeland is still fairly limited when asked to create offense for himself, either with his back to the basket or facing up, as he lacks significant offensive polish and is still clearly learning the fundamentals of the game. Defensively he is a solid shot-blocking threat, but is still a little bit inexperienced in his knowledge of the game, making him somewhat foul prone at times.
At just 21 years old, and only playing basketball for a few years now, Freeland obviously still has a great deal of upside left to tap into. He is probably still a few years away from being able to contribute to an NBA team in a meaningful way, but the sparks he's showing at times are quite promising. The Trailblazers are probably the last team in the NBA who need
another
young big man prospect, but they have the advantage of continuing to let him develop in Spain for free, and reaping the benefits later.
The only problem is that at some point, the highly unattractive slot allotted to the last pick of the first round according to the rookie scale may be outweighed by far better offers from Europe, especially considering Freeland's British passport, which makes him a Bosman A player. Another season in Europe may make things difficult on Portland later, even if Freeland clearly isn't ready right now for the NBA.
Regardless of what happens, you have to tip your hat to
Kevin Pritchard
and his outstanding staff for continuing to stockpile such promising prospects.