Here is the latest bracket. It is the first week I tried to rely entirely on what's happened this season and eliminate presumption entirely. Some teams are seeded very different from what their RPI indicates, but that is due to where they are ranked in the coaches poll, and where I think they would be ranked in the NABC rankings.
-When I originally posted it, I had Missouri State in the bracket twice. I intended to have Northern Iowa in as a #9 seed. Thanks to all that pointed that out.
-I know this may look a little crazy, but keep in mind that I'm going off of what's already happened. If a potential #1 or #2 seed is seeded much lower than where you think they should be, it's because they really haven't had any big wins yet.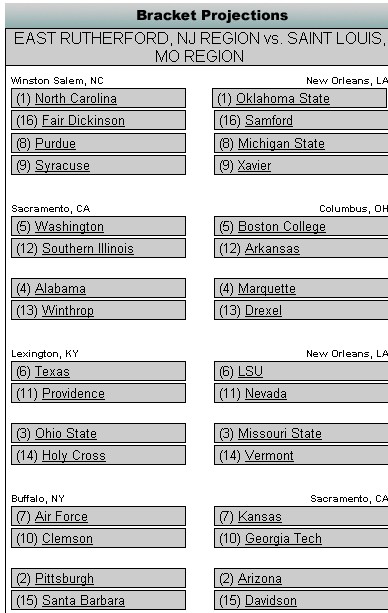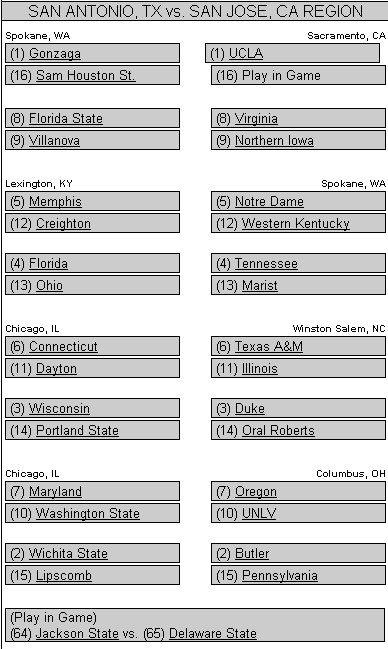 NOTES
-This will be brief because I was not a good boy this year and didn't get my flu shot. I'm paying for that now.
-The RPI isn't all that practical until all teams have played ten games. Up until that point, an opponent has a bigger impact on a team's RPI than the actual team in question. In other words, until Florida plays their tenth game, North Florida has a bigger impact on Florida's RPI than Florida does. That has a lot to do with why Florida's current RPI is #90.
Still, the RPI is on the brink of it becoming a reliable tool, and I did reference it while making this bracket.
Arizona is #1. No surprise there since they have only played two teams with a losing record. Nearly all the rest of their opponents have two losses or fewer.
UCLA is #2. Again, it's a case of them playing teams with good records so far.
Wichita State is #3, but they will drop pretty far after their game against Maryland Eastern Shore, who only has one win on the season.
SMU is currently #8. If you believe their RPI will be that good at the end of the season then I have some beach front property in Nebraska that I'd like to sell you.
Florida and Texas have very poor RPIs, but that is due to their schedule so far and not to how good a team the have. As they get into conference play the RPIs will drastically improve.
-The MEAC conference is interesting at this point because nearly every team schedules Buy Games during the OOC portion of the schedule with themselves being the team that is bought. Delaware State, who is clearly the best team, has just one win this season, but has played on the road at Pittsburgh, NC State, Missouri State, Wisconsin, Purdue, Marquette and Michigan. They will likely be a #16 seed if they win their conference, so I guess they're getting plenty of dress rehearsals for that. Their first home game against a div1 team is January 13th against conference foe Howard. Howard has the best record in the MEAC, but isn't the best team. That is the only time I let my presumption factor in to this bracket.
-Georgia Tech is one of those teams that is hard to place due to their inconsistency. They've lost three of their last four, but have two big wins against Purdue and Memphis. One could make the argument that they should be in the pod system, while another could make the argument that they should be left out altogether. As the season goes on, we'll get more data though. Cases like that are common this time of year.
TONIGHT'S ACTION
-Minnesota, Mississippi, Nevada, Texas A&M and San Diego State are all playing Buy Games that they should easily win. This is final exams week for most universities, which means that there isn't a whole lot of action this week.
My blog may be a bit abbreviated due to my health this week. I apologize for the inconvenience.