-This bracket will be updated throughout the day as the SEC, ACC, Big Ten, Big Twelve and Southland Championship games come to a final
-An article explaining the bracket, particularly the bubble, is located below.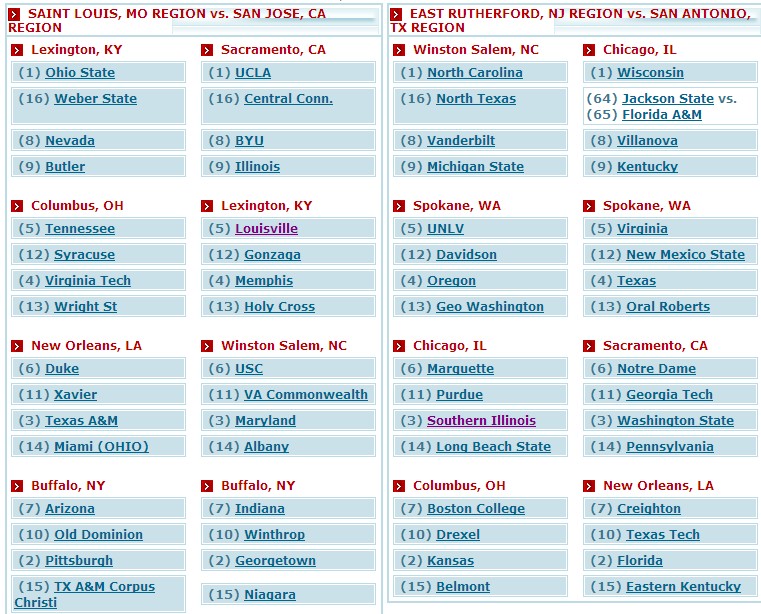 NOTES ON THE BRACKET
For a thorough and precise analysis of all the teams on the bubble, as well as a rundown of today's five conference championship games
CLICK HERE
-This article and bracket will be updated throughout the day, so be sure and check periodically as things develop.
-5:42pm, est. Kansas overcame a 17 point first half deficit against Texas to win the Big Twelve Championship in overtime 88-84. That is the final game before the NCAA Tournament is revealed.
In looking at my bracket, I really like it and believe it would make for a great tournament regardless of whether or not it matches the one the selection committee picks.
Best of luck to all of the teams that our readers support.
-5:22pm, est. Ohio State defeated Wisconsin rather handily in the Big Ten Championship game. They're pretty much a guarantee for a #1 seed. Wisconsin probably has one as well, but there is a good chance that either Florida or Georgetown could wind up with one.
I expect that Florida will get a #1 seed even though I have them in my bracket as a #2. I just don't have the time to rebuild the bracket this late in the day. I also feel that all of my projected #1 seeds have very strong cases and wouldn't be at all surprised to see my four #1s be the actual #1s.
The Big Twelve Championship game has just gone into overtime. The final bracket from the actual selection committee is due at 6pm, est. I've always wondered what would happen if a game went into mulitple overtimes and prevented them from completing it. I'm guessing they'd have to wait until said game was over. This game does not effect either Texas's or Kansas's placement in my bracket. I've had 30+ games to evaluate each team prior to now, and I believe that is enough. Besides, the committee is supposed to have all the teams seeded and begin the actual bracketing process around 4pm, est. Chances are they haven't considered it all that strongly either.
-4:26pm. Texas A&M Corpus Christi held on to win the Southland Championship and advance to the NCAA Tournament for the first time in school history. They've only had a basketball team for eight seasons, but they've been notably competitive as an independent team, and won the Southland Championship their first season as a member of that conference.
TAMUCC had a one point lead in the final seconds, so Northwestern State understandably fouled as quickly as they could. A few extra tenths of a second ticked off the clock, so the referees needed to stop the game in order to adjust it....FOR TEN MINUTES!!! My goodness!! It iced the shooter for longer than any team timeout could have. The clock operater's job is to sit there and press a button. In the unlikely event he messes that up, he should be able to correct the problem in less time than ten minutes. This game, along with the Mid American Championship game, ranks up there as some of the most technically deficient games I've ever seen.
Still no changes to the bracket.
-3:11pm, est. Florida won handily over Arkansas. For a bubble team, it was a rather unimpressive showing by the Razorbacks. I don't have them in my bracket now and don't plan on putting them in, but nevertheless they do have some strong credentials and could still be taken by the committee. It's an entire season that gets a team into the field, not an early Sunday afternoon. As for Florida, they could end up a #1 seed, but in looking at the other #1s, every team other than Wisconsin has also won some sort of championship. UCLA looks to me to be in the most danger, but they were the Pac Ten regular season champions. It would also be convenient in the sense that at least they'd have a #1 seed placed in the West. That isn't a factor, but it may be better for everyone if the committee opted to keep UCLA at a #1.
North Carolina got a big scare from NC State, but ended up holding them off in a very exciting game. The bubble breathes a huge sigh of relief.
TAMUCC has a second half lead over Northwestern State in the Southland Championship game. If that holds up then my current bracket will remain in tact, pending the outcome of the Big Twelve and Big Ten Championship games.
No changes to my bracket as of yet.
-I11:00am, est. n terms of the bubble, Syracuse is in as a #12 seed, but I originally had them as a #11 and needed to move them in order to avoid a Big East match-up prior to the Elite Eight, so they are not my last team in, and don't appear to be in all that much danger today.
-After sleeping on it, which is something I really needed to do after a week like last week, I feel fairly confident about my field. Out of all the teams I have left out, I believe Florida State has the strongest case for a bid. They certainly have the best wins when it comes to looking at head-to-head competition. Their wins are certainly better than Xavier's or Purdue's. However, in recent years one of the ultimate tiebreakers when it comes to bubble teams is momentum, and Florida State doesn't have a whole lot of that. They've lost six of their last nine games, and two of those three wins were against poor teams (although NC State has really come to life here recently).
-Arkansas is another team that really has impressed me down the stretch. I wouldn't be at all surprised if their name was called today. On the surface they're excellent, and they have a lot of momentum going right now as well. They have a chance to shed all doubt if they can upset Florida in the SEC Championship game and earn a spot in the field that way. They have a very good win against Southern Illinois early in the season, and recently won big games against Vanderbilt on the road and on a neutral floor. They do have some bad losses, and have gone through stretches where they didn't play well. They've also underperformed in true road games going just 2-8, which is why I have them barely out at the moment.
-As far as my last three in, Purdue and Xavier have quite a bit of momentum going, which again has proven to be a big time tiebreaker. Georgia Tech played really well down the stretch winning seven of nine entering the ACC Tournament. It wasn't so much that Wake Forest was that one extra win that they needed to make the field as it was that Wake was a somewhat damaging loss that knocked them back closer to the bubble.
-Obviously, the games today will have an impact on the bracket, and adjustments will be made accordingly throughout the day. North Carolina State and Arkansas are both playing in their conference championship games and can clinch spots in field if they win. If one or both of those teams win, either Purdue, Georgia Tech or Xavier will be coming out. Right now, Purdue would be my first team out with Xavier right behind them, but that is also subject to change pending further examination. If North Carolina and Florida both win their championship games, I believe my mind is made up as far as the field is concerned.
#1 SEEDS
-There are six teams with solid cases for #1 seeds, and those are UCLA, Florida, Wisconsin, Ohio State, Georgetown and North Carolina. I feel fairly confident about Oho State and North Carolina, and fairly sure about Wisconsin. I believe the Badgers will get one regardless of what happens in the Big Ten Championship game, but a win over the Buckeyes would certainly solidify them. Other than that it's up for grabs. I have UCLA in there now, but Florida and Georgetown look to be equally as good and have equally strong cases.
S CURVE RANKINGS
(conference champs in ALL CAPS)
1. OHIO STATE
2. NORTH CAROLINA
3. Wisconsin
4. ucla
5. GEORGETOWN
6. FLORIDA
7. KANSAS
8. Pittsburgh
9. Texas A&M
10. Maryland
11. Southern Illinois
12. Washington State
13. MEMPHIS
14. Texas
15. Oregon
16. Virginia Tech
17. UNLV
18. Louisville
19. Tennessee
20. usc
21. Virginia
22. Marquette
23. Notre Dame
24. Duke
25. Boston College
26. CREIGHTON
27. Arizona
28. Indiana
29. Villanova
30. byu
31. Nevada
32. Vanderbilt
33. Michigan State
34. Butler
35. Kentucky
36. Illinois
37. WINTHROP
38. Old Dominion
39. Drexel
40. Texas Tech
41. Syarcuse
42. Georgia Tech
43. Xavier
44. Purdue
45. VCU
46. GONZAGA
47. NEW MEXICO STATE
48. DAVIDSON
49. GEORGE WASHINGTON
50. WRIGHT STATE
51. HOLY CROSS
52. ORAL ROBERTS
53. ALBANY
54. PENN
55. LONG BEACH
56. MIAMI, OH
57. TAMUCC
58. BELMONT
59. EASTERN KENTUCKY
60. NIAGARA
61. CENTRAL CONNECTICUT
62. NORTH TEXAS
63. WEBER STATE
64. JACKSON STATE
65. FLORIDA A&M