-The new bracket projections are posted below. They are not a prediction of the way I think things will end up in March, but a checkpoint of where I believe teams presently stand. That is why several things may look unusual. The data this early in the season is very scattershot.
-For the most part, ranked teams without any unexpected losses are seeded along the lines of where they fall in the Coaches Poll. Head-to-head competition was the biggest factor for teams who are either in the rankings, but have lost, or for teams who aren't ranked, but managed some impressive, early wins. The projected conference champions were either the highest ranked team, or the team that appeared to have the best wins this early.
SURPRISES
-The city of New Orleans has had quite an impressive season so far. Tulane is unbeaten and opened the season with a decisive win over what looks to be a pretty good Auburn team. New Orleans is also unbeaten, and upset North Carolina State on the road yesterday. It was a bizarre finish which involved UNO banking in a three, but it was still a huge early season win. Tulane is not in the bracket, but was the first team out, and New Orleans checks in with a #10 seed. I don't necessarily expect UNO to sustain such a high seed, but for now they are one of the few teams that has an impressive road win under their belts.
-Siena managed to take down Stanford over the weekend. It was a home game for Siena, but it was still a surprising win. Siena also looked good on the road against Syracuse, and actually had themselves in a position to win that game late into the second half. They opened with a loss to James Madison, but have been playing very well since then, and are in this projection as an #11 seed.
-Several teams in the Sun Belt are off to a good start. North Texas took down Oklahoma State at home last week. Oklahoma State isn't all that good, but one would still expect them to be better than most Sun Belt teams. New Orleans (who was mentioned above) scored a big road win against North Carolina State, and Western Kentucky is unbeaten and has been winning by big margins. It still looks to me as though Western Kentucky is the best team in the conference, but at this point they haven't done anything to equal New Orleans's big road win against NC State, which is why they aren't in the bracket this week. If the league is able to keep this up, it will show up in the RPI later on this year, and it could result in a few of the teams contending for at-large bids. They haven't gotten the attention of the voters yet, but that really won't matter in the end. It's just that for now, the polls are one of the few pieces of data I have to go on (with the limited amount of head-to-head competition being the other), and that's why New Orleans is the only team in the field.
MORE BRACKET NOTES
-The Atlantic Sun, which had so many big wins in the first week, has come back down to Earth. Mercer has not won a game since their upset win at USC, and Gardner Webb failed to win a game in the semifinals and third place game of the Coaches vs Cancer Classic. Gardner Webb put up a decent fight against Oklahoma, but against Connecticut they got into foul trouble early and really didn't look anywhere close to as good as they did the week before. However, they're still in the bracket as the projected A-Sun Champ.
-Virginia chalked up an impressive road win against Arizona. It was a win against a good team in a hostile environment, and there aren't too many schools that have chalked up one of those yet. Virginia looked very poised, played very well, and it looks like they could end up having a very big year. They're in this week's bracket as a #5 seed.
-Clemson managed a big road win at Mississippi State last week. Similar to Virginia's win, that was one of the more impressive road wins of the season so far, which is why they are currently in the bracket as a #5 seed. Clemson isn't one of the teams that was picked to win the ACC, but it looks as if they have what it takes to at least contend for a spot in the NCAA Tournament. In a league as tough as the ACC, wins are hard to come by, and it helps Clemson to have a road win like this out of conference on their resume to fall back on.
-Rhode Island hasn't been on TV yet, but they are out of the gates early. They are 5-0 with four wins away from home, the most impressive being against a fairly decent UAB team. They also managed to beat South Florida, who chalked up a win against Florida State yesterday. Their first real test of the season is coming up this week on the road against Boston College. Rhody is in the bracket as a #8 seed right now, but I believe the first sense we'll get of how good they really are will be in that Boston College game.
-San Diego State is another team that has looked impressive early on. Their biggest win was against Fresno State, and they won that one by a decisive margin. They've won all of their games by decisive margins and are unbeaten on the year. Their only really big out of conference test is on the road against Arizona, and because of that their margin for error is somewhat small. If they stub their toes and lose a few games, it will be much harder to offset that with big time quality wins. Still, the team does appear to be for real and should be a force in the Mountain West.
-Baylor and Miami, FL have come up big in their preseason tournaments. Miami won the Puerto Rico Invitational, and beat VCU and Providence along the way. Baylor has advanced to the finals of the Paradise Jam with a win over Wichita State, and a very exciting come from behind win against Notre Dame last night. Both teams are undefeated, and into this early bracket projection as at-larges. Whether or not they'll be able to keep up remains to be seen. These early season wins will go a long way in helping them out because it gives them something to fall back on if they struggle in conference play, which is something that could happen to both Baylor and Miami.
-Kentucky was one of my last teams in, and ended up as a #13 seed. I believe they'll end up much higher than that, but at this point they're out of the rankings, and have only one win on the season against Central Arkansas. They are an example of how this projection is a checkpoint, not necessarily a prediction. After two weeks off from playing games, one can almost rest assure that the coaching has been intense, and that the team will come out more fine-tuned than they were to open the year.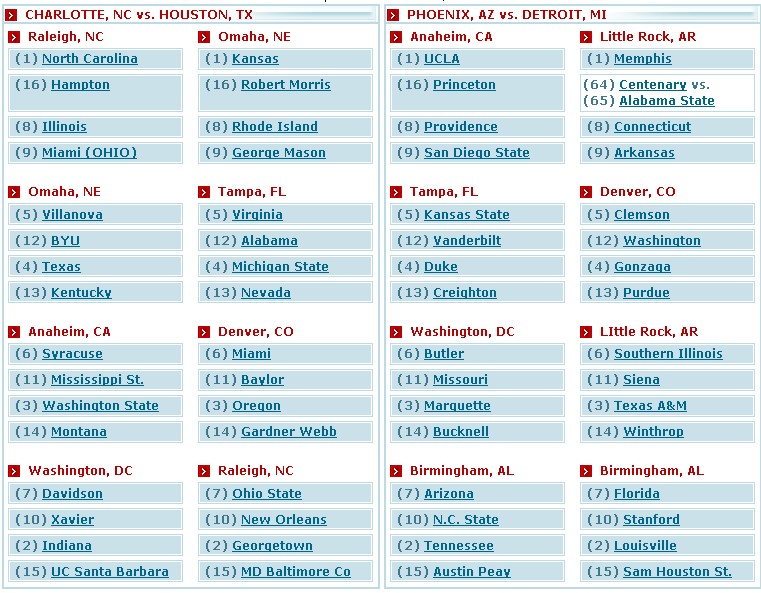 OTHERS CONSIDERED:
Boston College, Tulane, Western Kentucky, Ohio, Saint Joseph's, North Texas, Old Dominion, Notre Dame, Georgia, Missouri State, USC
EXEMPT TOURNAMENTS
CBE CLASSIC
-We're in the semifinals, and all the teams that were expected to advance have advanced. MICHIGAN STATE will battle MISSOURI. Michigan State is currently ranked much higher, but Missouri has looked very impressive so far. I don't want to give them too much credit because the competition has been somewhat weak, but they do look like a team that could beat the Spartans tonight. A win for the Tigers would be big because it would be a statement that they are back and are a Top 25 caliber team. I believe they need to prove that to their fans and to themselves just as much as they need to prove it to the rest of the nation.
-MARYLAND will face UCLA in the other semifinal game. Maryland really struggled to get past Hampton in the previous round, and could be in for a shock tonight. UCLA basically blew out everyone and took no prisoners in their previous games.
PARADISE JAM
-Both semifinal games were very exciting. WINTHROP defeated GEORGIA TECH in a game that came down to the final minute, and BAYLOR trailed NOTRE DAME for most of the game, but kept it within reach and made some big plays in the end to pull out the win. To the selection committee, the third place game isn't really any less important than the championship game. All they will look at is the fact that Notre Dame is playing Georgia Tech, so there is still quite a bit on the line in that game, and it should be exciting. It's a great opportunity for Baylor and Winthrop as well. Not much was expected out of either team, at least when it comes to making a splash on the national scene, but winning this tournament would make a statement. It would also mean a lot to both teams because both are trying to establish themselves as consistent NCAA Tournament caliber programs.
MAUI INVITATIONAL
-In my opinion, this is quite often the best of all exempt tournaments. All teams are guaranteed three games, the level of competition is high, all games are on television, and it's in Hawaii. Can it get any better than that??
-ILLINOIS will face ARIZONA STATE. It's hard to tell how good either of these teams are or what kind of season either one will have, which is what makes this such an interesting game. Both are looking to make a statement early and rack up some quality wins. The Maui is a good chance for them to do that.
-DUKE is squaring off against PRINCETON. Princeton is 2-0, but looks to be way overmatched in this game, and may be overmatched in just about every game they play out in Maui.
-On the other side of the bracket, MARQUETTE will face CHAMINADE (div2) and OKLAHOMA STATE will face LSU. I wasn't all that impressed by Oklahoma State or LSU in the one game that I've seen each team play this season. Marquette could just waltz right on through to the championship game.
HIGHLIGHTED MATCH-UPS
-BELMONT AT ALABAMA. Alabama is 2-0, and just got a nice win on the road against Mercer. One wouldn't expect them to have too much trouble tonight, but this is an interesting game because Belmont looks like one of the better teams in the Atlantic Sun. Gardner Webb and Mercer have both chalked up big wins. Belmont has a win against Cincinnati, but that isn't nearly as impressive as a win tonight would be.
-SAN DIEGO STATE AT SAN DIEGO. San Diego State is trying to remain unbeaten on the year, and pick up a win against their crosstown rivals. San Diego is 2-1 with the only loss coming to UNLV, and the home court should give them an edge, but SDSU has just looked much better so far.
-SANTA CLARA AT UTAH. The Utes have looked good so far, and just missed a shot at going to the NIT semifinals when they dropped a close on the road against Washington. They face a Santa Clara team that's looking for its first div1 win.
BUY GAMES
(I guess I can't overlook these. Games that I thought would turn out to be meaningless blowouts have actually ended up being big time upsets)
-RADFORD AT AIR FORCE. Air Force can improve to 4-0 on the year with a win. None of their wins have been all that impressive, but at least they haven't stumbled out of the gate.
-UMKC AT ARIZONA. Arizona shouldn't have too much trouble rebounding from their loss against Virginia and picking up a win tonight.
-NICHOLLS STATE AT CALIFORNIA. Cal should have little trouble improving to 2-0.