MERRY CHRISTMAS EVERYBODY!!!!
This article will be somewhat abbreviated because like a lot of people this is a busy day for me outside of cyberspace.
-The latest bracket projections are posted below. It is a checkpoint of where teams currently stand, not a prediction of where I believe they'll end up in March. That is why some of the selections and seedings may appear to be unusual.
-The bracket reflects games played through December 23rd and the projected conference champions are all either in first place in the conference standings or tied for it via the loss column.
-There are nine Big East teams in this bracket, which means it is impossible to avoid a match-up prior to the Elite Eight.
RPI
-This is the first time I've factored in the actual RPI and SOS. It is still taking shape and is not the best indicator right now. In several cases it is more of a reflection of a team's opponents than the team itself. Georgetown is believed by many (including myself) to be a top ten team, but their RPI is just 75 right now. The reason for that is that they've only played two teams who currently have records above .500 (Alabama, Memphis) and only managed to beat one of them. Their RPI will improve big time once they get into conference play.
-Indiana is another team who's RPI is low, but that is because Longwood, Tennessee State, Western Carolina and Coppin State have just a combined total of five wins.
-UCLA's RPI is just #41, Boston College is #51 and Virginia is #57. The RPI is probably not the best way to measure any of those teams right now considering who those teams have played and beaten.
-On the flipside, Arizona is #1 in the RPI and Saint Mary's is #2. Both of those teams are good, but I don't think anyone is under the impression that they are the two best teams in the country. It's just that they've played opponents who have collectively won a lot of games and have had quite a bit of success against them.
-The RPI will become more useful as the season continues on, and it is somewhat helpful now, but it's still more of an indicator of how a team's opponents have done rather than how a team itself has done.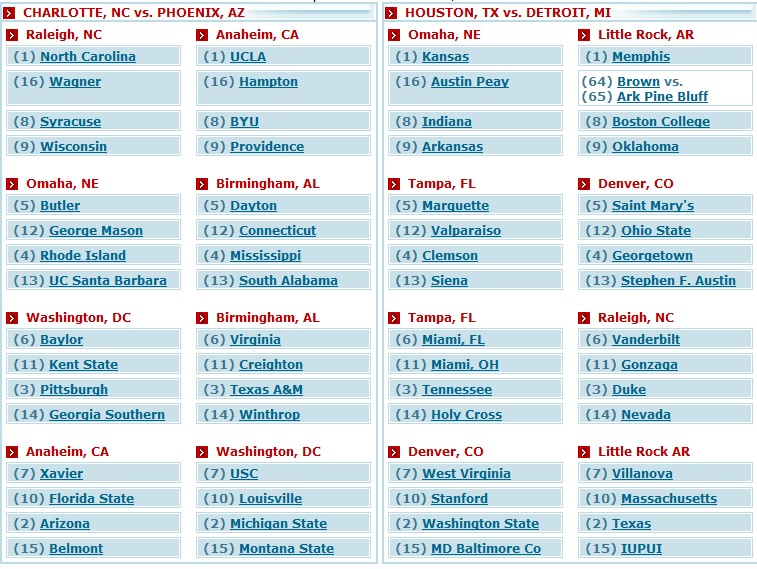 MORE BRACKET NOTESOTHERS CONSIDERED:
Oregon, California, Arizona State, UNLV, North Carolina State, Notre Dame, Kansas State, Nebraska, Drake, Minnesota, San Diego State, Alabama, VCU, Texas Tech, Seton Hall, Illinois, UTEP, Houston, New Mexico, Wright State, Sam Houston, Ohio
RECAPPING THE WEEK
-Tennessee got their first big road win with an 82-75 victory at Xavier. That win does a lot to boost the value of the Vols's resume because prior to that game they had really struggled on the road. They trailed Xavier throughout most of the second half, but played tremendous defense in the final four minutes of the game and forced three turnovers late. They actually turned Xavier over 23 times in the game. One win on the road against a high caliber team is a lot more than zero, which is what the Vols had coming into this game. They've moved up to a #3 seed in this projection.
-Valparaiso led Wisconsin for most of the game, but couldn't hold on. It would have been a win that boosted them into the discussion of receiving an at-large bid if Valpo continued to have a solid season, but failed to win the Horizon League Tournament. They have a game against North Carolina coming up, as well as two shots at Butler and a Bracket Buster game between now and the end of the year so Valpo will have a few more chances to make a statement, but right now they are a #12 seed in the Bracket and are only in because they're in first place in the Horizon League with a 2-0 conference record. The loss to Wisconsin was just their second of the year.
-Georgetown and Memphis, both of whom look to be Final Four Caliber teams, squared off in Memphis over the weekend. It was close for about the first thirty minutes, and then Memphis pulled away. The loss may have stung Georgetown, but it isn't all that damaging. They still haven't racked up any big time wins and their RPI is in the 70s, but they are a good team and they will face multiple big time opponents between now and the end. Memphis probably needed the win more because they were at home and they won't face the kind of fierce competition in Conference USA that Georgetown will face in the Big East, which means they have fewer opportunities at statement wins. It's still very possible that both could end up with #1 seeds.
-Texas suffered their first loss of the year to Michigan State in Detroit on Saturday. Texas's lack of depth probably hurt them in that one and could be a factor again in conference play later on. That was the first game of a double header in Detroit, and understandably almost everyone left rather than stick around to watch Oakland vs Oregon. Those that stayed saw one of the more shocking results of the day as Oakland, a team that had just three div1 wins coming into the game, upset the Ducks. It is Oregon's second straight loss, and considering how poor the opponent was and how Oregon has struggled on the road, it knocked them out of my projections for this week. They are the first team out, though.
-Rhode Island continues to look impressive, and has actually played their way into the Top 25. Their current RPI is #12, they're 11-1 on the year with the only loss coming on the road to Boston College, and have beaten both Providence and Syracuse. They're into the bracket this week as a #4 seed. The Atlantic Ten has several good teams in Rhode Island, Xavier, Dayton and UMass, so the level of competition shouldn't go down once conference play begins. If they keep it up, they should end up with a very good seed.
-Mississippi won a big game against Clemson, which is the first loss of the year for the Tigers. Clemson always seems to start off strong and finish weak, so it's hard to say for sure how good this win will look in March, but as of right now Ole Miss is one of the surprise teams of the season. They're undefeated and have just cracked the Top 25. They have a fairly young team, but they just seem to be able to find ways to win. It will be fun watching them compete in the SEC once conference play begins.
ACTION THIS WEEK
-There were no games yesterday or today, and just one tomorrow (Morehead State @ Louisville). I wouldn't cancel any holiday plans to catch that one because it should be a blowout.
NEVADA visits NORTH CAROLINA on Thursday and NC STATE will face off against SETON HALL. Nevada looks to be the best team in the WAC right now and has been playing much better than they were back when the season first started, but I do believe they are in over their heads in this one. The WAC has been a big disappointment and no one looks like they will be in position to get an at-large bid. Nevada could really help themselves out if they could pull the upset, but there is a much better chance of a blowout than there is an upset.
-NC State and Seton Hall both have quite a bit of work to do when it comes to improving their credentials, so that is a big game for both teams. It should be entertaining as well.
-I will not be around the internet, or any sort of technology at all on Thursday or Friday, so I'll have Friday's games written up sometime tomorrow.
-I hope everyone has a safe and happy holiday.