This bracket reflects all games played through Sunday, January 14th. It is not a prediction of where teams will be in March, but rather a checkpoint as to where teams currently stand. All teams are selected and seeded using the same criteria the selection committee uses.
-All 31 projected conference champions are either in first place, or tied for it via the loss column.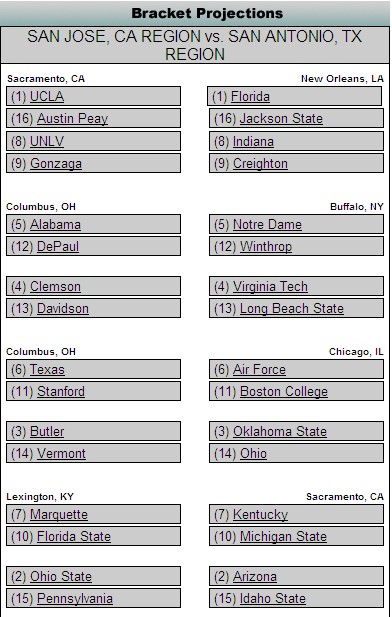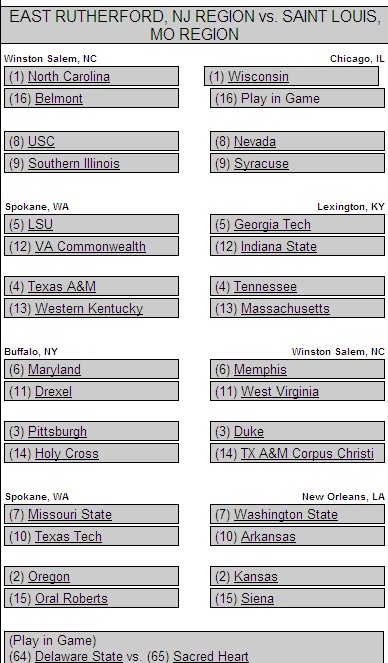 CONFERENCE RUNDOWN
-The Pac Ten has been one of the most exciting conferences so far this season. It seems like they've had more games go down to the wire than any other league. They also appear to have more #1 seed candidates than any other league. UCLA, Arizona and Oregon are all fantastic teams and any of them could end up with a #1 seed. The conference standings will play a big role in determining who is seeded where. Stanford and California also appear to be playing better, and Washington State and USC appear to be solid tournament teams as well. This league is absolutely stacked.
-Boston College and Virginia Tech are the only remaining unbeaten teams in the ACC, but Virginia Tech's wins are much more impressive, which is why they are projected as the champions. There are eight teams projected into this bracket, which is more than any other conference. It's unlikely that many will end up in the final bracket. The league will beat up on itself as play continues. Florida State has struggled on the road, and has yet to win a conference game, so they are slipping. Duke is just 1-2, they are still very good and I expect them to end up with a good conference record.
-Wisconsin appears to be off to the best start in the Big Ten so far. They got a big win against Ohio State last week, and although they struggled with Northwestern over the weekend they were able to pull it out and remain unbeaten in league play. They are 17-1 overall this season. Indiana is another team that is playing very well and appears to be improving as the season progresses. Purdue is in the mix for a tournament spot, but needs to win some games on the road in order to get it.
-Florida has been playing unbelievably well in the SEC. They went on the road and blew out South Carolina over the weekend, and really look like a top seeded team. Tennessee has been playing very well too, but has lost two straight games. One was a road loss at Ohio State, which is hardly damaging, but their loss to Vanderbilt was surprising. Kentucky is on a long winning streak and is unbeaten in league play, but they haven't faced the bulk of the conference yet. They will play Florida and Tennessee twice this season, and those are really going to be difficult games to win.
-As good as the Big East is, it doesn't look like they have any strong #1 seed candidates, at least not right now. Pittsburgh is a very strong team, and if they end up running the table that should be enough to get them in the picture, but that isn't likely. It's also very difficult to win on the road in this conference. West Virginia has some good wins, but their OOC schedule was weak and they haven't done much of anything away from home. Connecticut is still in the rankings, but they haven't done much of anything to deserve it. They also haven't done much on the road, although they did pick up a recent win against Saint John's. Still, for that to be their best win is a sign that they haven't quite earned their way into the bracket yet.
-Texas, Texas A&M and Kansas are all unbeaten in Big Twelve play. Kansas is looking like they could end up with a #1 seed. They blasted Oklahoma State the other night, who is a top ten team. They struggled with Iowa State, but managed to get a big win on the road as well. Both Texas and Texas A&M are looking very strong right now too. Texas just beat Oklahoma rather handily over the weekend and TAMU is on an eight game winning streak. Texas Tech looks like a potential tournament team as well. They did lose a tough one to Baylor over the weekend, but all and all their resume is pretty good and the team appears to be getting better.
-After struggling in OOC play, Creighton is currently atop the Missouri Valley Standings at 5-1 in league play. They have some pretty nice wins to go along with that 5-1 record. Missouri State is also very solid, and has a big time win against Wisconsin on their resume. The biggest surprise of this league has been how Wichita State has absolutely fallen apart. They went from being in the top ten to losing six of their last eight. They aren't even in my bracket this week due to their collapse. They will have several opportunities to build themselves back up though. Indiana State, Southern Illinois, Northern Iowa and Bradley are all having good years as well, and some of those teams will probably end up in the dance.
-Air Force and UNLV are very solid out of the Mountain West. This is a very competitive league, though, and it will probably beat up on itself to some extent. Wyoming defeated UNLV and came very close to knocking off Air Force, so they are extremely difficult to beat at home. New Mexico is another team that plays very well on their home floor.
-The Colonial is really beating up on itself. Drexel appeared to be the best team, or at the very least had the best success out of conference, but they have lost two games in a row, one of which was a blowout to Old Dominion. Hofstra had also been playing very well, but suffered a loss to Northeastern, which is extremely damaging as far as getting an at-large is concerned. VCU is the only unbeaten team in the league, but they haven't faced any of the better teams yet.
-Memphis looks like the only solid tournament team out of Conference USA right now. They should get a nice seed if they continue to dominate throughout conference play. They don't have the big wins that they had a season ago, but they could still end up in the 4-6 range this year. Everyone else would probably have to win the conference tourney to get in.
-Butler appears to clearly be the best team in the Horizon League, but they already have a conference loss to Illinois Chicago. Illinois Chicago struggled out of conference, but is now off to a great start and tied for the league lead. Wright State also has just one conference loss, but that was a blowout to Butler.
-Nevada is a very solid team in the WAC, and will be okay for a bid barring a collapse between now and the end. New Mexico State and Fresno State have good teams as well, but will need to improve their resumes in order to be in the mix for an at-large bid. They'll get their opportunities against Nevada, as well as in the Bracket Buster.
-Gonzaga and San Francisco are both unbeaten in WCC play. Gonzaga is okay for a bid, but they aren't going to be seeded as good as they're used to being due to them losing several games going into conference play. They are still the best team in the WCC by far, though, and should safely be in the tournament.
-The Atlantic Ten doesn't really have any standout teams. Massachusetts is the only remaining unbeaten team, but they don't have any really big out of conference wins. Saint Louis has a nice win against Missouri State, but they also have losses to Duquesne and Saint Bonaventure, which is a terrible thing to have on their resumes. Those two losses are so bad that it probably means they'll have to win the conference tournament to get in. They did manage to beat Xavier over the weekend though.
-Davidson and Appalachian State appear to be the strongest teams in the Southern Conference. Appalachian State played very well out of conference, but suffered a surprising loss to Elon over the weekend. Davidson is the only team that is unbeaten in league play. They probably won't get any serious at-large consideration unless they win out though.
-Winthrop is easily the best team in the Big South. It's really not even close. In fact only one other team in the conference is currently in the RPI top 270, and that's Coastal Carolina.
-Toledo is the only unbeaten team in MAC conference play, but they play in the West Division, which is the weaker of the two divisions. Ohio has a good team, but is coming off a surprising loss to Kent State. Akron is another team to watch for. It's looking like the only bid this league will get is the conference champion, though.
-Long Beach, UC Santa Barbara and CS Fullerton are all tied atop the Big West. The top two teams bye into the semifinals of the conference tournament, so finishing strong is very important. Long Beach did lose to CS Northridge in their last game, which was sort of a surprise, but they are still a very good team that could be a tough first round out in the NCAA Tournament.
-Western Kentucky has won six straight Sun Belt games, which gives them more conference wins than anyone else. They'll still need the automatic bid to get to the NCAAs, but they could be a very dangerous tournament team in the event that they win the conference.
-Texas A&M Corpus Christi and Stephen F Austin are the only two unbeaten teams in the Southland. It is TAMUCC's first year in the league, and they are making the best of it.
-Idaho State is the only unbeaten team in Big Sky play. Weber State is right behind them at 5-1, which is surprising because the expectations for them weren't all that high this season.
-Amazingly, after just one week of games, there are only two unbeaten teams remaining in the Ivy League, and that's Yale and Penn. Princeton, who appeared to be one of the favorites, are off to an 0-2 start.
-Loyola, MD, Siena, Marist and Manhattan are all tied for first place via the loss column in the Metro Atlantic. Marist appears to have the best team, and even managed some good out of conference wins. It's a very tight race right now though.
-Holy Cross defeated Bucknell over the weekend, making them the only unbeaten team in Patriot League play. Holy Cross and Bucknell both appear to be much better than the rest of the conference, and could end up only losing to each other. The two will face each other again later this season, and possibly a third time in the conference tournament.
-Vermont is the only unbeaten team in the America East. They just got a big win over Albany, who appears to be one of the best teams in the league along with Vermont.
-Austin Peay and Samford are tied for first in the Ohio Valley. This conference has never been top notch, but they are probably looking at worse seed than what they're used to this year. Expect the league champion to end up in the 15-16 range.
-Oral Roberts and Oakland are unbeaten in the MidCon. Oral Roberts managed a very surprising win against Kansas earlier this season, but is still looking at a 15 or 16 seed if they win the conference tournament, as is the rest of the league.
-Delaware State is the only remaining unbeaten team in MEAC play. That follows just two OOC wins, which means that this league is most likely looking at a #16 seed.
-East Tennessee State and Belmont are tied atop the Atlantic Sun. The winner of this league will likely end up being a #16 seed though. The tournament is also at a predetermined site and not at the campus sites, which takes away the importance of the regular season games.
-Sacred Heart, Fairleigh Dickinson and Central Connecticut all have one loss in Northeast Conference play. Sacred Heart played some pretty tough competition out of conference and actually hung with some teams. This tournament as played at the campus sites, so winning the regular season gives teams a big advantage because they get to play all the tournament games at home.
-Jackson State appears to be the best team in the SWAC. They certainly had the most out of conference success. However, they lost at home to Southern last week, which puts them in a four way tie for first place along with Grambling, Texas Southern and Mississippi Valley State.
-No independent teams have a winning record. The closest team to .500 against div1 opponents is Chicago State at 6-14.
TONIGHT'S HIGHLIGHTED GAMES
-MISSOURI STATE AT ILLINOIS STATE (Missouri Valley). Missouri State is a very solid team, but it's never easy to win on the road in this league. Illinois State isn't a tournament caliber team, so if Missouri State wants to sustain it's resume they need to be able to win games like this on the road.
-MISSOURI AT KANSAS (Big Twelve). This is a bitter rivalry. Missouri got off to a great start, but has struggled lately and doesn't have much on their resume that indicates that they are a tournament team. A win today on the road changes all that though. Kansas is a very strong team that will likely make the pod system and could even end up with a #1 seed. The Jayhawks will pretty much need to win all their games in order for that to happen though.
-MARQUETTE AT LOUISVILLE (Big East). Louisville has actually played two decent games in a row, and has been showing signs that they may be good enough to win some big games in conference and get themselves to the NCAA Tournament. As of now, though, Louisville is way outside looking in. Marquette appears to be pretty solid, but they've been inconsistent this year. This would be a nice road win for them if they can pull it off.
-DRAKE AT SOUTHERN ILLINOIS (Missouri Valley). Southern Illinois got a big win against Missouri State, which they desperately needed. They should be able to take care of business against a rather mediocre Drake team at home.
-CREIGHTON AT WICHITA STATE (Missouri Valley). Missouri Valley got a much needed win their last time out against Evansville, but they have fallen to just 10-6 on the year and need to string together some wins against quality opponents. Creighton has really been playing well since league play began, and just won a big game against Northern Iowa. They could have their work cut out for them tonight because they are playing on the road against a team who is a little desperate. Wichita State hasn't been showing up all that much recently, though, so they may not show up at all tonight either.