-The new bracket projection is posted below, and a rundown of today's games are posted below that. Since most of the teams in it are either still playing or on the bubble, I don't have all that much else to add.
TEAMS THAT WERE MOVED TO MEET THE BRACKET REQUIREMENTS
-Villanova, from an #10 to a #9
-Texas A&M from a #9 to a #10
-Pittsburgh from a #6 to a #5
-Michigan State from a #5 to a #6
OTHER NOTES
-Louisville has dropped from a #2 to a #3 after their loss to Pitt in the conference tournament, and Kansas has moved up. They Jayhawks have no Top 25 wins, so they won't stay there if they stub their toes against Nebraska today.
-Arizona State is the last team in even though they lost their game yesterday, but I don't expect that to hold up. Whenever a bubble team has been eliminated from their conference tournament and other bubble teams are still playing it's usually not a good thing.
CLICK HERE FOR THE BRACKET EXPRESS BUBBLE WATCH, WHICH IS A COMPLETE ANALYSIS OF ALL THE TEAMS ON THE BUBBLE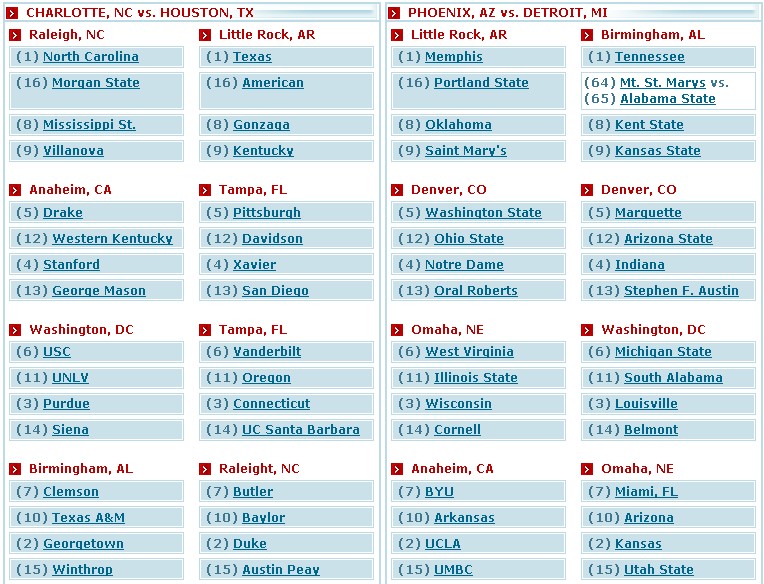 CONFERENCE TOURNAMENTS
PATRIOT LEAGUE CHAMPIONSHIP
-#3. COLGATE AT #1. AMERICAN (***Automatic Bid***). The winner of this game will undoubtedly be a #16 seed, but since Bucknell and Holy Cross have been dominating the conference in recent years I'm sure these teams are happy just to have a chance to make the NCAA Tournament at all. The games in this tournament have been very exciting so far, so hopefully we're in for yet another one today. American won both regular season games, but that doesn't matter much now.
BIG EAST SEMIFINALS
-#5. WEST VIRGINIA VS #1. GEORGETOWN. West Virginia picked up their biggest win of the season when they upset Connecticut in the quarterfinals. They now have a rematch with a team that beat them on a last second shot that was ruled goaltending. Both teams are safely in the tournament and are merely playing for seeding and bragging rights. West Virginia is at about a #6 or #7, but could really move up just by winning this game. Georgetown should get at least a #2 seed if they win the conference tournament.
-#7. PITTSBURGH VS #6. MARQUETTE. Pitt needed overtime to beat Louisville in what was a thrilling semifinal game. It was also a huge win for Pitt. They were already in the NCAAs, but beating Louisville will certainly be a nice addition to their body of work. They have the chance to add to it again if they can get past a Marquette team that is also coming off somewhat of an upset win. If the winner of this game can win the championship game they'll probably end up with a #4 seed.
PAC TEN SEMIFINALS
-#4. USC VS #1. UCLA. This should be a great game. It's two rivals meeting in a high stakes conference tournament game in the same city that both schools are located in. The atmosphere should be electric to say the least. Both teams are on their way to the NCAA Tournament, but UCLA is trying to get a #1 seed and USC is trying to build up their credentials to improve their seed. On top of that, both are playing for bragging rights. This should be one of the more intense games of the day. The two split the regular season series with each team winning on the other's home court. It'll be fun seeing how this one turns out.
-#3. WASHINGTON STATE VS #2. STANFORD. Both teams are in the NCAA Tournament and are looking at decent seeds. This is a chance for both teams to make a case for an even better one, though, not to mention advance to the Pac Ten Championship game. Stanford won both regular season meetings, but the games were exciting and this one probably will be as well.
ACC QUARTERFINALS
-#9. FLORIDA STATE VS #1. NORTH CAROLINA (Bubble Watch). Florida State is close enough to the bubble that if they win this game it should be enough to put them in the NCAA Tournament. However, they're not quite on the bubble yet, so if they lose this game they probably don't have the credentials to get in. North Carolina is on pace to get a #1 seed and could still end up with one even if they lose this game, but if they want to be the #1 seed in the Charlotte Region then they need to keep winning. If Duke wins this tournament they could end up taking UNC's place.
-#5. MIAMI, FL VS #4. VIRGINIA TECH (Bubble Watch). Virginia Tech finished fourth in the ACC standings, but they have no wins against the RPI top 50 and I don't see them getting in if they can't at least win this game. The fact that finished 4th in the ACC will get the attention of the committee, but that alone won't be enough. If they win this one, though, they will most likely find themselves in the discussion.
-#7. GEORGIA TECH VS #2. DUKE. Duke can still get the #1 seed in the Charlotte Region if they win the conference tournament, but anything short of that and North Carolina will most likely end up with it. Georgia Tech has had a disappointing season, but they come into this game having won four of their last five and they absolutely dominated Virginia in the opening round. They may be able to put up a fight against Duke today.
-#11. BOSTON COLLEGE VS #3. CLEMSON. Boston College basically ended Maryland's NCAA Tournament hopes in the opening round and will now get the chance to play a Clemson team that's had a great year. This is a winnable game for Clemson, and a win will put them in the semifinals with a chance to really boost their credentials.
BIG TWELVE QUARTERFINALS
-#9. OKLAHOMA STATE VS #1. TEXAS. Oklahoma State hasn't had a good season, but they've played better in the last month than they have at any other point this year. They're 7-3 in their last ten games and have a win over Kansas and a near win over Texas in that stretch, so they're undoubtedly coming into this game with some confidence. Texas's resume is incredible. I have them as a #1 seed now and they'll maintain it if they can put up a strong showing in the tournament. Having said that, they have looked sluggish down the stretch, so they need to be on upset alert against a team that's played well lately. A loss in this game would likely prevent them from getting a #1.
-#12. COLORADO VS #4. OKLAHOMA. Colorado is the first #12 seed to ever win a game in the Big Twelve Tournament. Oklahoma should win, but Colorado actually beat the Sooners earlier this season, so an upset is not out of the question. Oklahoma is safely in the dance, but their seed will take a hit if they go down to the Buffalos again.
-#7. NEBRASKA VS #2. KANSAS. Nebraska was blown out by Kansas in both meetings during the season, but they've been playing their best basketball down the stretch, so hopefully they'll be able to give the Jayhawks a better game. Kansas is a good team, but they haven't beaten any top 25 teams and must do well in this tournament if they want to end up with a #2 seed or better. If they fall to Nebraska today I don't see them getting anything better than a #3 seed.
-#6. TEXAS A&M VS #3. KANSAS STATE. Both teams are on their way to the dance, but both also sputtered down the stretch somewhat. A win could help the resumes of either team. For Kansas State the possibility of playing Kansas again in a rubber match has got to be exciting. The two rivals split the regular season meetings. However, they don't want to get caught looking ahead because TAMU is a good team as well.
BIG TEN QUARTERFINALS
-#9. MICHIGAN VS #1. WISCONSIN. This looks like a big mismatch, but Michigan really gave Wisconsin a scare the last time the two faced each other. The Wolverines have also been playing better down the stretch. Wisconsin will get no worse than a #3 seed if they win this tournament. A loss today could set their seeding back somewhat, but not too much because they've already beaten Michigan twice already this year.
-#5. OHIO STATE VS #4. MICHIGAN STATE (Bubble Watch). Ohio State is squarely on the bubble. They're one of the last teams in my bracket, but they could end up falling out of it if they're unable to win this game today. They just beat Michigan State last week, but turning around and doing it again in a game with such high stakes won't be easy for the Buckeyes. Michigan State has a solid resume, but they haven't played that well away from home. This tournament is a chance for them to pick up some quality neutral floor wins.
-#10. ILLINOIS VS #2. PURDUE. Illinois beat Penn State in a thrilling opening round game to keep their season alive. They have no shot at the NCAA Tournament without the automatic bid, so it's basically do or die for the Illini. Purdue is looking at a very good seed and they can continue to build their resume by playing well in this tournament. A loss today would set their seed back, which would be unfortunate because this tournament is a chance for them to really impress the committee. They don't want to be eliminated early on.
-#6. MINNESOTA VS #3. INDIANA. Indiana is solidly in the tournament, but they've been struggling down the stretch and if they drop this game it will probably end up hurting their seed. Winning this game could potentially set up a rematch with their rivals Purdue, who they beat earlier this season. Minnesota needs to win in order to keep their NCAA Tournament hopes alive.
SEC QUARTERFINALS
-#E5. SOUTH CAROLINA VS #E1. TENNESSEE. Tennessee has the top RPI, the top SOS, and an abundance of high quality wins. It looks as though they have a #1 seed wrapped up regardless of what happens, but since the race is tight a loss today could effect that. However, I'd be shocked if South Carolina ended up pulling the upset.
-#E3. VANDERBILT VS #W2. ARKANSAS. Vanderbilt has struggled away from home, so picking up some neutral floor wins against quality teams would really help their seed. Arkansas has been inconsistent this year and has struggled on the road as well, so this is a chance for both teams to pick up a nice win and improve their resume. Both teams appear to be dancing, but they can still improve their seed.
-#W5. ALABAMA VS #W1. MISSISSIPPI STATE. Alabama has had a disappointing season and their NCAA Tourney hopes will end if they lose today. Mississippi State is in, but they'll probably be seeded in the 7-10. Playing well in this tournament could improve that, though.
-#E6. GEORGIA VS #E2. KENTUCKY. Many weren't expecting Georgia to get past Ole Miss. They've had a frustrating season, but now live to see another day. Kentucky looks to be a virtual lock for the NCAAs, but they'll want to take care of business in this one because they don't want to add a bad loss to their resume. They're inside the bubble, but they're close enough to it to where they really don't want a loss like this. The Wildcats have been playing well and I wouldn't be surprised to see them string together a couple of wins and make the finals.
MOUNTAIN WEST SEMIFINALS
-#4. SAN DIEGO STATE VS #1. BYU. This game should be interesting. It's do or die for San Diego State, and they were able to beat BYU the last time they played them, so they are capable of winning and advancing. BYU is dancing regardless. They've also been playing really well down the stretch and should be able to get a decent seed if they win this tournament.
-#6. UTAH AT #2. UNLV. Both of these teams won thrillers in the quarterfinals. UNLV had quite a bit of trouble with TCU and trailed for most of the game, which was surprising. It wasn't decided until the final seconds. It's a good thing for UNLV that they won because they're close to the bubble and a bad loss like that could have potentially knocked them out of the NCAAs. Utah has struggled this season, but they won an overtime thriller against New Mexico to keep their NCAA Tournament hopes alive. Winning at UNLV will be a very tall order, though, but they nearly pulled it off just last week. If they were to upset the Rebels, it would potentially set up a meeting with their huge rivals in the championship game.
ATLANTIC TEN SEMIFINALS
-#5. SAINT JOSEPH'S VS #1. XAVIER (Bubble Watch). These two teams played two exciting games during the regular season and we could be in for another one tonight. Saint Joseph's is squarely on the bubble, but if they can beat a high caliber team like Xavier on a neutral floor it will probably be enough to put them into the field. They've beaten Xavier once already at home and almost did it on the road. They match up with Xavier really well so the Musketeers better be on upset alert.
-#6. CHARLOTTE VS #2. TEMPLE (Bubble Watch). Right now Temple is my first team out. Whether they're barely in or barely out, this is pretty much a must win game for the Owls. They struggled in the quarterfinals with cross town rival La Salle, but they ended up pulling out the win. Charlotte needs to win the tournament to make the NCAA's. They had an exciting come from behind win against UMass in the quarters, which basically ended the NCAA Tournament hopes for the Minutemen. They also split the regular season series with Temple, so this is a high stakes rubber match with a trip to the conference championship game on the line.
CONFERENCE USA SEMIFINALS
-#5. SOUTHERN MISSISSIPPI VS #1. MEMPHIS. With all of the lower seeds losing in the quarterfinals except Memphis, the Tigers will end up having an even easier time winning this than expected. They should waltz through this and right into a #1 seed in the NCAA Tournament.
-#7. TULSA VS #6. UTEP. The winner will live to see another day, but that other day will likely be Memphis, which makes the likelihood of any of these teams making the NCAA Tournament very small.
MID AMERICAN SEMIFINALS
-#5. MIAMI, OH VS #1. KENT STATE. Kent State's place in the NCAA Tournament is relatively safe. They're seed could take a hit if they lose, but they'll still be in. It's all about bragging rights the rest of the way for Kent State . They beat Miami rather handily both times the two faced each other this season, but Miami has been playing well lately and may be able to pull off the upset.
-#3. AKRON VS #2. WESTERN MICHIGAN. Akron had the better season, but Western Michigan won the West Division (which is the easier division) and that is why they got the #2 seed. They also won the regular season match-up between these two rather handily. Akron played really well in their quarterfinal game, so they should keep it a little closer today, if not win. Both teams need the automatic bid to make the NCAA Tournament, so this one is do-or-die.
WAC SEMIFINALS
-#4. Boise State vs #1. Utah State
-#3. New Mexico State vs #2. Nevada
All four first place teams survived the quarterfinals. This should be exciting. It's not often when four teams tie for first and all made it to the semifinals. To top it all off, only one team will make the NCAA Tournament so it should be an intense day of action.
SOUTHLAND SEMIFINALS
-#5. Northwestern State vs #1. Stephen F. Austin
-#7. Texas Arlington vs #3. Sam Houston State
Stephen F. Austin is clearly the best team in the conference, and they're the team that would have the best chance at pulling off an upset in the first round of the NCAA Tournament. They got through the quarterfinals without too much trouble and are one step closer to dancing.
BIG WEST SEMIFINALS
-#5. UC Irvine vs #1. UC Santa Barbara
-#3. Cal State Fullerton vs #2. Cal State Northridge
Cal State Fullerton vs Cal State Northridge should be an entertaining game. The two of them, along with UC Santa Barbara are all evenly matched and any of them could end up winning the title.
MEAC SEMIFINALS
-#4. Delaware State vs #1. Morgan State
-#7. Coppin State vs #3. Norfolk State
The tournament for the right to play as a #16 seed rolls on. At least it doesn't look as if Morgan State will be in the play-in game if they win it. Everyone else could end up there, though. Delaware State dominated the league the previous two seasons, but was never able to win the conference tournament and was therefore shut out of the NCAAs. It'd be Ironic if they ended up winning it this year despite the fact that they finished fourth.
SWAC SEMIFINALS
-#4. Jackson State vs #1. Alabama State
-#6. Arkansas Pine Bluff vs #2. Mississippi Valley State
The march to the play-in game continues. Alabama State won the regular season rather decisively, but they still need to win this to make the NCAAs.