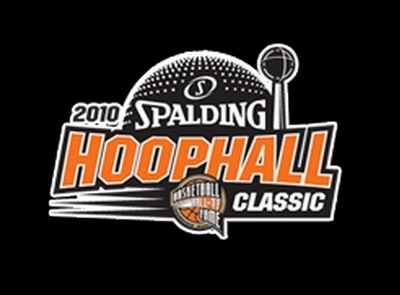 Cory Joseph, 6-3, Point Guard, Findlay, 2010
Committed to Texas
Joseph Treutlein
Skyrocketing up the 2010 point guard and overall rankings in the past year,
Cory Joseph
(#22 Scout, #7 Rivals, #30 ESPN) just continues to play better and better, showing off his extremely advanced skill level and feel for the game.
Joseph came out the gates extremely aggressive in this game, over-dribbling the ball on nearly every play and either attacking the basket or giving the ball up at the last second. While it didn't look pretty to start, the results were undeniable, as he scored at will over and around opponents, showing off incredible body control and touch in the lane, scoring on all kinds of moves, be it floaters, reverse lay-ups, spin drives, or pull-up shots. He's incredibly smooth with the ball in his hands, can hit pull-up jumpers going left or right, has range to the three-point line and then some, and can finish with either hand at the basket. From a pure skills standpoint, there's nothing
Cory Joseph
doesn't have.
As a point guard, some questions can certainly be made about Joseph's approach, as he's clearly a shoot-first type player who loves having the ball in his hands, but it's hard to argue with the results, as Findlay has only lost one game in the past two seasons. Projecting to the next level, as long as Joseph adjusts to a more balanced offense in terms of touches, he should be an exceptionally good college player, though there are still some questions about how his physical tools will allow him to project to the NBA level. Regardless, it's early in his development, so it's tough to say anything finite on that front just yet.
Kyrie Irving, 6-1, PG/SG, St. Patrick, 2010
Committed to Duke
Jonathan Givony
Having only gotten some fleeting glances at top prospect
Kyrie Irving
(#5 Scout, #9 Rivals, #6 ESPN) in our somewhat limited exposure to the high school scene, the St. Patrick point guard was obviously high on our list of players to evaluate. What we got was a bit of a mixed bag, with one very poor half followed up by one very strong one.
Irving's physical tools do not appear to be overwhelming on first glance relative to most top point guard prospects, as he sports average size and good, but not incredible athleticism. He's a quick guy with solid change of speed ability, but is not incredibly fluid and struggled badly trying to stay of the extremely aggressive
Cory Joseph
.
Where Irving clearly shines is as a scorer, displaying impressive instincts and a very complete game for a player so young. He's extremely aggressive in transition, making quick, strong moves to the basket any time he sees even a hint of daylight and doing a good job finishing at the rim.
He can also create in the half-court, looking like a dangerous threat on the pick and roll with his ability to slash to the basket or pull-up off the dribble. Irving has a terrific shooting stroke both in catch and shoot situations or elevating off the bounce, showing a real knack for throwing the ball in the basket in some very tough situations. He also appears to have very nice court vision, threading the needle with some very difficult passes at times.
On the downside, Irving is at times overly aggressive looking for his own offense and tends to freeze out his fellow teammates, something that is not rare in the least bit from a talented scorer at the high school level. He tends to over-penetrate at times and run into brick walls in the process, and heaved up a couple of extremely bad shots from the perimeter with multiple defenders draped all over him.
Irving is another player that we need to see a few more times before we're able to get a more accurate read on. He plays a very frenetic style of basketball that probably will have to be toned down under his coaching staff at Duke next season, but obviously has some terrific gifts that clearly can't be taught. He'll surely be invited to all the major events on the high school all-star circuit this spring, which should give us a much a better opportunity to evaluate him.
Michael Gilchrist, 6-7,SG/SF, St. Patrick, 2011
Undecided
Joseph Treutlein
In the first few minutes of #1 ranked St. Patrick's game against #3 ranked Findlay,
Michael Gilchrist
re-aggravated a leg injury, as he started severely hobbling around the court. His coach pulled him out of the game immediately, but he demanded to be put back in within minutes. For the rest of the game, Gilchrist refused to leave the game, despite seemingly bruising another part of his lower body every time he attacked the basket. Still, he consistently ran the floor and fearlessly took the ball to the hole, dead set on doing everything he can to help his team win, playing 29 of 32 minutes.
From a scouting standpoint, not much can be taken away from this game in terms of Gilchrist's skills or athletic ability, as he was clearly playing at nowhere near 100%. Before re-aggravating his injury, he made one nice baseline drive to the rim, and seemed to show good body control for most of the game, but he got by purely on heart and determination, scoring 19 points and pulling in 8 rebounds while getting to the free throw line 10 times.
In terms of his shooting, Gilchrist has a noticeable hitch in his mechanics, which is very problematic when he's pulling up. His motion is consistent and accurate, though, as evidenced by his 9-for-10 shooting at the line. Honing his perimeter shooting ability will be the next step in Gilchrist's development, but he still has plenty of time to work on that.
The biggest thing to take away from this performance is how rare of a competitor Gilchrist truly is, especially for a player of his caliber. The logical thing to do for the #1 ranked junior in the country to do in a fairly meaningless regular season high school game would be to not risk getting hurt any worse, but Gilchrist would have none of that. Instead, he fought extremely hard on both ends of the court, risking his body on every play.
Kendall Marshall, 6-4, Point Guard, Bishop O'Connell, 2010
Committed to North Carolina
Joseph Treutlein
This wasn't the greatest game for the UNC-bound point guard, as his team was severely overmatched in talent and his teammates did little to help him out, but there was still reason to be impressed with what
Kendall Marshall
(#21 Scout, #32 Rivals, #19 ESPN) brought to the table.
Offensively, it's much the same story from the last time we profiled Marshall, as he has a tremendous feel for the game along with good ball-handling skills with either hand. What really stands out about his game, though, is his ability to pass the ball, as he frequently makes all kinds of advanced passes, be it no-look passes, one-handed passes with either hand, cross-court passes, or some combination of the three.
If anything, he seems to rely on these things a little bit too much, favoring making many of his passes in mid-air when it's not necessary, but that should be something he adjusts early on in his college career. Marshall's biggest problem in the game today was that his teammates either couldn't finish his passes or couldn't catch them, with a few bounces off the chests and hands of his teammates, leading to him tallying just 1 assist against 7 turnovers.
From a scoring perspective, Marshall is less impressive, mainly due to his perimeter shot, which is just respectable at best. He has no problem launching away from three-point range, and his shot appears to be on line most of the time, but he suffers from a lack of arch, leading to some line drive misses.
He's more impressive attacking the basket, where he can take advantage of his strong frame and creativity, finishing on an array of impressive moves here, be it floaters or reverse lay-ups. He's extremely crafty with the ball, both handling and scoring in the lane, and he definitely has a very advanced feel for the game in general.
Marshall clearly has the attitude and approach of more of a glue type player than an alpha scorer, and that was definitely evident here, where his team needed more of the latter against the vastly more talented St. Benedict's. This'll be much less of a problem at UNC, where he will fit in very nicely as a complementary player, and should be able to contribute from day one.
Myck Kabongo, 6-2, Point Guard, St. Benedict's, 2011
Committed to Texas
Jonathan Givony
One of the most highly touted point guards in the 2011 class,
Myck Kabongo
did a very good job of showing his strengths here in Springfield, while also leading his team to victory.
Kabongo has a good physical profile, standing 6-2, with a nice frame, long arms, and solid athleticism. He's not overwhelmingly quick or explosive at the moment, but is still extremely young and has plenty of time to reach his peak physical potential.
The type of player most college coaches would love to have running their team, Kabongo is clearly a pure pass-first point guard with strong intangibles and a pretty well-rounded all-around game. He likes to operate in transition, but is also pretty solid in the half-court, having a good understanding of how to play the pick and roll and create scoring opportunities, but mostly preferring (at times overly so) to drive and dish to teammates rather than looking to shoot the ball himself. He clearly favors driving to his left, and like all young guards, needs to continue to develop his advanced ball-handling skills.
Kabongo is also a pretty good shooter, showing awkward, flat-footed mechanics, but seeing good results from 3-point range nonetheless. He needs to continue to work on his pull-up jumper, though, particularly from mid-range, where he's not nearly as effective.
Defensively, Kabongo had his hands full with one of the top point guards in high school basketball,
Kendall Marshall
, but clearly got the better of him in this game. He did not leave him for an instant when the two were on the court at the same time, sticking to him like glue and then putting excellent pressure on the ball when he was finally able to initiate the offense.
Its pretty clear what the recruiting services like so much about Kabongo's game, as it's rare to see a players at this level show the type of unselfishness and pass-first mentality he does, let alone one who is only a junior. In order to emerge as a top prospect down the road he must continue to work on his offensive polish and hopefully develop that extra gear that most great guards have.
Mikael Hopkins, 6-8, Power Forward, DeMatha Catholic, 2011
Jonathan Givony

A very raw, but fairly intriguing big man who is clearly in the very early stages of development, Mikael Hopkins is definitely someone that catches your eye on first glance. Sporting a terrific (but currently underdeveloped) frame, long arms (and neck) and solid athleticism, Hopkins has all the basic physical tools you would like to see from a young prospect.

He also displays some budding skills on the offensive end, knocking down a couple of mid-range jumpers, showing nice mechanics and touch, and making some intriguing moves with the ball both facing and with his back to the basket. Hopkins has soft hands, nice footwork and has some solid spin moves in his arsenal, even if he's clearly very raw at this stage and isn't immune to getting ahead of himself and turning the ball over. He looks a bit clumsy at times and somewhat passive in others, like many young big men do, but will do enough things over the course of a contest to keep you coming back for more.

Defensively, Hopkins is a presence with his size and length, but needs to get tougher and continue to work on his fundamentals, particularly on the glass. The game moves a little too fast for him at times, but his intangibles look fairly solid on first glance. Outside of that, it's best to just wait and see how he develops over the next few years before drawing any long-term conclusions. With his physical tools and the pedigree of playing at one of the most respected high schools in America, he'll surely have most of the top college coaches in America ready to offer him a scholarship.
Gilvydas Biruta, 6-8, Power Forward, St. Benedict's, 2010
Committed to Rutgers
Jonathan Givony

One of the most pleasant surprises to emerge from the HoopHall Classic, Lithuanian power forward Gilvydas Biruta did an excellent job of asserting himself and showing his potential as a high major sleeper.

6-8, with long arms, a big frame that is currently lacking definition, and athleticism that initially appears to be below average, Biruta doesn't overwhelm you on first glance. He's a tough guy, though, and a better athlete than he gets credit for, running the floor well and getting off the ground for a couple of impressive finishes in transition and put-back dunks.

Biruta produced in this fashion, and also stepped outside and knocked down a couple of 3-pointers, which is a nice skill to have from your big man. On the downside, he doesn't appear to be a great rebounder and is a bit limited on the defensive end with his average lateral quickness. While his potential probably isn't off the charts, Biruta looks like a nice pickup for Rutgers, and will likely develop into a solid Big East player.
Tristan Thompson, 6-9, Power Forward, Findlay Prep, 2010
Committed to Texas
Jonathan Givony

This surely wasn't the most impressive performance of the season for Thompson (#6 Scout, #17 Rivals, #11 ESPN), partially due to foul trouble, so it's probably not wise to read too much into it and instead wait for better opportunities to evaluate him.

What we could see was that Thompson has shed most of the baby fat he was surprisingly sporting last summer and has worked on chiseling up his outstanding frame. He's still the same long and athletic forward with outstanding rebounding skills—coming up with some monster boards out of his area in traffic in this game, and being pretty active in general getting his hands on loose balls.

Offensively, Thompson continues to look fairly limited, as he doesn't sport much in the ways of ball-handling skills or perimeter shooting ability, and didn't make much of an effort to assert himself in the post considering the size advantage he enjoyed on his matchups. He did have one terrific drop-step move, which was unfortunately called off due to a dubious traveling violation. Ultimately he remains the type of player who needs shots created for him around the basket beyond the points he gives you in transition or on the offensive glass.

Beyond that, it's better to wait for the high school all-star game circuit to formulate a better opinion on his long-term potential.