Josh Riddell
Although not highly ranked coming out of high school (where he underachieved in his one year at Arlington Country Day in Florida), a strong performance for Spain in the 2014 FIBA U18 European championships made Yankuba Sima a sought after collegiate recruit. He ultimately chose St. John's over Maryland, Louisville and Baylor, who were also in the recruiting mix at various points and to varying degrees. After Chris Obekpa left the program, Sima was thrust into the starting lineup from the onset of his freshman season, where he stayed for most of the year on his way to averaging 12.3 points, 9.9 rebounds and 3.9 blocks per 40 minutes.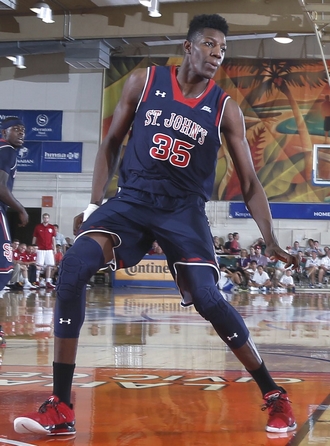 Still very much a raw prospect, Sima has NBA potential based on his physical profile, but needs to use his sophomore season to improve key aspects of his game such as his intensity level, feel for the game and offensive efficiency. While he was productive in his 23 minutes per game, he wasn't very efficient with a 48.3% conversion rate on two point field goal attempts and a 48.7% true shooting percentage. He is quick off the ground and is a capable dunker around the rim, but struggles incorporating touch into his shots at the rim, converting at a mediocre rate relative to players of his size of 53.8% of his shots around the basket according to Synergy Sports Technology.
Listed at 6'11" with a long wingspan, he has the size of a NBA center but needs to fill out his frame as he is listed at just 220 pounds. He does have a frame that can add more muscle and will need to bulk up in order to not get pushed around and be competitive around the rim. NBA scouts will also want to see a higher motor and intensity level from Sima as he has a tendency to drift through stretches of the game, turning into a low impact player far too often.
Outside of his ability to dunk the ball, Sima struggled to make an impact offensively. While he displayed some potential to get open looks at the rim out of post-ups or mid-range jump shots, he was not overly effective scoring in either of these areas. He's not an adept finisher after making a simple move out of the post and his shooting mechanics are a long way from being strong enough to make him a threat from the elbow, as evidenced by the 38% he shot from the free throw line.
A valuable skill for him to add as he goes forward is his ability to score out of the pick and roll. He'll need to do a better job seeking out contact on the screen to spring his teammate before rolling hard to the rim. He's too content to short roll to the free throw line for a jumper where he converted only 21% of his limited sample of 19 jump shots logged by Synergy Sports Technology. Sima can make almost every catch on passes that are in his area but struggles to score after a step or two with a defender in front of him. He will have to find a way to finish over length when he can't dunk or be able to get to the line, as he averaged only 2.8 free throw attempts per 40 minutes.
Defensively, he's shown to be a valuable rim protector by averaging 2.3 blocks per 40 minutes. He's a little reckless in that area, chasing every block opportunity and leaving the rest of the defense vulnerable when he comes up empty. He can get out of control trying to block shots and doesn't go straight up as he leaps up, which leads to quick foul trouble and extended stretches on the bench. Becoming a more disciplined shot blocker will help him stay out of foul trouble and keep him in rebounding position. He averaged a paltry 5.8 defensive rebounds per 40 minutes and will need to quickly improve that mark to show he can help control the defensive glass. He has the size and athleticism to be a better defensive rebounder, but he's always been more productive on the offensive glass and he'll need to increase his defensive output to help his team and show scouts he can fill that role.
Sima didn't offer much as an individual defender as a freshman and scouts will need to see some growth on that end to complement his somewhat limited offensive skill set. He's most likely going to be tasked with guarding post players to maximize his role as a rim protector, but he offered little resistance and was easily backed down by his opponent. When he stepped out to guard the perimeter on switches or pick and rolls he struggled to move his feet efficiently and stay in front of dribble penetration.
Sima looks the part of a rim protecting big man and will certainly be on the radar of NBA teams heading into his sophomore season and throughout the rest of his college career. The 20 year old is coming off a productive summer gaining experience playing for the Spanish U20 national team, the third straight summer he has appeared in competitions for the Spanish national team. He'll look to build on this experience as he heads back to St. John's to show a more efficient offensive game and a disciplined defensive skill set so that scouts can have a clearer picture of his potential NBA role, which will likely take a few more years to fully realize.