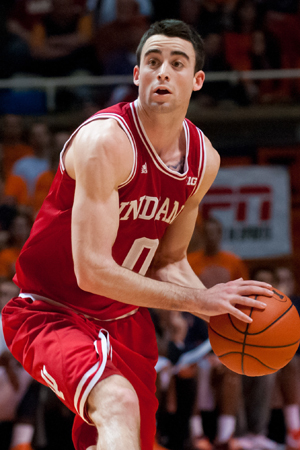 Joe Treutlein
When we profiled Will Sheehey prior to his junior season one year ago, we said it would be difficult for him to take his game to the next level given the surplus of talent returning for Indiana. Sheehey's junior year bore that out to a tee, as he posted nearly identical statistics across the board, playing the same number of minutes and not doing much to further distinguish himself on tape either.
The one noticeable difference for Sheehey between his sophomore and junior seasons is a slight tick up in three-point attempts (3.9 per 40 minutes pace adjusted compared to 2.7), which is an encouraging sign given what he likely needs to do to improve his chances of playing at the next level. However, his efficiency slightly dropped from 38.3% to 34.6% from behind the arc, indicating he probably hasn't become a better shooter yet despite putting in the effort.
In profiling Sheehey's game, his strengths and weaknesses remain the same as those we profiled last time, with him being a very smart, high intensity player who does the little things well on both ends of the floor. Sheehey still sees most of his scoring attempts on cuts to the basket, where he's capable of finishing with power and finesse, but he doesn't really stand out with either. He's prone to missing on dunks due to not getting quite enough lift and his touch is good but not great.
Sheehey still lacks much in terms of advanced shot creation or ball-handling abilities, and it's probably something that won't ever be in the cards for him and shouldn't. Developing into a deadeye three-point shooter is his most clear path to finding a niche in the pros, as he's close to maximized his abilities in all other areas as a very smart and aggressive player, solid finisher, and excellent fundamental defender.
The defensive end is probably Sheehey's strongest area overall, as despite just average lateral quickness, he makes up for it by using his solid size and strength in combination with excellent awareness and anticipation to be a very effective man and team defender. There are obviously concerns projecting him to the next level as he doesn't project to be nearly as effective a defender against bigger, more athletic small forwards.
Looking forward, Sheehey is an excellent college player and basketball player in general, one coaches surely love to have on their team , but his underwhelming physical traits combined with the lack of any standout skills leave him facing long odds in carving out a permanent niche in the NBA. He'll have plenty of opportunities to show he's taken steps forward throughout the course of this season, and should get looks in pre-draft camps and summer leagues, where a coach may fall in love with his intangibles, but if that doesn't work out there's little doubt he'll have a long and successful career in Europe if he chooses to go that route.