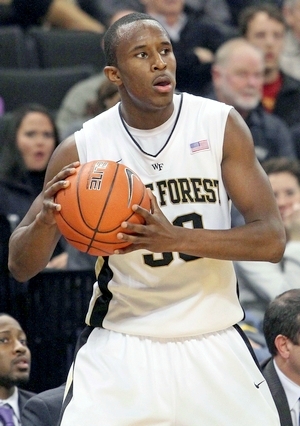 Jonathan Givony
After an impressive freshman season, averaging an efficient 13 points per game as an 18-year old in the ACC,
Travis McKie
took another important step towards relevance on the national level as a sophomore, finishing sixth in the conference in scoring, again on solid percentages.
Unfortunately for McKie, he did most of his work largely under the radar, on a team that finished a dismal 4-12 in the ACC, tied for last with the only three teams Wake Forest was able to beat in-conference, Virginia Tech, Wake Forest and Boston College.
Measured at 6-6 ½ in shoes with a 6-9 wingspan and a strong 220 pound frame at the
Kevin Durant
Skills Academy this past summer, McKie has solid size for a NBA wing. He's not an exceptional athlete, but is an intelligent player with good scoring instincts.
A complimentary option in Wake Forest's offense, despite his high usage rate, McKie sees most of his touches working off the ball as a spot-up, post-up or cutting option. He does a good job using screens and finding open spaces to get a high percentage shot off, showing very nice touch finishing around the basket despite not being a high flyer. He's also able to find success operating with his back to the basket, thanks to his strength and scoring instincts. He converted a solid 51% of his 2-point attempts, and got to the free throw line at a solid rate, where he shot 74% once there.
More importantly for his long-term outlook is the fact that he's improved his perimeter shooting since his freshman season, knocking down over one 3-pointer per game last year, and making 38% of his attempts. Showing a quick, but somewhat unconventional one-handed release that he seems to have made progress with, McKie was much better with feet set (40%) than he was off the dribble (25%).
3-point shooting still isn't a huge part of his game at this stage—only a quarter of his overall field goal attempts came from beyond the arc—so it will be important for him to continue to improve in this area as it will likely play a big role in his ability to carve out a role at the NBA level.
While able to attack his opponent off the dribble in a straight line, McKie isn't a great ball-handler at this stage, not being overly effective in pick and roll or one on one situations. He doesn't show much ability to change directions with the ball, usually just looking to lower his shoulder and bully his way to the basket, which he's able to do at times against slower or weaker defenders. Improving his in-between game will be important for him moving forward, as will showing more ability to create for teammates.
While other parts of McKie's game took a step forward last season, one area that he did not impress at all in was his work on the defensive end. Playing heavy minutes for the team that ranked dead last in this category in ACC wasn't going to do him many favors, but McKie didn't do much to distinguish himself here from the film we've observed.
Seeing time guarding both small forwards and power forwards last season, McKie largely appeared overmatched at both spots. His fundamentals look fairly poor, as he rarely bends his knees, is quick to relax in his stance, allows himself to get screened too easily, and gives up far too much space on the perimeter to opposing shooters. His lateral quickness is not very impressive, as perimeter players seem to drive by him with relative ease. He does not put up enough of a fight against rival big men either, as they push him around mercilessly in the paint and get deep post position without much opposition. For Wake Forest to have any chance at being decent in the ACC next season, McKie will have to do a better job of setting the tone here, which means giving better effort and showing more toughness on this end of the floor.
Despite his shortcomings defensively, McKie's strong numbers as a sophomore, young age (he's still only 19) and a very encouraging showing at the adidas Nations counselor games in Los Angeles this summer leave a lot of room for optimism about his future development. Wake Forest will be very young once again this season, so it will be interesting to see if McKie can help the team take a step forward after two disappointing years.