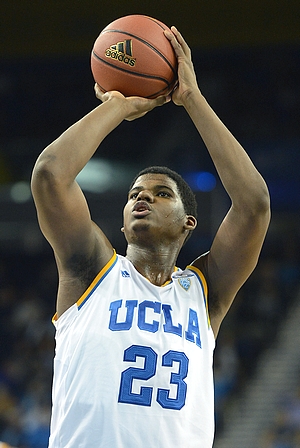 Kyle Nelson
After a Sweet 16 NCAA Tournament run, UCLA lost Jordan Adams, Kyle Anderson, and Zach LaVine to the NBA Draft and the Wear twins to graduation. Put differently, the Bruins will be without 69% of its scoring, 69% of its rebounding, and 71% of its assists from its 2013-2014 team. If UCLA is going to pick up where it left off, it will need players like junior center Tony Parker to take a large step forward from reserves to starters.
Parker is no stranger to high expectations, having entered UCLA as a McDonald's All-American and
a top-25 high school recruit
. He spent his first two seasons battling through foul trouble, inconsistency, and a
tumultuous relationship with former coach Ben Howland
, however, even though he showed occasional flashes of potential as a sophomore Coming off of a solid performance this summer at [http://collegebasketballtalk.nbcsports.com/2014/08/08/a-breakdown-of-every-college-player-2014-adidas-nations-ucla-louisville-michigan-arizona-memphis/]adidas Nations, UCLA fans are hoping Parker takes the next step in his development while emerging as the anchor of their depleted post rotation.
At 6'9, with a massive 7'1 wingspan and a stocky 260-pound frame, Parker is a load in the paint in the Pac-12, even if he may be stuck between post positions at the next level. He is not the most explosive player, but possesses solid mobility, with quick feet and the ability to run the floor well in transition. Improving his conditioning and continuing to slim down his stocky frame will likely allow him to maximize his athleticism, as well.
As a result of Parker's limited role, any evaluation of his offense should be taken with a grain of salt, but he played nearly three times as many minutes as he did during his freshman season, while improving his efficiency metrics modestly across the board. In general, his 15.1 points per 40 minutes pace adjusted on a paltry 8.2% of UCLA overall offensive possessions reflects both this relative lack of productivity and his very limited role in the team offense.
Overall, Parker finds nearly 97% of his possessions around the basket. A closer look at Synergy's play type breakdown reveals, however, that only 29.4% of his shot attempts came out of post ups and he rarely, if ever, operated outside of the paint. This means that the majority of his possessions were either assisted, coming off cuts or passes into the post, or earned by chasing down offensive rebounds or loose balls. In these situations, Parker's combination of soft hands, quick feet, and shooting touch allow him to be an excellent finisher to the tune of 60% from 2-point territory.
Parker's back-to-the-basket game is a work in progress, but his potential here is intriguing. Particularly impressive is his ability to carve out position in the deep post and to exploit his clear physical advantages, notably his size and quickness, while operating on the block. On the other hand, Parker's rudimentary footwork limits him to basic spin moves and jump hooks at this point. Becoming more consistent in this capacity would greatly help his scoring efficiency, as improving his footwork could open up his post game significantly. As Parker is UCLA's most seasoned returning big man, scouts are expecting his role to increase and will be monitoring his progress accordingly.
On the defensive end of the floor, Parker's inconsistency and continued struggles with foul trouble severely limit his effectiveness. When he puts his mind to it, Parker can be a decent post defender, doing a good job of denying his man and holding his position on the block. With greater focus and aggressiveness, his combination of length and bulk could be an asset at the collegiate level. He struggles significantly to guard players away from the basket, however, lacking the lateral quickness to stay in front of driving big men and the foot speed to hedge on screens or close out on shooters. Likewise, he is not a particularly prolific shot blocker or rebounder, both areas that his physical profile suggests that he could improve upon with greater intensity and fundamentals.
At this point, scouts likely do not have a great idea of the type of player Tony Parker can become at UCLA, let alone at the next level. Right now he is an undersized center trying to transition to power forward who struggles to stay on the court due to his defensive limitations. While improving his conditioning, becoming less foul prone, and developing his raw skill set could ease his transition, he has a ways to go to convince scouts that he is a prospect at either position at this stage.
This evaluation aside, Tony Parker will have plenty of opportunities during his junior season to convince scouts that he is a different player than he has been thus far in his collegiate career. More than most prospects, Parker's stock could improve significantly if he can find a way to stay on the court and help power UCLA's rebuilding effort.