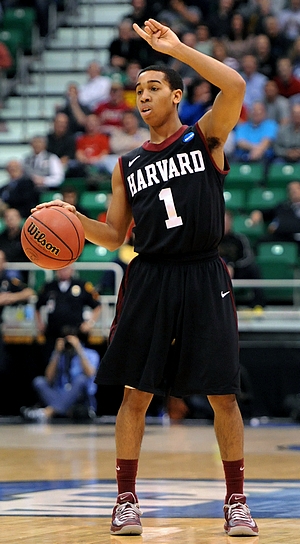 Joe Treutlein
There may not have been a freshman in the entire country who meant more to his team than Siyani Chambers last season, who impressively led his team in minutes at a staggering 37.9 per game. Chambers was the consummate floor general for the Crimson, helping lead them to an NCAA Tournament berth and a first-round upset win over 3-seed New Mexico, and he will have good chance to build on his superb freshman campaign this season.
Standing 6'1 with just a passable 6'2 wingspan, Siyani Chambers is not a player who is going to blow anyone away physically, sporting a build resembling Stephen Curry's, only minus a few inches. He doesn't have blazing speed or elite explosiveness either, though he does sport good quickness with the ball and is adept at making use of the tools he does have at his disposal.
On the offensive end, Chambers is mature well beyond his years, having a superb feel for the game, especially in terms of running his team's offense. He always keeps his head up, both in transition and the halfcourt, and shows very good vision and decision-making with the ball in his hands. He creates a lot of plays for both himself and others operating out of the pick-and-roll, which is the area of the game he looks most comfortable, being capable of making the full array of passes, both to his roll man and to his other teammates. He also gets a decent share of his 5.7 assists per game off drive-and-dishes, post entry passes, and flow-of-the-offense passes on the perimeter, being a very complete point guard in terms of passing and game management skills.
Chambers is also impressive with his perimeter scoring ability, being an excellent shooter, specifically in catch-and-shoot situations. He shot 41.2% from three-point range despite taking a large portion of his shots pulling up off the dribble, and he saw over one third of his field goal attempts overall come from behind the arc, being a very perimeter-oriented player stylistically. Chambers is excellent pulling up in space, and does a pretty good job doing so off pick-and-rolls, but he isn't the best at creating space for himself in pure isolation half court situations due to his lack of explosiveness.
Unfortunately for Chambers, while he has a set of very well-defined strengths as highlighted above, the same can be said about his corresponding weaknesses, starting with his ability to score around the basket. With his lack of size, strength, vertical explosiveness, and elite separation ability, Chambers struggles to create and finish for himself on shot attempts around the basket, having trouble finishing even over Ivy League competition at times. Of the 185 half-court shot attempts Synergy Sports Technology tracked for Chambers on the season, just 38 of them came in the immediate basket area, and he finished with a sub-par 1.1 points per shot on those looks, not an impressive mark against the competition he faced with such a limited sample size.
To Chambers' credit, he's very aware of his strengths and weaknesses as a player, and doesn't force the issue going to the basket often, as evidenced by the few attempts he took there on the year. He also complements his inside game with an excellent array of runners and floaters in the lane, but these are by nature less efficient shots than lay-ups at the rim, which explains his unimpressive 44.8% two-point percentage.
Chambers' limitations seemed more pronounced in games he played against high level competition last season, as he posted weak shooting lines against most of the high-major schools he faced, including 1-for-5 against UConn, 2-for-15 against Cal, 2-for-8 against Memphis, and 2-for-8 against Arizona. His problems extended to the passing game as well, as he had 10 games with 5+ turnovers last season, and coughed the ball up on 25% of his overall possessions, a very high rate. Chambers will have plenty more opportunities to play against high level competition during his time at Harvard, and it will be interesting to see if these trends continue or if he's able to adapt as he gains experience.
Chambers' biggest concerns projecting to the next level, however, likely lie on the defensive end, where despite having excellent effort level and fundamentals, he just isn't very effective as a man-to-man defender. Chambers does a good job moving his feet and staying in front of his man against most competition he faces, but the opposition often finds it fairly easy to shoot over him from both the perimeter and inside. He's also prone to getting beat off the dribble against higher level competition, and will likely always be at a disadvantage on this end of the floor.
Looking forward, Chambers is an exceptionally smart and productive player who still has plenty of room for growth at just 19 years old, but some of his more prominent weaknesses will likely prove tough to overcome. Given his physical limitations, being a consistently effective inside scorer likely will never be in the cards for him, so continuing to improve on his strengths of perimeter shooting and mid-range floaters/runners is probably his best path to take. While he's a very good shooter for any level of basketball already, he will likely need to be even better still to have a chance at the NBA, and it would make him a much more effective and difficult to game-plan for college player in the meantime as well.