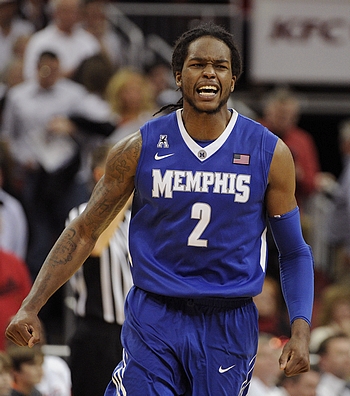 Josh Riddell
A top high school recruit, ranked
33rd in the 2012 RSCI rankings
, Shaq Goodwin has been a positive presence in his two years at Memphis and returns for his junior season hoping to help the Tigers reach the NCAA tournament yet again. After being named to the AAC Second Team, Goodwin will be looking to improve on his sophomore season while building his draft stock.
Measured at 6'8", 228 pounds last year with a long 7'2" wingspan, Goodwin has average size for a power forward. He is still finding his most effective playing weight and can probably still add a good 10-15 pounds of muscle to his frame to help contend with stronger players. He has adequate upper body strength but needs to add lower body strength as he has a tendency to be pushed around by other power forwards on both ends of the court. Goodwin isn't the most explosive player around, but he does have a constant motor and provides the Tigers with regular energy.
Goodwin isn't a shot creator but feeds off his guards creating open shots at the rim for him. He shoots 57.9% at the rim, according to Synergy Sports Technology, but struggles to finish in traffic, as he doesn't have the greatest touch around the rim and his lack of freakish explosiveness prevents him from getting the ball above taller defenders. The majority of his offense comes from post-ups, as 25.9% of his total offensive possessions were categorized as such by Synergy Sports Technology. He is a capable post player but most of his success comes from carving out position or sealing off his defender instead of advanced footwork. When he catches the ball off the block or is forced to take his defender on, he struggles to get a viable look at the rim, which provides some concerns about his ability to be a useable post player in the NBA.
Goodwin doesn't extend his offense outside the paint often, taking only 19 jump shots according to Synergy Sports Technology. Although he made 52.6% of the small sample of jump shots, he showed very inconsistent form last season and was unable to replicate his form on his jump shots. He doesn't provide much else from a scoring perspective other than rim finishing, so finding another skill to help him become more involved in the offense will likely help his pro prospects.
Despite his physical tools, Goodwin is just an average rebounder on both sides of the court, averaging
3.4 offensive rebounds per 40 minutes pace adjusted
and
5.0 defensive rebounds
per 40 minutes pace adjusted. His length helps him track down some loose balls but he'll need to continue to add strength to hold off opponents and not. Considering his offensive limitations, NBA teams will certainly ask him to contribute as a rebounder, so making a more concerted effort in this area this year will definitely make him a more attractive prospect.
Goodwin is active defensively, which is reflected in his
1.7 steals
and
2.3 blocks
per 40 minutes pace adjusted. This is a unique combination of steals and blocks for a big man, as only ten other big men who played at least twenty minutes per game posted at least 1.5 steals and 2.0 blocks per 40 minutes pace adjusted last season. His physical profile gives him potential as a defensive player and he will need to provide value defensively this season to fill out his potential value to a NBA team. Again, adding some strength to contend with bigger players will be a big boost for him, as he can get pushed around and backed down when defending the post.
As Memphis enters its second season in the AAC, Goodwin will be an intriguing prospect for NBA teams to watch. He has a nice array of physical tools for a power forward, but it remains to be seen whether his basketball skills can match his physical traits. Goodwin fits the mold of a role player but needs to show he is committed to providing energy and rebounding on a nightly basis. If he does that while adding some strength to help become a more consistent finisher around the rim, a NBA team may decide to take a chance on him to round out their rotation.