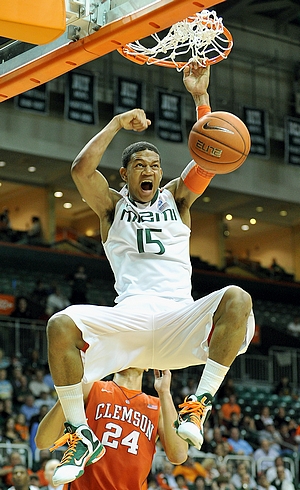 Joe Treutlein
Rion Brown
is a player who hasn't garnered much attention on the national radar, but made some promising strides in his game as a sophomore and looks like a player to watch going forward.
Standing 6-6 with a good wingspan and excellent athletic ability, Brown brings a very strong physical profile to the table for a wing. While Brown does an outstanding job utilizing these abilities in some areas (specifically his backdoor alley-oop dunks), he's still coming into his own in most of the rest of his game, still clearly developing as a player.
On the offensive end, Brown's perimeter shooting is his most noteworthy skill at this stage, and it makes up a very large portion of his contributions. According to Synergy Sports Technology, of the 141 half-court shot attempts they logged, 107 of them were of the jump shot variety.
Brown possesses very strong mechanics and NBA three-point range, while he hit for a very solid 39.4% of his three-point attempts this past season. Brown's probably a better shooter than the numbers initially appear, however, as he takes a good deal of his shots either pulling up off one or two dribbles or coming around screens, looking equally effective in those situations. He keeps his mechanics consistent regardless of the situation, doing a good job keeping his balance and squaring his body to the basket.
Beyond his shooting ability, Brown is a pretty raw player on the offensive end, seeing almost all of his additional scoring contributions come in the forms of off-ball cuts to the basket. Almost all of these cuts invariably end with athletic dunks at the basket, many of them of the backdoor alley-oop variety. Brown elevates incredibly well and does a good job catching and throwing down the ball in midair, landing on a couple of highlight reels last year for his exploits around the rim.
The rest of Brown's scoring game around the basket is less impressive, however, as he virtually never takes the ball to the basket on his own, whether he sees himself presented with an open lane or not. Brown's ball-handling is fairly undeveloped at this stage, though to his credit he shows a very good understanding of his limitations and plays within himself well.
Brown does actually have an interesting wrinkle to his game in that he shows some propensity for kicking out assists off one or two dribbles when his own shot isn't there, making up for his inability to take the ball to the basket himself and keeping him from being one-dimensional with the ball. His passing in general is solid for a wing, as he makes nice flow-of-the-offense passes and plays within his team's system well, looking like a very good team-oriented player.
On the other end of the floor, Brown is a good but not great defender, as he doesn't seem to fully maximize his physical tools just yet. He does a good job moving his feet and staying in front of his man, while also fighting through screens well on pick-and-rolls, but doesn't really bring the aggressiveness or very strong fundamental base to the table to consistently lock players down. This is probably the area he could see the quickest gains to his stock if he were to improve, as sharp-shooting, athletic, defensive-oriented wings are something NBA teams are always looking for.
Looking forward, Brown is still coming into his own as a player and hasn't really had a big impact at the college level yet, but he has a lot of intriguing tools and skills that make him someone worth watching if he does get it together. Seeing an expanded role (he played just 19.9 minutes as a sophomore) and continuing to shoot well while improving in other aspects of his game will be key for him this season, and he could see himself draw significantly more attention if he does.