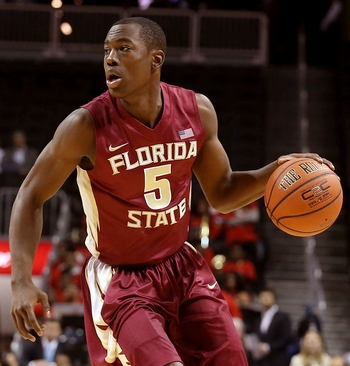 Joe Treutlein
Montay Brandon had an underwhelming freshman campaign from a production standpoint, averaging just 3.9 points and 1.8 rebounds in 19.8 minutes per game while not being particularly efficient, but the 6'7 wing is an intriguing player due to his physical tools and the flashes of skills he displayed, which is one of the reasons he could take a big step forward as a sophomore.
Standing 6'7 with good length, a solid frame, and excellent athleticism, Brandon is a very active player on both ends of the floor who has a groundwork of skills in a variety of areas.
On the offensive end, Brandon's slashing game is the most developed skill in his arsenal, as here he takes advantage of a good first step, passable ball-handling ability on right-handed drives, and superb leaping ability along with the strength, toughness, and willingness to finish with power through contact. Like all areas of his offensive game, Brandon is noticeably lacking in polish here, not having the greatest of footwork or awareness at times, and being very turnover prone relative to his modest usage, but he shows good instincts and enough grasp of spin moves and hop-steps to make this an effective area of his game already.
Brandon's finishing ability in the paint area is already very good relative to his modest production, as he's highly capable of finishing with both runners and floaters or going up with power for highlight-reel dunks. He shows good touch around the rim and has all the physical ability to finish effectively at any level, though his efficiency (47.1% two-point percentage) still isn't great as he doesn't yet have the shot-creation abilities to consistently put himself in position for high-percentage shots.
Brandon's jump shot isn't quite as far along as his slashing game yet, but he shows promise in this area, boasting good form with clear-cut NCAA three-point range, passing the eye test on many of his attempts. The numbers don't yet back this up, as he shot just 29% from behind the arc (on less than one attempt per game) and an even less impressive 48.9% from the free-throw line (on 1.4 attempts per game). Improving in this area is clearly the area of his game that can return the highest dividends, and would greatly boost his long-term stock given his profile and the types of players in his mold that have previously succeeded in the NBA.
One encouraging aspect of Brandon's offensive game at this stage is despite his overall lack of polish, he actually does a pretty good job at a lot of little things, often being called upon to bring the ball up the floor, initiate the half-court offense from the top of the key, and also shows solid ability making flow-of-the-offense passes, to the tune of 2.8 assists per 40 minutes pace adjusted. While these likely aren't things he'd ever be asked to do consistently at the next level, the versatility is a positive and if expanded on gives him the potential to play both the 2 and 3 positions, especially if he improves his perimeter shooting.
On the defensive end of the floor, Brandon is a much more effective overall player, having a good fundamental base to go along with his excellent physical tools. He's aggressive in man coverage both on and off the ball, moves his feet well, and does an excellent job sticking with his man and contesting shots on drives to the basket. He could stand to contribute more in the rebounding department, as 3.6 boards per 40 minutes pace adjusted is pretty lackluster for someone with his size and athleticism, but that's hardly a make-or-break issue for him.
Looking forward, Brandon will need to build on the intriguing flashes he showed as a freshman by translating it to consistent production on the offensive end in order to place himself firmly on NBA team's future draft radars. Improving his perimeter shooting ability will also likely be critical for him, though he still has room for strides in all areas given his still relatively raw game overall. With fellow wing Michael Snaer (last year's leading scorer on the team) graduated and now out of the picture, Brandon should have plenty of opportunities to expand his role this year, and he's definitely someone to keep an eye on in the years to come.