Jacob Eisenberg
A role player as a freshman on the
Jimmer Fredette
-led BYU Cougars,
Kyle Collinsworth
left the team following the 2011 season to pursue a two-year Latter Day Saints Mission. He returned to the team in 2013-14, where as a sophomore he assumed a significant share of offensive responsibility for the program, before eventually tearing his ACL in the WCC championship game.
Collinsworth recovered swiftly from the injury over the summer of 2014 and returned as a junior in 2015, where he quickly developed into one of the best all-around offensive players in the country. He further built off of that success as a 24-year-old senior, averaging a near triple-double per 40 minutes pace adjusted and improving as a defender.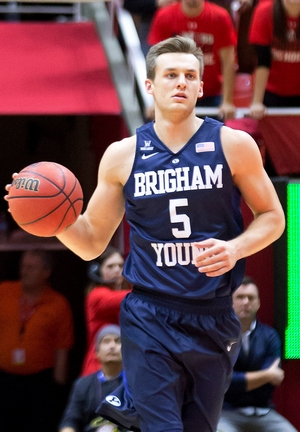 Collinsworth has great size for a point guard. At 6'6" and 210 pounds, he's one of the stronger guards in the nation and can battle with forwards on the defensive end as well. Much of BYU's offense revolved around Collinsworth as the primary ball handler in pick-and-rolls, which made up 26.8% of his possessions on the court this season per Synergy Sports Technology. A deft passer, Collinsworth has nice court awareness and assumed total autonomy of the BYU offense when he's in the game, averaging 7.8 assists per 40 minutes pace adjusted.
Collinsworth doesn't have remarkable ball handling skills and much of his penetration is dependent on teammates setting screens for him. His first step is solid and he employs a simple-yet-effective right to left crossover that sends him toward his preferred left side around the hoop. He's shifty and patient with his movements, which allow him to slither to the rim methodically. An average finisher, Collinsworth converted a dismal 46% rate (106-for-228) of his attempts inside the paint for the season. While he does get to the line effectively (attempting 6.7 free throws per 40 minutes pace adjusted) he's just a 65.3% free throw shooter, and needs to rework his mechanics at the line – where he awkwardly stands on his tippy-toes as he releases the shot. He also has much to gain from adding a floater to his game. Per Synergy Sports Technology, Collinsworth hit on just 12-of-50 off the dribble jumpers (24%) in the half court last season.
The poor finishing and free throw shooting offer serious problems for Collinsworth's NBA credentials, but his perimeter shooting could be a deal-breaker. He projects as somewhat of liability offensively beyond his passing, and often sees defenders dare him to shoot by going under screens. After converting on just 6-of-21 3-pointers as a junior, he went on to hit just 8-of-34 3-pointers (23.5%) as a senior. Collinsworth's jump shooting in general needs a massive overhaul. His release comes well after he's already reached the summit of his jump and he regularly settles for off-balance shots.
For the season, Collinsworth hit just 19-of-85 jump shots (22.4 %) and didn't draw a single foul on a shot outside of the paint. He's made just 26 3-pointers in more than 4,000 total career college minutes, so that alone could preclude him from many teams' draft boards.
Still, in a fast-paced system, Collinsworth could offer some value. Along with his passing, he reigns truly elite as a rebounder for his size. He averaged 9.3 rebounds per 40 minutes pace adjusted (2.6 offensive) as a senior and had seven games in which he grabbed 12+ boards. With his elite timing on rebounds, accompanied with point guard awareness, he could develop into an up-tempo dynamo pulling boards off the glass and leading fast breaks at the next level – even if he struggles to score on his own.
Collinsworth's usage rate hit 25% for the Cougars in his senior season, which coincided with a predictable increase in turnovers. He averaged 3.8 turnovers per 40 minutes adjusted, or on about 18.5% of his offensive possessions per Synergy. Many of those came as a result of trying to make something out of nothing and seem correctable with lightened responsibilities.
On the other end of the court, Collinsworth has enough strength, speed, and length to be an effective defender. Interestingly, while his footwork on the offensive end is excellent (especially on the interior, where he moves like a big man), his lateral movements are a tad slow on the perimeter, lacking requisite speed to contain quicker guards even at the NCAA level. He doesn't always fight around screeners with the determination you'd like to see from a perimeter stopper, largely conserving his energy elsewhere, which can be said about BYU's entire roster in fact, and thus may be correctable long term.
Still, with his size, he offers plenty of defensive potential. He regularly defends positions 1-4 on the court, and has quick hands and terrific anticipation skills, which allow him to poke balls loose and, in certain instances, jump passing lanes for fast break opportunities. He's reckless at times with his gambles, which might be a product of BYU's failures to make stops organically.
Overall, Collinsworth has the hustle, rebounding prowess, and versatility to contend for an NBA roster spot. However, at 24 years old, he may be deemed far too much of a finished product considering how limited he is offensively to invest a draft pick on. His basketball IQ and court-awareness is strong, and if he somehow manages to improve his shooting woes to even a respectable efficiency, he'll have a chance to carve out a career as a versatile backup. Otherwise, a long career in Europe awaits him, and his ability to speak fluent Russian (which he learned during his mission) could actually come in very handy.