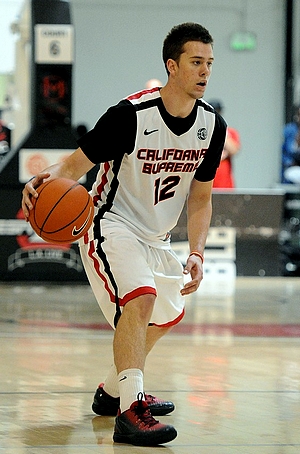 Joe Treutlein
Katin Reinhardt
(#55 Scout, #45 Rivals, #60 ESPN) had one of the most impressive single game performances of anyone in attendance this weekend. Reinhardt scored 35 points on blistering 13-for-19 shooting from the field and 9-for-14 from behind the arc, while displaying an impressive set of skills and an advanced feel for the game.
Standing 6'5 with a below average 6'5 wingspan, Reinhardt has a solid frame, decent size, and is a good athlete for his position, having adequate physical tools for the style he plays.
On the offensive end, Reinhardt's game relies heavily around his three-point jumper, and with very good reason as evidenced by his ridiculous 9-of-14 three-pointers made in just 26 minutes of play time. Reinhardt has effortless NBA range, a lightning quick release, excellent fundamentals, and the ability to hit shots in a variety of situations. He hit shots here pulling up moving sideways, catching on the move in transition, coming around screens, and shooting with a hand in his face, being phased by none of it and showing excellent accuracy throughout. He also doesn't seem to force the issue much and does a good job making quick use of the ball when it comes to way, playing well within his team's offense.
While Reinhardt's shooting is clearly his greatest asset as a prospect, he does bring some other things to the table on the offensive end, doing a good share of ball-handling, bringing the ball up the court, and even initiating his team's offense at times. He only had two assists in his game here, but showed good vision on his passes and seems to have a nice feel for moving the ball around.
Reinhardt is opportunistic with his scoring attempts not coming from jump shots, picking his spots well going to the rim, but showing solid toughness and instincts when he does. He's capable of going up for a strong dunk when he has a clear enough path to the rim and showed nice ability with runners and floaters in the lane on occasion, having a good feel for getting high-percentage shots off in the half court and transition.
On the defensive end, Reinhardt shows solid awareness, fundamentals, and effort level, along with solid physical tools for defending the two-guard position. He was prone to being beat laterally against quicker guards on occasion, but did a good job staying active and playing good team defense overall. He appears to be limited to guarding just the two spot defensively looking forward, but has enough physical tools to be at least a decent defender with commitment.
Looking forward, Reinhardt has the makings of a very good four-year college player who could develop nicely into a
Jon Scheyer
-type sharpshooting facilitator guard for the Rebels. His pro potential is dependent on how he expands his offensive skill set and how well he develops as a defensive player, but he could find himself on the radar screen eventually if his game translates well to the college game.