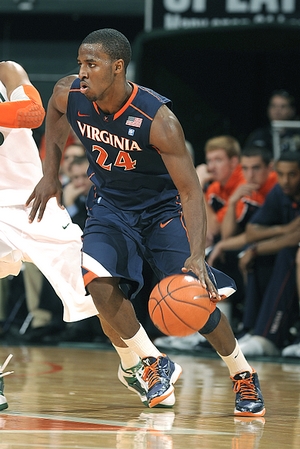 Kyle Nelson
Virginia guard
K.T. Harrell
faded down the stretch, likely costing himself a selection to the ACC's All-Freshman team, but he is nonetheless player to watch as a sophomore.
Harrell has average size for the shooting guard position, standing somewhere between 6'4 and 6'5 with a strong 200-pound frame that should continue to mature. While showing good quickness and a solid first step, Harrell's physical profile will be just average at the NBA level, as he's not particularly explosive around the rim.
Harrell emerged as one of the ACC's top shooters already as a freshman converting a blistering 42% of his 3-point attempts. He has excellent footwork, does a very good job of moving off the ball, and is capable of making shots coming off screens or after using a shot-fake and dribbling into the mid-range area. According to Synergy, 83% of his field goal attempts were jump shots, of which nearly 70% were guarded. Many of his jumpers came inside the arc, as Virginia liked to run him off short screens and curls, and he shows a nice feel for creating space to get his shot off. He is not particularly prolific beyond the arc, attempting under two 3-pointers per game, but his combination of good mechanics and efficiency suggest that he will be able to improve as his role increases.
Harrell struggles to create high percentage shots inside the paint and finish efficiently around the basket, converting just 42% of his 2-point attempts, which ranks near the bottom of prospects in the DraftExpress database. He tends to rely too heavily on his pull-up jumper, and gets his shot blocked a decent amount when he does venture inside the paint. While he is actually decent finishing in transition, he must improve his effectiveness as a slasher in half-court sets,
especially if Virginia continues to play at one of the NCAA's slowest paces
. Though he gets to the line at a decent rate considering his low-usage, he makes just 64.2% of his 4.2 attempts per 40 minutes pace adjusted, which is strange considering his effectiveness as a shooter.
Harrell must also improve on defense where he struggles at times despite his solid physical profile. While his lateral quickness looks good and he does a solid job at staying in front of his man for stretches, he tends to lose focus and give his man space to shoot on the perimeter. Similarly, while Virginia's team defense is lacking at best, he must improve his awareness, particularly in terms of his positioning, fighting through screens and switching onto defenders. He doesn't bring much to the table as a rebounder or pass, so it will be imperative for him to maximize himself on this end of the floor to show that his average size will not be a hindrance at the next level.
Harrell is still only 19-years-old and will be featured far more for a Virginia team with high expectations as a sophomore. Despite his youth, he has a fairly advanced skill-set, which paired with his reportedly excellent intangibles, suggest that a breakout sophomore season is possible. If he shows improvement on a larger stage, with more possessions, and with another season of experience under his belt,
K.T. Harrell
will probably find himself higher in these rankings next year.