Scouting Report by Jonathan Givony. Video Analysis by Mike Schmitz
Jeff Withey
has developed remarkably the past two seasons, from being a total non-factor his first three years in college to arguably the best overall defender in the NCAA.
Standing close to 7-feet, with an excellent 7-3 wingspan and very good athletic ability, Withey has excellent physical tools for his position, which happens to be the most difficult to fill in the NBA. A former volleyball player, he's a mobile big man who is quick off his feet and can elevate impressively around the rim, and shows tremendous coordination on the defensive end.
Withey's biggest shortcoming from a physical standpoint lies in his average frame, as he still needs to continue to add strength, especially to his lower body. It's unclear how much room he has left for physical development considering his age (23) and the fact that he comes from a college program known for doing good work in the strength and conditioning department.
Video Analysis:
Offensively, Withey was a relatively productive (17 points per-40) and highly efficient (62% True Shooting Percentage) scorer, but is certainly not what you would call an overly skilled or talented player on this end of the floor. He's most effective operating off the ball, finishing in pick and roll or drive and dish situations, where his soft hands, long arms and ability to play above the rim make him an excellent option for his guards to throw the ball to when he's on the move. Withey ranked as the #1 finisher in college basketball in non-post up situations, converting an outstanding 79% of his field goal attempts.
Withey is significantly less effective with his back to the basket, looking very mechanical at times operating in the post, as he struggles to establish great positioning due to his average lower body strength. He does not have great range on his moves and does not show any semblance of a right hand, refusing to finish with his off-hand even when the situation calls for it. Opposing teams caught onto this and exploited it quite a bit this season, forcing him to settle for awkward looks. Combine that with the fact that he's not the toughest or strongest player around and it's easier to understand why he doesn't deal all that well with contact around the rim.
Withey is not particularly aggressive looking to establish himself in the post even against inferior competition, and doesn't always look all that interested in making his presence felt offensively in general, seemingly saving his energy for his work on the other end of the floor at times. This lack of aggression shows up in particular in his relatively mediocre work on the offensive glass, where his 2.6 offensive rebounds per-40
ranks last amongst top-100 centers
.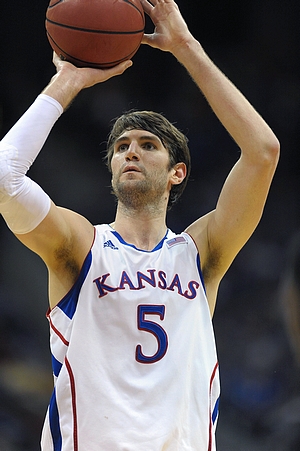 Adding a consistent mid-range jumper to his repertoire could add another dimension to Withey's offensive game. He attempted just 14 jump-shots this season in 37 games, which indicates either a lack of confidence or this simply not being a part of his coaching staff's game-plan. Although the sample size is very small, Withey did make 8 of those 14 attempts, showing solid mechanics in the process. That, combined with the fact that he shot 71% from the free throw line, leaves some room for optimism regarding his ability to incorporate a jump-shot into his game at a later stage of his career.
The defensive end of the floor is where Withey looks like an entirely different prospect. He appears infinitely more comfortable here, playing with a higher energy level and far more confidence. This is somewhat of a microcosm of Kansas in general, as they ranked as the 6th best defensive team in college basketball, but just the 27th best offensively. Withey's contribution to that shows up primarily in Kansas' defensive 2-point percentage, which ranked #1 in the country. The Jayhawks allow opponents to convert just 39% of their attempts inside the arc, an outstanding accomplishment. By comparison, in the season before Withey's emergence as a junior, Kansas' defensive 2P% was 44.5%.
It's not a stretch to say that Withey was the biggest defensive difference maker in college basketball this season. He blocked 4.9 shots per-40 minutes this season, down from 5.7 last year, but is far more than just a shot-blocker. Withey possess cat-like instincts on this end of the floor, showing unbelievable instincts as both a man to man and help-side defender. He does an amazing job of going straight up into the air and absorbing contact while avoiding committing a foul, aided greatly by his long reach, quick jump and tremendous timing. He almost always is able to keep his blocks in-bounds, which is infinitely more valuable than having a shot-blocker who simply sends opponent's shots into the second row. This is perhaps where his volleyball background shows up the most.
He uses his length incredibly well to not only challenge, alter and reject shots around the rim, but also in contesting attempts away from the basket. He reminds of
Shane Battier
somewhat in his ability to instinctively get a hand right into his opponents' field of vision, not even trying to touch the ball, but rather making it impossible for him to get a clean look off. Rarely if ever will you see him bite on a shot-fake, which is a major reason he only commits 2.6 fouls per-40 minutes.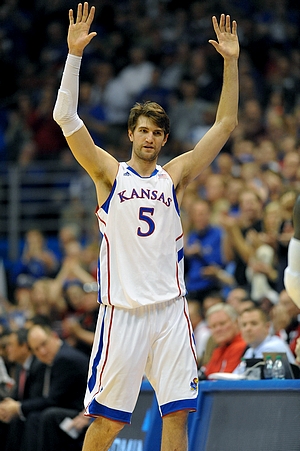 Big 12 teams had an impossible time scoring against Kansas inside the arc virtually all season long, and
Jeff Withey
is the main reason why. Although the individual box-score numbers don't back it up, it's safe to say he is one of the most dominant defensive centers we've seen at the collegiate level in the last few years.
The NBA is a very different game, though, and Withey will have some major adjustments to make at the next level. For one, he is nowhere near as effective when opposing teams are able to force him to step outside the paint, something he rarely did as part of Kansas' game-plan. Against more talented guards, this could become a lot more of an issue, as we saw in the NCAA Tournament last week where
Trey Burke
was able to slice apart Kansas' defense primarily on the pick and roll. When Withey does step outside the paint, he appears very upright in his stance, and struggles to stay in front of speedier players with his seemingly average lateral quickness.
There's also the question of how he will he deal with the bigger and stronger back to the basket centers (ala
Nikola Pekovic
) he will encounter in the NBA, something he rarely had to deal with at the college level. Will he be able to hold his ground in the paint effectively?
Perhaps most concerning for him long-term is the average approach he brings to the game mentally at times. He has a tendency to fades in and out of games, not always looking focused and seemingly lacking some degree of a killer instinct. He doesn't appear to be the toughest player from a physical standpoint either. There might be some question marks about how he will fare early on in his NBA career when faced with adversity. Withey has talked about the fact that he decided to quit playing basketball at one point as a teenager, and he was a highly touted recruit who did very little in his first three years in college, so it's fair to wonder how leaving the cocoon of the KU program and no longer being a focal point might affect him.
Withey is also already 23 years old, so there may be an element of "what you see is what you get" in terms of his upside.
Athletic 7-footers with great defensive instincts and excellent finishing ability don't grow on trees, though, so there will surely be a market for his services this upcoming June. A playoff team drafting in the second half of the first round could be very happy picking a player who is well-coached, experienced and ready to compete from day one, as if he pans out, he could present excellent value to a NBA team playing on a rookie scale contract.