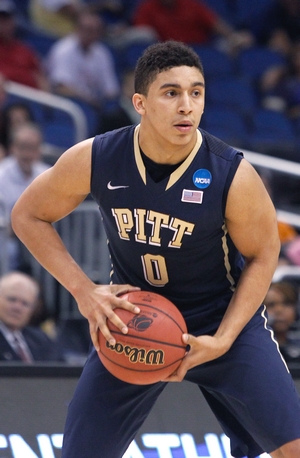 Kyle Nelson
James Robinson arrived on campus as a highly regarded high school recruit, coming from the storied Dematha program and being one of 12 players elected to represent USA Basketball at the Nike Hoop Summit. He wasn't particularly assertive in his first two seasons of college basketball, as he has helped Pittsburgh to consecutive NCAA Tournaments, but has been neither a prolific, nor efficient scorer. Now that Lamar Patterson and Talib Zanna have graduated, Pittsburgh needs to replace their production and leadership and Robinson is a prime candidate to pick up the slack.
Robinson has good size for the point guard position, standing 6'3 with a solid 203-pound frame. Robinson is just an average athlete, however, lacking standout quickness and explosiveness, which visibly affects him in different areas of his game. He is able to compensate somewhat at the collegiate level, but factoring his 6'3 wingspan in with his subpar athleticism means that he will likely be at somewhat of a disadvantage physically compared with most NBA guards.
On the offensive end, Robinson averaged just 10.5 points per 40 minutes pace adjusted as a sophomore, similar to the year before, which situated him among the least prolific scoring point guards in our
database
. His low
usage rate
tells part of the story, but so too does his poor 43% 2P%. While he is not the most aggressive offensive player, he does find his possessions in a diverse number of play types as Pittsburgh's primary facilitator.
In the half-court, Robinson is primarily a jump-shooter, seeing the biggest share of field goal attempts coming outside of the paint, and making 34% of his 3-point attempts. On film, his mechanics did not look particularly bad, as he possesses solid mechanics and a quick release and is actually a solid shooter in catch-and-shoot situations, to the tune of 39.2%. Developing his ability to shoot off the dribble would go a long way in increasing his efficiency on offense, as he converted just 30% of his pull-up jumpers last season, which is a skill he'll need to have in the NBA considering his lack of quickness.
Ultimately, however, Robinson is just not a great shot creator at this point in his career, as he rarely gets all the way to the basket in the half-court, and struggles to finish once he does, making just 42.1% of his overall attempts around the basket. He lacks creative ball-handling skills, and a quick first step, and hesitates to use his left hand. On film, Robinson is a decidedly below the rim player, without the length or body control to compensate. While he does a good job of drawing contact with his strong frame, he struggles to finish in traffic, and does not get to the free throw line at a great rate.
While Robinson is a decidedly below average scorer, he is a remarkably efficient and unselfish point guard, with a 4.11 assist/turnover ratio that ranks
fifth
among all players in our database. On film, Robinson is not a particularly creative passer, but he shows solid court vision in transition and plays under control and at a measured pace in Pittsburgh's half-court offense. He does a good job of finding teammates out of the pick-and-roll, as well, especially when it comes to finding open shooters off of the dribble.
With Pitt's primary offensive facilitator, Lamar Patterson off to the pro ranks, we'll likely see Robinson in a more traditional point guard role this season and one that may be closer to what will be expected of him at the next level.
On the defensive end, Robinson shows solid effort, toughness, and awareness that allow him to compensate somewhat for his lack of length and decidedly average lateral quickness. Likewise, he is a very aggressive player, not afraid to draw contact or chase loose balls, and he plays with active hands, which allow him to grab an impressive 2.0 steals per 40 minutes pace adjusted. Yet, he will undoubtedly struggle to stay in front of quicker guards at the next level and, without a consistent scoring arsenal to offset his limited defensive ceiling, it remains to be seen whether he can convince scouts he is worthy of consideration at the next level.
Though Robinson's NBA prospects are not particularly bright at this point in his career, his role in Pittsburgh's offense was to facilitate an offense built around a trio of veteran players, and he performed admirably. While he is not a prolific shot creator, he also was not required to look for his own shot and found many of his looks as a secondary option or after a play had already broken down. Thus, there is a good chance that Robinson will look very different as a junior. Becoming a better shooter and shot creator, more generally, is essential, however, as his physical limitations significantly affect his ceiling at the next level. With Pitt looking to rebound after a disappointing March, expect Robinson to be a key contributor for Jamie Dixon and the Panthers.