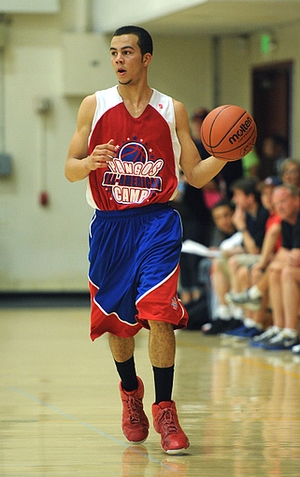 Jonathan Givony
A player who made a very strong impression from what we saw at the adidas Nations,
Gabe York
(#42 Scout, #31 Rivals, #36 ESPN) is the type of
Stephen Curry
-esqe combo guard that has become very popular in professional basketball as of late.
A bit undersized at around 6-1, and without great length, York doesn't look like much on first glance, but is a surprisingly good athlete. Quick, explosive and extremely fluid, York can score from anywhere on the floor and has a very natural feel for operating on the court.
First and foremost a tremendous shooter, York elevates high off the ground on his jumper and shows an incredibly quick release, which nullifies his lack of size to a certain degree. Able to come off screens, make shots with his feet set or put the ball on the deck and pull up in the mid-range area, York is always on balance with his jumper and displays tremendous body control for a player his age.
Also capable of creating for himself or others off the bounce, York finishes craftily with both hands around the rim, sometimes with a floater, but in many cases will just go up and hammer home a dunk jumping off one leg. While clearly a scorer, York displays good enough court vision to lead you to believe that he'll be able to play the point down the road, as he's an excellent ball-handler and not a selfish player in the least bit--making smart, simple passes with regularity.
Defensively is where York will need to improve the most to earn immediate playing time from Sean Miller at Arizona, particularly if asked to play off the ball and guard players who are much bigger than him. His lack of size and length is a hindrance, but he also lacks some aggressiveness in this area, struggling to fight through screens and not always putting the best effort in like many players his age.