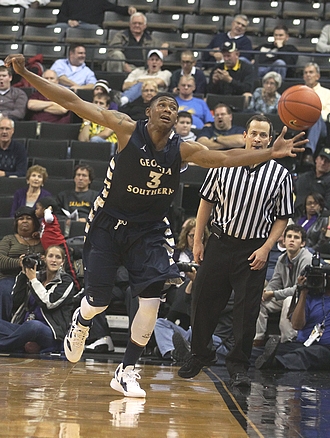 Matt Williams
Earning the attention of a number of BCS programs while playing two seasons of prep school hoops at The Wichendon School (MA) in 2009 and 2010,
Eric Ferguson
opted to return to his hometown of Statesboro to play for Georgia Southern under his godfather, Head Coach Charlton Young. Following the path of his father, Calvester, who was Young's roommate and an all-conference center at Georgia Southern in the early 90's before starting a lengthy professional career in South America,
Eric Ferguson
paid immediate dividends for the program, earning All-Freshman Team honors and finishing as the team's second leading scorer.
Parlaying an All-Southern Conference first team selection as a sophomore into invitations to the
Kevin Durant
and
LeBron James
Skill Academies this past summer, Ferguson ranks among the most intriguing prospects in low-major basketball thanks in large part to his tremendous athleticism. A 6'8, 210-pound forward with a 7'0 wingspan and highlight reel leaping ability, Ferguson has improved his once skinny frame since arriving at Georgia Southern, and at this juncture, certainly looks the part of a NBA prospect.
Ferguson's skill level, aggressiveness, and instincts, however, remain a work in progress. Leading the Eagles in scoring at 15.4 points per-game last season, Ferguson's length and athleticism are his biggest assets offensively. He does most of his damage right at the rim as a finisher, where his 61% 2P% is indicative of his ability to play off the penetration of his teammates, run the floor in transition, and crash the offensive glass.
Functioning as an inside-outside threat, Ferguson sees touches in the post and in one-on-one situations away the rim as matchups warrant. His ability to out-jump defenders allows him to get his shot off at will in close at this level. He can put the ball on the floor and attack in a straight line and will toss in an occasional jump hook, but he doesn't have much in the way of perimeter shooting consistency, post-moves, or a refined handle, and proved extremely turnover prone last year.
Ferguson's progress out on the perimeter over the next two seasons—particularly his jump-shot-- will play a key role in how he's viewed as a prospect down the road, as he has tremendous size for the small forward position, but would be considered undersized as a four. A solid rebounder, averaging an even 10 per-minute pace adjusted last season, Ferguson does not quite fit the mold of the undersized, but relentless hustle-four man at this point.
Possessing the athleticism to defend small forwards and face-up power forwards, Ferguson will need to play with more consistent energy to reach his full potential defensively. Typically matched up with opposing four-men, Ferguson has some impressive moments, including an occasional chase-down block, but appears apathetic at times. His length and explosiveness off the floor allow him to contest shots effectively, but he doesn't always get in a good stance when defending the ball away from the basket or fight for position on the block when defending the post. Considering his athletic merits and the stage he's at in his offensive development, Ferguson would benefit immensely from making the most of his physical tools defensively.
One of the best athletes in college basketball, there is plenty to like about
Eric Ferguson
. He's a highlight reel dunk or block waiting to happen, has impressive physical tools, and showed improvement from his freshman to sophomore season. Off to a slow start as a junior, Ferguson's ability to improve his skill level and take better advantage of his athleticism defensively will be worth keeping an eye on both this and next season.