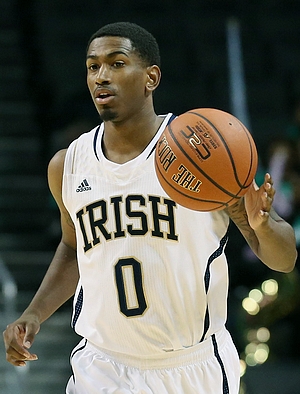 Jonathan Givony
A four year starter at Notre Dame, Eric Atkins barely left the court as a sophomore or junior, averaging 38 minutes per game during those seasons. While his minutes might drop somewhat this season as incoming McDonald's All-American point guard Demetrius Jackson will also need to see some playing time, Atkins will leave college with an impressive legacy, having won close to 100 games as a substantial contributor from day one.
Atkins has decent size for a point guard at 6-2, to go along with a strong frame. He's an average athlete at best, though, not possessing phenomenal quickness or explosiveness.
Solid and steady are the best ways to describe Atkins' game, He's not much of a scorer, taking the seventh highest percentage of shots while on the court for Notre Dame, as his role on the floor is to run his team's slow-paced offense and get everyone around him involved.
Atkins is a very good passer, boasting an impressive 2.61/1 assist to turnover ratio, and a 3.98 pure point rating (9th best in the NCAA among PGs). He executes his team's offense effectively in the half-court, finding the open man spotting up on the perimeter or diving to the basket with a well-timed bounce pass. He feeds the post effectively and keeps mistakes to a minimum, turning the ball over just 2.3 times per-40.
Also an effective outside shooter, Atkins made 41.5% of his 3-point attempts last season. He is frequently used as a spot-up threat alongside 6-6 combo guard Jerian Grant, who often acts as the defecto playmaker for Notre Dame in the half-court. He is very dangerous with his feet set, but loses effectiveness when shooting off the dribble, something he doesn't look to do all that often unless the shot-clock is running down.
While he's a very capable floor general at the college level, there are some doubts regarding how effectively Atkins' style of play will translate to the NBA, where point guards are usually expected to carry a much heavier scoring load and also offer more quickness and creativity that he currently displays.
Atkins struggles to create high percentage shots inside the arc already at the college level, as his first step is average and he is not a great finisher around the basket. He has a difficult time blowing by his defender and creating a clear path to the basket, as he usually has a defender on his hip if he is able to get into the lane, and thus struggles to get off good looks.
Additionally, he does not have great touch on his floaters or layups, as he converted just 46 of his 118 attempts inside the paint last year in the half-court, or under 39%. He doesn't get to the free throw line at a great rate to compensate—just 3.2 times per-40 minutes, which is why Notre Dame often looks elsewhere when they need someone to create a shot late in the offense.
Defensively, Atkins does a solid job, moving his feet well and using his strong frame to try and contain dribble penetration. He is an intelligent defender, rarely committing fouls, which is important considering the amount of playing time he shouldered the past two seasons.
It will be interesting to see how head coach Mike Brey is planning to integrate incoming McDonald's All-American point guard Demetrius Jackson, and whether that affects Atkins' role on the team.
Atkins does not project as a likely NBA draft pick, but a debut season in the ACC could earn him an invite to Portsmouth, private workouts and a summer league invite with a NBA team. If he's able to improve his scoring prowess inside the arc, he could go on to have a good career in Europe, where his steady style of play and unselfish mentality will be appreciated.