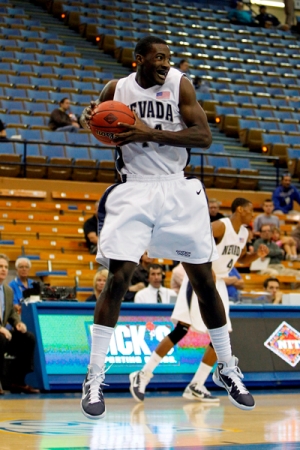 Matt Williams
One of a few Nevada players to make our list of Non-BCS NBA prospects,
Dario Hunt
is the Wolf Pack's best athlete and primary interior scoring threat. He took a giant step forward as a junior, emerging as a high level defensive presence, a prolific rebounder, and an athletic finisher at the rim. Improving in each of his three seasons in Reno thus far and nearly doubling his scoring rate last season, Hunt is a name to keep an eye on as he aims to continue his development as a senior.
Hunt's best assets as a prospect, and the two things that catch your eye almost immediately when you first watch him, are his exceptional wingspan and tremendous leaping ability. He is a very good overall athlete with a terrific frame that has potential for continued growth. While he may not have great size for a power forward at the next level, he has the athleticism, length and motor scouts like to see out of players in his mold.
Offensively, Hunt is primarily a catch and finish threat at this juncture, though he flashes some skill in the post too and has seen his role on the block expand in recent seasons. He's at his best when his teammates are setting the table for him, and there are a number of different lobs built into Nevada's offense to exploit Hunt's ability to finish plays above the rim. Extremely aggressive when he's crashing the glass as evidenced by the fact that he
ranks in the top-10 among all players in our database in offensive rebounds per-game
, and quick to fill any opening under the rim, Hunt's activity level makes him an easy target in the paint.
Hunt's ability to produce with his hustle offensively is a key to his potential at the next level, as he's still developing the rest of his offensive arsenal is not a legitimate threat outside of the midrange. The senior took a major step forward last season when he began showing some budding post moves in additional touches down low, gaining a comfort level as a shooter in the midrange, and improving his free throw percentage some 20% to a respectable 70% mark, but still has plenty of room to grow.
Hunt flashes an intriguing turnaround jump shot that he gets phenomenal elevation on turning over his right shoulder, but needs to continue polishing his repertoire and being more assertive offensively. He didn't show ideal footwork last season and is still learning to control his quickness off the dribble, but it is clear that if he develops some pivots and counter-moves in the post or refines his handle, his ability to play above the defense will work to his advantage.
Defensively, Hunt's athleticism allows him to make an impact on the glass, as an on-ball defender, and as a weak-side shot blocker. He has gotten significantly better at not committing ill-timed fouls around the rim over the course of his career, which was something that plagued him as a freshman. The Colorado native is a physical post defender, but does a nice job going straight up on the shot, though he still is a bit too aggressive on occasion. If he can learn to pick and choose his spots a bit better and take fewer risks, he could cut down on his fouls and become a more adept defender away from the basket.
As a weakside shot blocker and rebounder, Hunt's athleticism makes him a significant presence on the court. Though he's blocked fewer shots than he did early in his career, he still adjusts a few each game and has the type of quick leaping ability that can catch offensive players off guard. After a shot goes up, Hunt's instincts take over, as his nose for the ball and ability to pursue the ball help him rebound outside of his area despite his tendency to get out of position at times.
Heading into his final season of eligibility,
Dario Hunt
may not be a finished product, but he has the energy and athleticism that give him upside as a role-player at the next level. His ability to polish his skill set and produce consistently will dictate how high his stock rises as the season goes on, and is definitely a name worth keeping an eye on along with Nevada's other talented prospects.