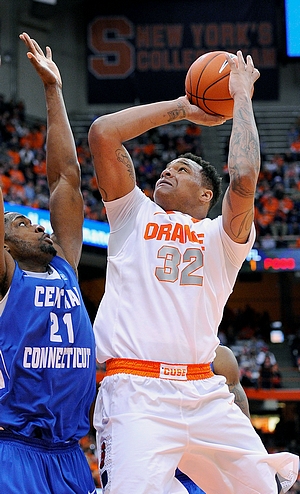 Joe Treutlein
After a solid beginning to his freshman campaign, starting at the center position in all of Syracuse's first 20 games, DaJuan Coleman's season was derailed in January due to a minor knee surgery. While Coleman's stat line doesn't exactly jump out of the box score (4.8 points and 4.0 rebounds in just 12.7 minutes per game), he's poised to take a noticeable step forward in his sophomore season where he will have every opportunity to earn more minutes.
Standing 6'9 with a large and strong frame and an excellent 7'2 wingspan, DaJuan Coleman boasts the same physical strengths and weaknesses as the player we've profiled since his freshman year of high school. Coleman still has some baby fat and will always need to work a little harder to maintain his conditioning, but he's done a solid job of getting into decent shape, and is plenty mobile and fluid regardless. Coleman actually spends a good deal of his possessions playing above the rim by virtue of his excellent size and length, but could do so a much higher percentage of the time if he increased his explosiveness and became quicker off his feet by further cutting down his excess weight.
On the offensive end, Coleman's strengths lie primarily within five feet of the basket, where he has no problem establishing dominant position, backing his man down, finishing through contact, and going up for powerful dunks when he has the opportunity. He has a decent repertoire of running hooks and spin moves along with decent touch on his finesse finishes. As Coleman gets farther away from the basket, however, his efficiency drops notably, and he was far too reliant on post moves and jump shots outside five feet during his shortened freshman year. Despite being a good finisher around the rim in general, Coleman had an extremely weak 43.8% two-point percentage last season, an inexcusable mark for someone with his size and physical abilities.
Looking at Coleman's finesse and perimeter game, he has some bright spots with his flashes of ability to put the ball on the floor and somewhat respectable-looking 15-foot jumper, but his 46.2% free-throw percentage is a pretty good barometer of where his perimeter skills are overall at this stage, and his game and team would benefit greatly by him spending a much higher degree of his time operating as close to the basket as possible.
Coleman's inside game is already very effective at the college level, as he gets to the line at an excellent rate (8.6 times per-40) and already is a good overall finisher, especially when he has the room to power up. If Coleman has been spending his time this summer wisely by focusing on his conditioning and really maximizing his explosiveness, he could vastly improve his ability in what is already the strongest area of his offensive game.
On the defensive end, Coleman shows good awareness, intensity, and rotation ability manning the center spot in Syracuse's signature 2-3 zone. He also fares well on the rare instances he's matched up against power post players, showing good ability to keep his man away from the basket and very good timing on shot blocks. On the downside, however, Coleman has issues with lateral agility when matched against more finesse-oriented post players, and looks like a fish out of water whenever he is dragged out to the perimeter against guards or has to close out on outside jump shots.
The most positive aspect of Coleman's game at this stage, both as a collegiate player and projecting to the next level, is his superb rebounding ability on both ends of the floor. Coleman boasted an excellent 12.5 rebounds per 40 minutes pace adjusted last season in a Syracuse zone system that's known for spreading the boards around somewhat. Coleman does a great job staying near the basket on both ends of the floor and showing a good nose for the ball off the rim along with soft hands to pull in caroms. His ability to finish on putbacks offensively is another area where maximizing his explosiveness could pay big dividends for his production and efficiency, though he's already very effective in that area.
Looking forward, Coleman is certainly a player to keep an eye on as a sophomore, as he's likely already Syracuse's most talented big man going into this season without even making noticeable improvements, so he should have no problem expanding his role if he spent time working on his game and body this offseason. Coleman's NBA potential will be heavily dependent on maximizing his physical attributes, and he already has a solid groundwork of skills to offer with his rebounding, inside scoring, and interior defense, along with the obvious assets of his size and strength. If he checks out character-wise, particularly in terms of his work ethic and off the court habits, it's a pretty safe bet to say the NBA is in his future.