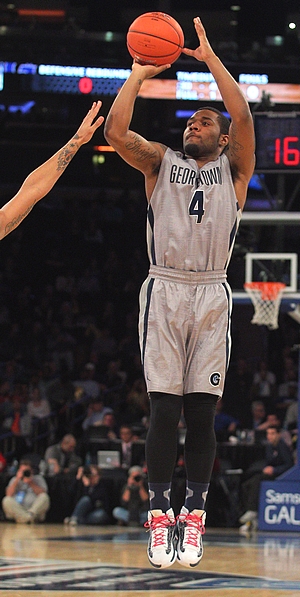 Kyle Nelson
D'Vauntes Smith-Rivera was a highly regarded recruit coming out of high school, with the reputation of being a versatile perimeter scorer. After a solid, but unspectacular freshman season, Smith-Rivera was expected to fill the massive void left behind after Otto Porter left Georgetown for the NBA. The results were somewhat mixed; as Georgetown missed its first NCAA Tournament since 2009, but Smith-Rivera emerged as Georgetown's best player, earning a spot on the All-Big East Second Team and logging 32 and 22-point performances against West Virginia and Florida State in the NIT. Pundits now expect Smith-Rivera to contend for Big East Player of the Year
as a junior
, but scouts will be more impressed if he can continue to improve his floor game while helping Georgetown bounce back from a disappointing 2013-2014 campaign.
With an eye toward the next level, Smith-Rivera's physical profile leaves a lot to be desired. At 6'3 with a 6'3 wingspan, he is extremely undersized for the shooting guard position, and lacks the length and athleticism to compensate. He is a below-the-rim player, as well, and he does not show standout quickness in the open floor, even if he is strong for his size with a solid 214-pound frame.
On the offensive end of the floor, Smith-Rivera played a massive role for Georgetown as a sophomore, seeing 35.5 minutes per game while accounting for 24% of Georgetown's possessions while on the court. His 20.1 points per 40 minutes pace adjusted and 60% TS% ranked favorably among shooting guard prospects in our
database
.
Synergy reveals that nearly 75% of his shot attempts are jump shots and over half of his jump shots come from beyond the arc, where he shot 39.3% on 5.8 attempts per 40 minutes pace adjusted. On film, Smith-Rivera shows consistent shooting mechanics with a quick release, outstanding elevation, and NBA range. While he made an impressive 40.2% of his catch-and-shoot attempts, he looked even better pulling up off of the dribble, where he made 43.6% of his overall attempts and had little trouble getting his shot off against bigger and more athletic defenders.
Likewise, he excels at finding shots out of the pick-and-roll, where he does an outstanding job of utilizing screens and needs very little room to get his shot off. He can pass the ball, too, less to rolling big men than to open shooters, even though he ultimately looks far more comfortable as a scorer in these situations.
In addition, he is a dangerous slasher. His first step is just average, but his ball-handling and ability to create separation, mid-range repertoire, and aggressiveness driving to the basket do not make it easy to stay in front of him off of the dribble. At the rim, he relies on his strength and body control, both of which allow him to draw contact around the basket and contributes to his solid 6.3 free throws per 40 minutes pace adjusted. He struggles as a finisher, however, as he lacks both the explosiveness and length to finish around the basket, and makes just 48.3% of his attempts around the basket.
At the end of the day, however, Smith-Rivera's NBA prospects revolve around two concerns. The first concern is positional, as his style of play is more conducive to the shooting guard position despite possessing the size of a point guard. Though he undoubtedly seeks his own offense first, he shows some potential as a passer to the tune of 3.1 assists per 40 minutes pace adjusted against 2.0 turnovers. He is not a particularly creative passer, but he can find open players on the perimeter or dump the ball off to big men in the paint, both solid options if he is unable to find his own shot. It will be interesting to see if he can develop more in this capacity in the future.
The second concern revolves around his defense. Physically, Smith-Rivera is best suited to guard the point guard position. The issue here is that he simply lacks the lateral quickness and length to guard NBA-caliber point guards, let alone shooting guards. He does not show the scrappiness or aggressiveness that one would expect to compensate, either, as too often he gives up early or is caught watching the ball as his man gets an easy look at the basket. He does do a solid job of defending the pick-and-roll, even if his tendency to run under screens will likely hurt him at the next level.
For these reasons, Smith-Rivera ultimately projects as a fringe NBA prospect at this point in his career. He is a dynamic scorer who possesses the ability to create offense all over the floor and could perhaps transition into a combo-guard in the future if he continues to develop. The problem now, however, is that he is a tweener who struggles to both finish and defend at the collegiate level in large part due to his below average physical profile. Therefore, maximizing his efforts on the defensive end of the floor, not to mention showing scouts a bit more as a distributor, would help his NBA prospects significantly.
That being said, if the NBA is ultimately not in the cards for Smith-Rivera, it is easy to see him fitting in to a rotation as a scoring guard at a high level overseas. In the meantime, he will have quite a bit of work to do as Georgetown's best returning player, both individually and as his team's leader, if he wants to help the Hoyas make a run to the NCAA Tournament in a depleted Big East Conference.