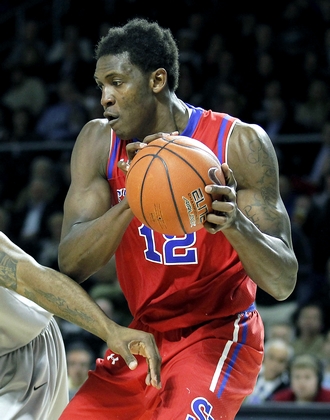 Jonathan Givony
Things have been somewhat tumultuous for Chris Obekpa since our
last report
, towards the end of his freshman season. He received a
two game suspension
to start his sophomore year for a "violation of University policy," and then had a very uneven year, fluctuating in and out of the starting five all season, and seeing his playing time drop from 26 minutes per game on average as a freshman to 20 as a sophomore.
Things came to a halt for Obekpa at the end of the season, as he started St. John's lone appearance in the Big East tournament, but played just two minutes after taking an ill-advised jumper. A similar thing happened in the NIT, where he played just 11 minutes in a blowout first round home loss. A few weeks later, Obekpa
announced he's transferring
, only to have a change of heart and
elect to stay
in Queens for another year.
With that chapter hopefully behind him, Obekpa will be looking to have a strong and steady junior season that could propel him back into draft discussions.
His potential value to a NBA team continues to lie with his terrific combination of physical attributes and rim-protection ability. He has decent size for a big man at 6-9, to go along with a good frame, incredibly long arms (wingspan measured 7-4 ½), and excellent athleticism. Obekpa runs the floor extremely well when motivated, and is very mobile and agile for a player his size. He's quick off his feet, moves well laterally, and can play above the rim with ease.
Obekpa's offensive game remains a major work in progress, and likely will for most of his career. He's largely an afterthought for St. John's on this end of the floor, as his usage rate of 11.7% was one of the lowest among collegiate draft prospects last season. Obekpa's scoring rate improved marginally, but at a paltry 7.7 points per-40, he was still the least prolific scorer among any realistic draft prospect in the NCAA.
Most of Obekpa's offense at this stage comes off offensive rebounds, cuts, and as a pick and roll finisher. He's a decent finisher around the rim, converting 56% of his attempts in these situations, as he has decent hands, and is extremely quick and pretty explosive once he gets a touch.
His lack of lower body strength, combined with his poor footwork and touch makes him a non-factor with his back to the basket, where he looks slow and methodical, and turns the ball over on 30% of his post-possessions.
Despite converting just 40% of his free throw attempts last season, Obekpa fancies himself as somewhat of a jump-shooter at times, heaving up ill-advised attempts from the perimeter that likely contributed to his sporadic playing time. While the selfish play of his teammates probably didn't help matters, Obekpa will need to do a better job of learning his limitations in the NBA, as he is prone to making some selfish plays at times (such as pushing a teammate in the back to grab an offensive rebound).
Where Obekpa will make his living in the NBA is on the defensive end, an area he absolutely excels in. His timing and anticipation skills are simply off the charts, helping him average a terrific 5.9 blocks per-40 minutes, second best among all draft prospects last season.
He's not just a capable rim-protector, but also does a decent job outside the paint as well. He's mobile enough to step out to the perimeter and use his quick feet and long arms to contest shots, being extremely difficult for opposing players to shoot over. Even if he gets blown-by initially he's quick enough to recover and make a play at the rim. He has nice potential as a pick and roll defender for all these reasons, and St. John's already likes to switch him out onto guards where he can hold his own capably.
Obekpa still has room to improve his low-post defense, particularly in terms of adding lower body strength and preventing stronger players from establish deep post-position and backing him down.
He's also not a very impressive on the defensive glass, hauling down just 6 defensive rebounds per-40 minutes, an average rate at best. He doesn't show a great deal of urgency in his work here, rarely boxing out, and often finding himself out of the play due to his propensity for chasing blocks. He could do a better job of making a second effort to put himself back in the mix for defensive rebounds, as he has a tendency to just stand around at times. Only being a rim-protector is not enough in the NBA in order to stay on the court considering Obekpa's limitations, so scouts will want to see him do a better job of boxing out and pursuing loose balls as a junior.
Coming off somewhat of a disappointing season after an impressive debut, NBA scouts will be watching to see how Chris Obekpa bounces back as a junior. His physical tools and shot-blocking prowess are still coveted traits in today's NBA, so a consistent and productive season could definitely put him right back in the mix to get drafted.