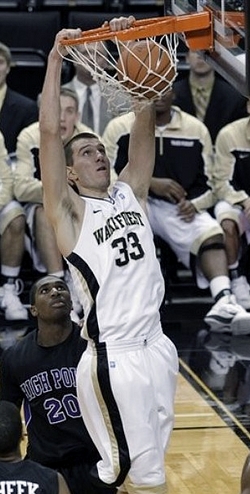 Walker Beeken
If Wake Forest is going to improve upon its 1-15 ACC record in 2010-2011, they'll need to see some development from sophomore big man
Carson Desrosiers
, who showed flashes of potential as a freshman.
Although he was largely unproductive last season, averaging 4 points and 3.2 rebounds per game, there is reason for optimism. Desrosiers was rated the 66th best high recruit in the country in the class of 2010, according to RSCI rankings, and has an intriguing combination of skill and mobility for a player almost 7-feet tall.
Desrosiers had a bit of a rough adjustment to the college game, as his lack of bulk and aggressiveness limited his effectiveness on both ends of the floor. As he continues to add strength, though, he has quite a bit of upside and should be able to better utilize his talents. While not an overly explosive athlete, he runs the floor well and moves fluidly for a guy his size and also seems comfortable operating on the perimeter and in the post on the offensive end.
Desrosiers shot an abysmal 39% from the field as a freshman, struggling with his jump shot and finishing in the basket area. He looks to be a much better shooter than that though. He has range out to the 3-point line and shot 71% from the free throw line, which gives some hope that his numbers from the field will improve as he gets more comfortable and improves his shot selection.
In the post, Desrosiers displayed a high skill level with a soft touch and nice footwork, but he was too often muscled around and pushed out of position, causing him to fade away and settle for lower percentage shots.
Defensively, Desrosiers has potential to improve, as he has solid agility for the center position and is a good shotblocker (he averaged 3.3 blocks per 40 minutes pace adjusted as a freshman), but his lack of strength and aggressiveness must improve to be able to compete on this end.
The area in which Desrosiers may need the most work is on the glass. His 6.3 rebounds per 40 minutes pace adjusted was worse than any center in our database last season, further demonstrating his lack of strength and toughness on the interior.
It's too early to come to many conclusions right now about Desrosiers and his NBA potential. As is often the case with young big men, he will likely take some time to develop as he gets stronger and learns how to adjust to the physicality of college basketball. He is clearly a work-in-progress at this stage, but his size, agility, and versatile skill set make him an intriguing prospects for scouts to monitor over the course of his career at Wake Forest.