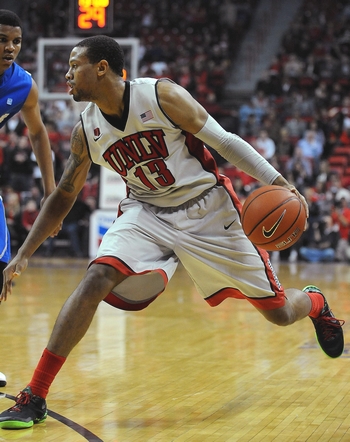 Josh Riddell
After playing his freshman season at USC before moving on and playing two seasons at UNLV, Bryce Dejean-Jones ends his collegiate career at his third and last stop, as a graduate transfer at Iowa State. Dejean-Jones will pair with returning player Georges Niang and hope to lead the Cyclones back to the NCAA tournament in the same way graduate transfer DeAndre Kane did in 2013-14.
Dejean-Jones did not end his redshirt junior season on a high note, as he
was suspended for the last regular season game
before deciding to move on from UNLV at the end of the season. Iowa State will be the third college he has attended and some NBA teams may have concerns about that. He can put many of these to rest with a strong senior campaign but will need to demonstrate he has matured in the off-season.
At 6'5", 210 pounds, Dejean-Jones has nice size for a shooting guard but is still a little slim compared to NBA players. He has some room to add muscle to his frame and some added strength will help him on both ends of the floor. Dejean-Jones has a nice first step and long strides which make him a capable slasher as he can get past his defenders off the dribble.
Dejean-Jones' combination of physical tools make him a capable dribble penetrator, but he is mainly a straight-line driver as he relies on his first step to beat his defender to drive right at the rim. He is comfortable with the ball in his hands and can slash to the rim, where he scores 52.8% of his attempts, according to Synergy Sports Technology. Throughout Dejean-Jones' career he has been known as a notorious ball-stopper and over-dribbler, trying to force dribble penetration when it is not available. He likely won't be a first option in a NBA unit, so he will need to find other ways to contribute on the offensive end.
Dejean-Jones' excessive ball-handling does help him get his teammates involved though, as both his
4.3 assists per 40 minutes
and
1.03 pure point rating
ranked as one of the highest among shooting guards last season. Dejean-Jones is a capable passer when he wants to be, but needs to improve his ball movement and decision making on dribble penetration to become a more efficient offensive player.
One aspect that is holding Dejean-Jones back is his inability to consistently hit jump shots. He made 34.7% on 121 three point attempts in 2012-13 but regressed a bit in 2013-14, making just 32.3% on 96 attempts. He has strong fundamentals on his jump shot and a high release point to prevent his shot from being blocked. Poor shot-selection is what seems to be holding Dejean-Jones back more-so than a lack of shot-making ability. Getting back to being a consistent and efficient jump shooter in his senior season in Fred Hoiberg's up-tempo offense will be a big boost for Dejean-Jones' draft potential.
Dejean-Jones has some potential as a defensive player due to his combination of size and length, but his long arms are often at his side, mitigating their usefulness. He also has the tendency to drift defensively, standing straight up or losing track of his opponent, allowing the offensive team easy looks at the basket. Showing a more focused commitment on the defensive end while using his length to force turnovers will be a nice addition to his skill set.
Although he will be entering a graduate transfer year, Dejean-Jones will be just 22 at draft time next year, the same age as many other collegiate seniors. Dejean-Jones should get plenty of open looks on the perimeter playing alongside Georges Niang, who should command attention from the defense, giving Dejean-Jones the opportunity to showcase any improvement on his jump shot. At this point, any draft potential for Dejean-Jones depends on his ability to consistently show he can make good decisions with the ball and hit outside shots at a strong rate, making him a viable off ball floor spacer. If he does that while staying out of trouble in his graduate transfer year at Iowa State, NBA teams will at least be able to envision what kind of role he would be able to play at the next level.