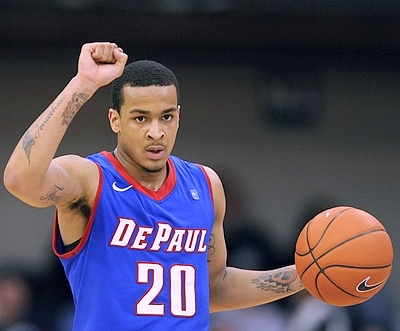 Jonathan Givony
Playing over 30 minutes per game in each of his first two seasons at DePaul, Brandon Young had ample opportunity to learn on the fly, competing on a team that struggled badly to win games, going 4-32 in the Big East.
Measured 6-3 ½ in shoes at the Kevin Durant Skills Academy this past summer, Young has solid size for a combo guard, as well as a strong frame. He's a reasonably good athlete as well, showing nice quickness in the open court, and the ability to power his way through opponents en route to the basket, even if he possesses just average explosiveness once inside the paint.
Young is the primary ball-handler and main facilitator for DePaul's offense, seeing over half of his possessions coming in pick and roll, isolation or transition situations. Without much Big East caliber help alongside him, he clearly had to force the issue pretty regularly last season, as a great deal of the shot-creating responsibilities fell squarely on his shoulders.
Nevertheless, he was able to distribute the ball successfully, dishing out a solid 5.7 assists per-40 minutes pace adjusted, while doing a good job keeping his turnovers to a minimum. With his strong frame, good size and quick first step, he's pretty effective finding the open man in drive and dish situations, as he appears to be fairly unselfish.
Despite looking capable of putting the ball in the basket at a relatively strong clip at times last season, Young still has plenty of room to grow as a scorer. He really struggled to create efficient offense once Big East play started, as he converted just 41% of his 2-point attempts, and 27% of his 3-pointers versus in-conference competition.
His ball-handling skills, while functional, rarely allow him to get all the way to the rim, where he struggles to draw fouls at a high rate and finish in traffic. He tends to settle in turn for a lot of pull-up jumpers in the mid-range area, which simply aren't high percentage opportunities even for great shooters.
Young's outside shot is probably the biggest thing he'll have to work on to improve his standing as a NBA prospect. His mechanics are a bit unconventional, releasing the ball from behind his head, which makes it difficult for him to find consistency. His shot-selection doesn't do him any favors here either, as he takes a great deal of tough, contested looks early in the shot-clock, before his teammates have even touched the ball. If he's to prove to NBA scouts that he's a true point guard, and not just playing the position out of necessity, he'll have to show better decision making skills in his final two years of play.
Defensively, Young's size and strength allows him to guard a variety of different types of players in the Big East. Like his DePaul team as a whole, he wasn't particularly consistent on this end of the floor last season, as he shows just average fundamentals, and doesn't do a great job of keeping opposing players in front of him. He does not possess a long wingspan, nor great lateral quickness, and has a difficult time occasionally getting low to the ground and staying in front of quicker guards. He commits just 1.6 fouls per-40 minutes, which may indicate more than anything how little effort he puts in. If Young is to convince NBA scouts he's worthy of a roster spot, he'll have to prove he can defend his position effectively, which means he'll have to get a lot better on this end of the floor.
Young has done a good job taking advantage of the opportunities presented to him the last two years and has put himself on the radar screen with the strong numbers he's posted. His size at the point guard position is attractive, but to take the next step in his development, he'll have to improve his outside shooting, decision making and perimeter defense to keep scouts interested.