A quick update from Dallas after two days in attendance:
-The camp is being held at a beautiful facility outside of Dallas, the Integrated Athletic Development (IAD). Think of an NBA practice facility, and then multiply it by two and give it cathedral-high ceilings. Decorate the place in Adidas tapestries and logos everywhere you look, and throw in over a hundred athletes working on their game all day long, and you have an idea about the setting. There are six different courts, allowing the eight "nations" plenty of room to spread out for games and drills/stations, while a group of 21 college players (ranging from incoming freshman to rising seniors) also display their wares under the watchful eyes of numerous NBA scouts.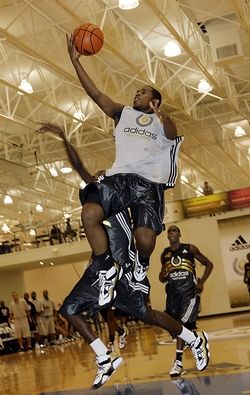 -Pretty much every NBA team is represented here from what we can tell—those that didn't make it for day one appear to have arrived on day two. No GMs apparently, but there are a handful of high-level executives (assistant GMs, player-personnel directors, directors of scouting, etc).
-What are the NBA guys focusing on here? In the words of one NBA talent evaluator: "for me the most important thing to take away from this is looking at the players' body language, see their ability to interact with teammates, how they take and follow instructions from coaches. I'm not a fan of the open gym setting, for me the way a player performs on his own team is much more important, but it's great to be able to see a player's body, athleticism and true size in person, especially when we're talking about such a large group—which is why this camp is invaluable."
-The group of college prospects isn't quite as bombastic this year as it was last year—five of the first ten picks in the 2008 draft played in New Orleans—but it's still a pretty good bunch of players. Missing from the initial roster we posted are
Demar Derozan
,
DeJuan Blair
,
Kevin Rogers
,
Nolan Smith
and
Tyler Smith
, but still in attendance are the likes of
Jrue Holiday
,
James Harden
,
Scotty Hopson
,
Darren Collison
and others. We'll be breaking down all the action at the conclusion of the camp, as well as posting interviews with some of the current NBA players acting as mentors.
-Not only are the NBA teams (and us) gaining a lot by being here (getting a big jump on their scouting for the 2009 draft), the players in attendance are too. Everyone is receiving a great deal of individual attention from a number of coaches, and considering the level of competition, a good deal of valuable experience as well. These are some of the highest level pickup games you'll find around for the players to test their skills and see what works and what doesn't, and there are referees ensuring that the action stays clean. It's not every day that players are able to showcase themselves in front of virtually every NBA team either, and that type of exposure has a great deal of value too. The ones that do well will "make a name for themselves" in the words of one NBA executive, and benefit from being more closely scrutinized during the season. We're already identified a few players here who may be slightly underrated in our current projections, and it doesn't hurt to exchange early draft notes with the different teams sitting around us in this very informal setting.
-The guys who appear to be helping themselves the most so far include
Jrue Holiday
(looks much more like a senior than a freshman),
Darren Collison
(just like in college, he's always on the winning team, and is looking better physically and more aggressive offensively),
James Harden
(dominated with his passing and all-around feel for the game, drew a huge crowd of scouts following him on whichever court he played), and
Gani Lawal
(looking like the ideal NBA role player, terrific around the basket on both ends). Guys like
Terrence Williams
and
Jarvis Varnado
have shown flashes, but have also struggled at times badly offensively.
Scotty Hopson
unfortunately sat out the second day with a bum ankle, after showing some nice sparks of potential in day one.
-The European roster is much stronger than it was last year. Well-known players such as
Nicolo Melli
,
Andrija Milutinovic
and
Tomislav Zubcic
are here, while lesser-known prospects such as Tomas Satoranski and Deniz Kilicli are really taking advantage of the opportunity to familiarize themselves with the many NBA scouts in attendance. Satoranski (the MVP of the U-18 Division B a few weeks ago) looks like a real find —his feel for the game is off the charts and he is a pretty good athlete on top of that. Kilicli has been a man around the rim—he's left-handed but finishes equally well with either hand, and is a force on the glass as well as times a shot-blocker. So far those two have been the best of the bunch, along with scoring-machine
Nihad Djedovic
. Again, a full report will follow once we get to evaluate the players a little deeper.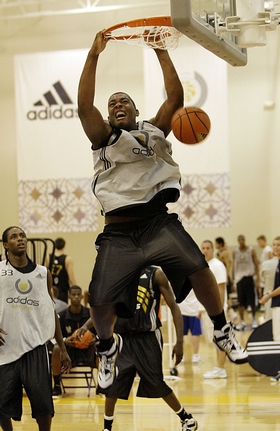 -The most talented roster here clearly belongs to the 2010 USA team (which also features some 2011 prospects). We've watched them beat up on lesser opponents mercilessly thus far, and were able to cruise against a very talented Canadian squad as well. Out of all the teams, they look to have meshed into a cohesive unit the quickest, much thanks to the outstanding point guard play of
Brandon Knight
, combined with the excellent passing skills his backcourt mate
Tony Wroten
brings to the table. Their bigs (
Jared Sullinger
and
Josh Smith
) are about as imposing as you'll find, and they have lethal athleticism at the wing positions as well. It's a joy to see these kids moving the ball around the court unselfishly. They may be able to give the sluggish 09 USA team a serious run for their money based off what we've seen so far. That probably comes as no surprise to recruiting insiders, as the 09 class is widely considered a fairly weak group compared to 07 or 06 for example.
Derrick Favors
is the top prospect on the 2009 US team, but he's looked average at best in the opportunities we've had to evaluate him. Their point guard GJ Vilarino has been a nice surprise, though.
-The Canadian national team will be just fine in coming years, if the group of players they sent here are any indication at least. Point guard Junior Cadougan has been one of the most productive players here so far, and 16-year old
Tristan Thompson
might have the best overall upside. The whole Canadian team plays terrific basketball together—highly unselfish, very disciplined, and extremely tough defensively. It's no surprise at all they won Adidas 64 AAU Championship in Las Vegas a few weeks back.
-Take your hat off to the Latin American team—they really know how to fight, and won't be an easy out for anyone at this tournament. Their starting point guard Diego Gerbaudo went down very early on with a minor hamstring injury, but they continue to give people problems.
Jayson Granger
has been very solid for them thus far.
-Asia Blue is a hodge podge of different nationalities, but without much size inside. We like what New Zealanders (and college bound) players Dion Prewster and Richie Edwards have been showing thus far.